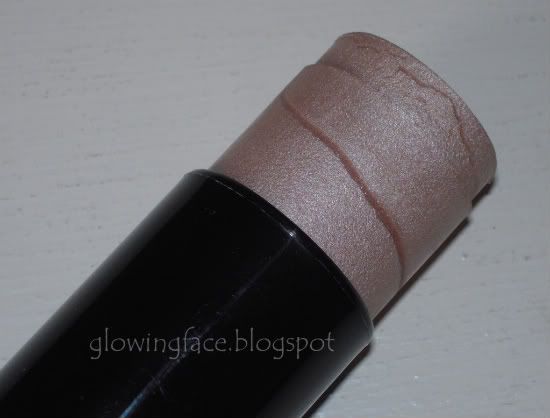 NARS MULTIPLE IN COPACABANA
Nars The Multiple is the original all-in-one, cream-to-powder, multi-purpose
makeup stick. With fingertip application, The Multiple highlights, sculpts, and
warms eyes, cheeks, lips, and body in an array of shades from sheer accents to
mauve and bronze.

NARS COPACABANA (Heavy Swatch)
I like NARS Multiples in general. I love the texture and the convinient case it comes in. I have owned Multiples before and this is a totally different color from whatever I have.
Copacabana is best used as a
Highlighter
. Its a described as
Glistening Pearl
and true to its name it has this Silvery sheen, which is not Stark White. The stick itself has some sort of greyish tone to it.
I was tossed between LUXOR and COPACABANA and finally went with Copacabana.
Luxor is described as iridescent pink and it sure does has some hint of pink in it, which I didn't want because it might have altered the color of my blush or restricted its use as highlighter over certain shades only. Its just my thoughts after swatching the product in store. I may not be right.
Copacabana is a silvery highlighter. Its totally different from South Beach which is a Shimmery Apricot color and gives this warm Sunkissed glow. Copacabana being a Silvery Highlighter might give a Moonkissed glow????????
The Multiple can be used either on the brow bone or cheek bone, over cupids bow, on bridge of nose and also on some parts of body, which I never use.
The texture is lovely. Its smooth and creamy, yet firm enough, easy to spread and blend. Its a cream to powder formula which will end up giving a satiny finish. It has no offensive smell.
The end result on cheeks remind me of Benefit's Highbeam, which is a nice highlighter, but I had some trouble blending it initially. Consistency has a lot to do with products like Moonbeam and Highbeam. They tend to turn a bit thick and goopy in longer run. Now I am pretty comfortable in using them aswell.
The major difference between end result of Copacabana and Highbeam is the finish. Highbeam gives a dewy look, this one does not gives a satiny finish and highlights the area beautifully.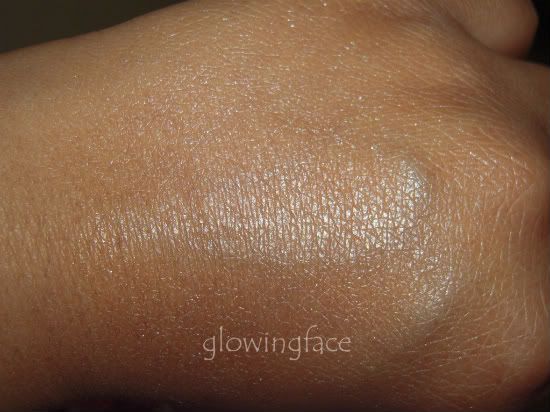 NARS COPACABANA MULTIPLE (Sheered)
The application technique
I use my fingers to apply this. I can't apply any of my Multiple with brush. I find it difficult to pick the product. If you have any suggestions please share.
I 'Dab' the product and slightly rub it in. If I over blend it, the moisture or cream that holds the tiny sparkles or shimmer, just melts in the skin and I am left with scattered tiny sparkles all over. As it is, there is no base color holding the shimmers. (I hope this description is making any sense)
Drawbacks/Cons
Apart from the hefty price tag, the product has a tendency to dry in the longer run and being a cream product, it comes with some sort of expiry aswell.
Overall a great product and I think it would work on many skintones. I do have a feeling that it might turn ashy on some darker skintones, but again it depends on how and where you want to use it.