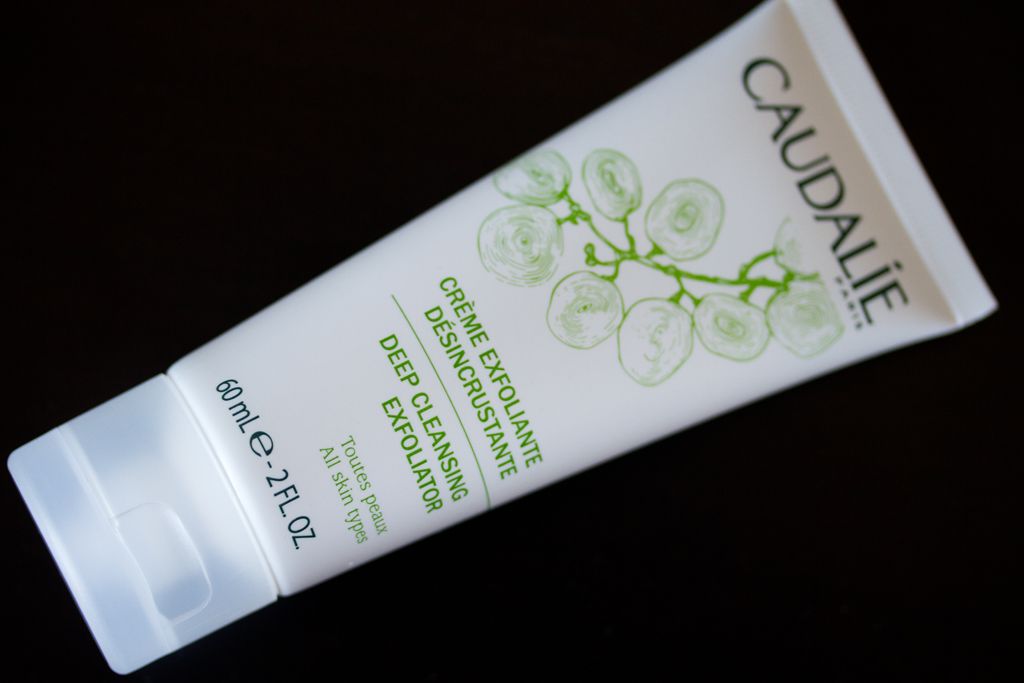 What it is: A deep cleaning face cleanser for superior texture.
What it is formulated to do: Using exfoliating microparticles for deep cleansing that will leave your skin pure and silky smooth, this face cleanser will provide deep-down skin renewal and refined texture. The menthol provides an ultra-fresh effect, while the grape pulp deeply moisturizes and soothes. The 'whipped cream' texture offers a little luxury to your skin care regimen, with fresh and fruity notes of grapefruit and white peach for an uplifting and satisfying aroma.
What it is formulated WITHOUT:
- Parabens
- Sulfates
- Synthetic Dyes
- Petrochemicals
- Phthalates
- GMOs
- Triclosan
Review and my thoughts on this product based on my personal experience.
Caudalie

Deep Cleansing Exfoliator
This product reminds me of Neutrogena Microdermabrasion system I once had. It came with sponge disc s and a machine like Clarisonic.
The Caudalie exfoliator itself is white and creamy with absolutely micro fine gritty particles in them. The cream is soft and holds these well blended micro fine particles. I apply this on slightly wet face. Then I gently rub my face in circular motion. Too much pressure while scrubbing is

not a very

good idea.Using

it too hard will give extra dry and raw feel on skin.

It cleans the skin well and gives a slight minty tingle later. This tingling effect is not very harsh, but enough to give that fresh and clean feel. It did not break me out nor leave any redness or blotchiness. The skin felt good and there were no dry patches later. Over all a good product but not a ground breaking, unique, must have kind of thing.

A sample from Sephora should help in deciding whether to commit on a full size tube. One good thing is this did not sting the eye like the

Origins

Modern Friction™ Nature's Gentle Dermabrasion scrub. It still happens to be my absolute favorite.

The sting part sucks though!
This one is slightly more abrasive than a normal scrub. Not as rough as sand paper and less abrasive than Lush Scrub (
review here
). So it is a good idea to use it weekly or may be bi-weekly but not daily.

Like any other scrub or exfoliant this too is not to be used with Clarisonic or similar machines. Another thing to remember is never open your eyes during the rinsing process. The gritty stuff gets into the eye. Its annoying and equally hard to get rid off! So better to keep

the eyes shut till the scrub is completely off the face. It is an obvious thing, but I learnt it the hard way!