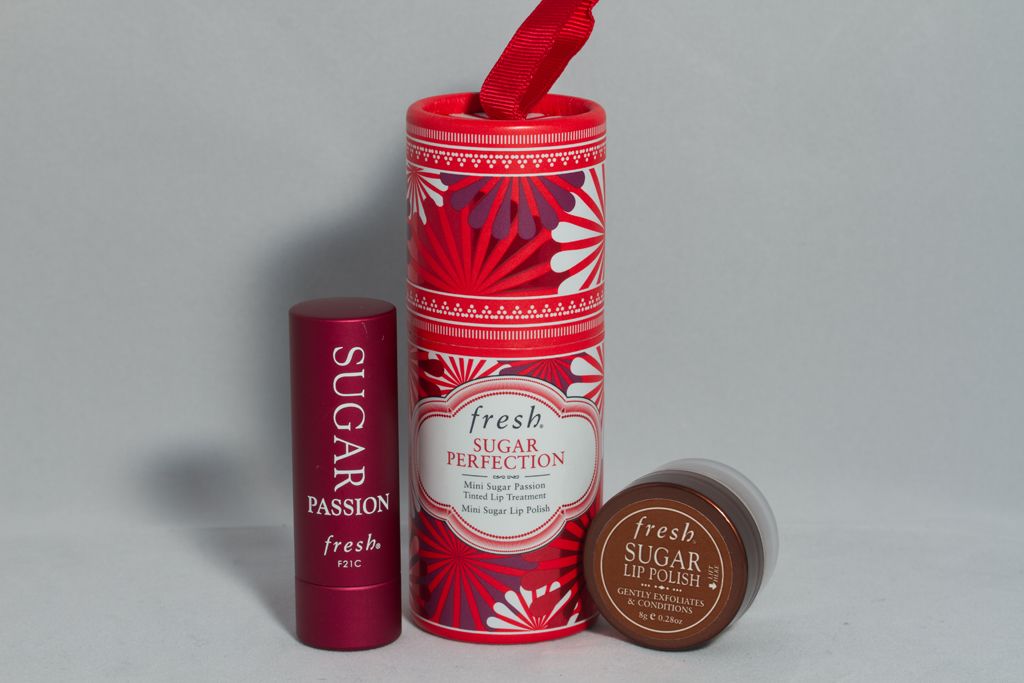 Fresh Sugar Perfection Set (Part of Holidays 2012 - Available at Sephora)
These kind of kits/sets are a great way to try out multiple products. This costed me $22.50, not a very cheap deal because the Sugar Lip Polish is travel Size (0.28 oz). This travel size is big enough to last for couple of months. Great way to try out before committing on a full size jar.
The Lip Balm in Passion though is a full size tube.
What it is:A sweet treatment that that leaves lips incredibly soft and smooth.
What it is formulated to do:
This unique formula is enriched with real brown sugar crystals to gently buff away dry flakes. It nourishes the lips with the oils of meadowfoam seed, jojoba seed, and grapeseed while shea butter provides long-lasting moisture.
What it is formulated WITHOUT:
- Parabens
- Sulfates
- Synthetic Dyes
- Petrochemicals
- Phthalates
- GMOs
- Triclosan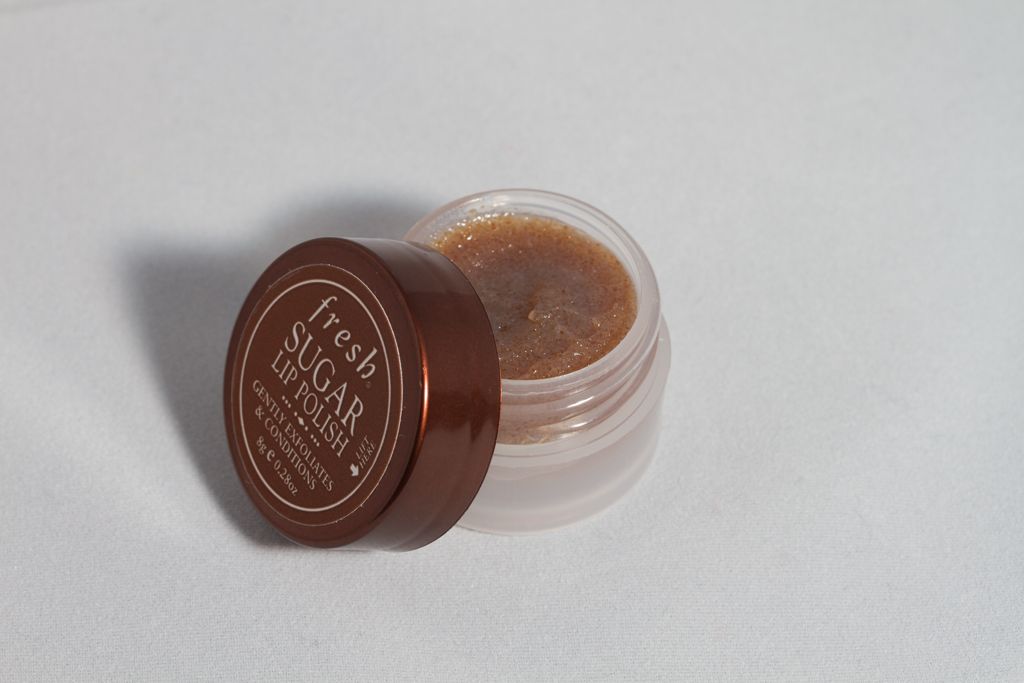 fresh Sugar Lip Polish
I always wanted to try this product, but buying a huge jar and then not liking it would had been a waste. Usually I manage to get samples at Sephora for first trial, but for some reason, I never asked sample of this one.
Over to the review and thoughts on this one.
Color:
Brown
Texture:
Slightly gritty, thick and goopy.
Consistency:
Thick like something mixed in Vaseline.
Fragrance
: Nothing specific worth noting, but not annoying or stinky.
Taste

:
Not tasty like the Lush Sugar Lip Scrub
(reviewd here)
Application:
Apply a tiny amount on slightly damp lips and then scrub for a minute or so. Rinse off with water.
Feel on Lips

:
It was like applying a gritty lip balm. The product though gritty is not too abrasive. It leaves a film on lips and does not tastes as amazing as Lush Sugar Scrub. It also didn't slough of too much of dead skin.
My Thoughts
: One major difference that I noticed with this Lip Polish and the one from Lush is the consistency and the base used for the sugar crystals, which is essentially the key ingredient.
While Lush uses Castor Sugar in Jojoba oil base, this uses Brwon Sugar in some kind of a waxy, vaseline kind of base. I guess this consistency is due to the use of Shea Butter.
The waxy, vaseline kind of base coats the Brown Sugar and hence it does not feels abrassive enough on lips. Also once the product is off from the lips, it feels like there is lip balm on the lips. This effect though lasts for very less time, so Lip balm is a must.
This would work good for people who have mildly dry lips, as the product is not abrasive enough to slough of large chunks of dry skin. Some one with more flaky and dry lips would want to try a more abrasive scrub.
I would not re-purchase this one, but it is a nice product as instant relief for chapped lips. I honestly have mixed feeling about it. I like it, but I don't love it. This is not a HG material for me.
Any recommendations for a good Lip Scrub? Any favorites?