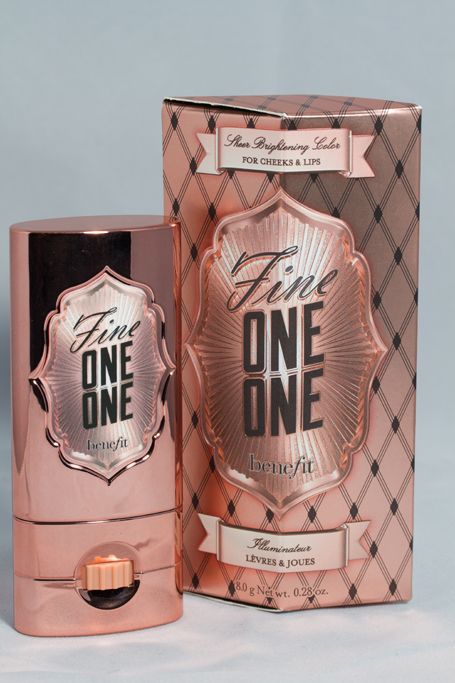 What it is:
A sheer, brightening cheek-and-lip color for instant lift, shape, and pop.
What it does:
Having a beauty emergency? Call Fine-One-One! This lip-and-cheek illuminator glides on sheer in three different shades for a coral pink flush that builds from soft and natural to bright and cheery.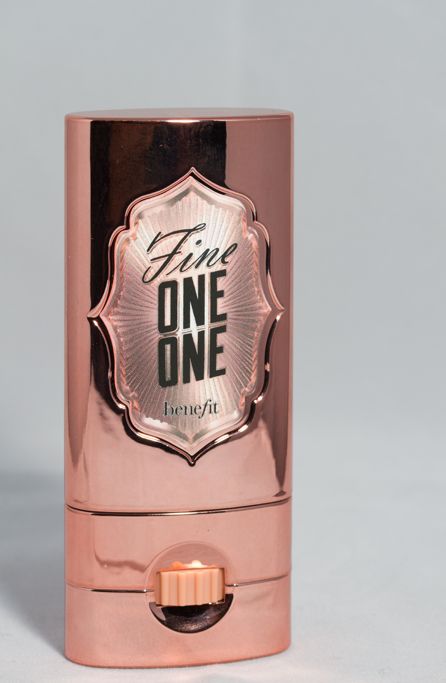 I was immediately drawn to this product the moment I saw it at Sephora. I have not been following Beauty Blogs religiously, like I used to do before, so I had no idea about this new product at all. Usually, I like Benefit Products and so I picked this to give it a try.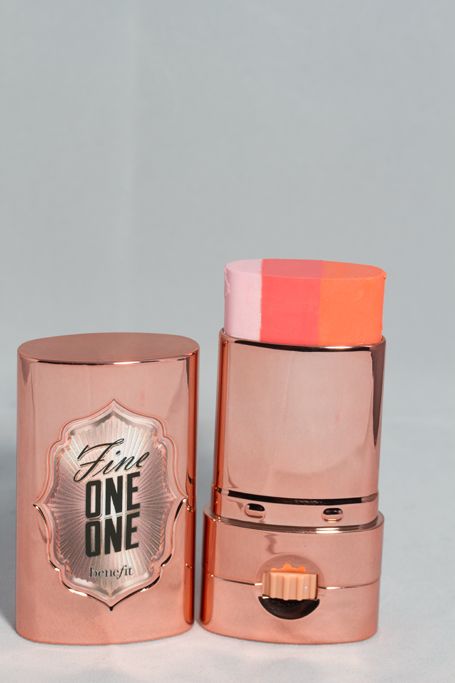 Colors:
Three stripes of colors in stick form. There is a highlighter or illuminator which is a pale pinkish beige color with gold micro shimmers. The second color next to it is a Pinkish Coral and the last color is popsicle Orange. They are supposed to work in harmony when swiped together to give a 'coral pink flush' on the cheeks. (as per Sephora description)
Texture:
Creamy more on dry side of spectrum.
Application:
I had hard time applying this product directly from the stick to cheeks. I mean the shape of the stick is such that getting all the colors to be deposited with equal intensity was difficult. This lead to patchy and uneven application on both cheeks.
Next, I tried swiping all the three color on my fingers directly from tube and then applying on cheeks. This way I could control the amount of color deposited.
Color Pay off:
Unfortunately, it didn't show up well on me. I had to pile on multiple layers to build the color. I am NC40/NC42 in MAC foundation chart with Olive undertones. With multiple layers, I had to blend a lot and more the blending, more the color was lost giving it a p[atchy uneven appearance.
Feel on Skin:
It was not super dry or oily on skin. Didn't blend well and it neither turned from cream to powder finish nor cream to cream. It just sat on skin and even though the color was beautiful, the end result was very unflattering and patchy.
Longevity:
Very poor. Barely stayed on my skin for 2 hours and it is not even summer here in Chicago. Also in attempt to get an even and natural flush, I had to pile on the color and blend a lot which made all the gold shimmer (highlighting effect) disappear.
Swatch of Benefit Fine One One (all colors individually)
Packaging:
It is cute and sleek, but the shape makes it difficult for an even application from the tube directly on skin.
Swatches of Benefit Fine One One (all colors blended)
I did try it on lips, for the sake of reviewing. It was drying. Usually these multi-purpose cheek and lip tints are mostly drying on lips and I avoid using them on lips as it is. In this case the colors were pretty unflattering for my skintone.
I love the whole concept of a multi-purpose product in sleek packaging and it reminds me of similar kind of product that Benefit had called 'Rush Hour'. I did love that one product and it didn't had this 3 color concept, but was sleek and multi-purpose. I have no idea if they have that product anymore.
Also, NARS multiples have been in market for a really long time, but again they are single colors and not all in one cheek product.
There is room for improvement. Both in packaging and longevity department. Also, this color would work more for lighter skin tones. Darker skin tones will have to pile on the product to build up the color.
Available at Sephora for $30 USD
Have you tried this new Product?? What are your thoughts on the concept and the product itself? Do share your views in the comments below.
Disclaimer: I purchased the product myself and the review is my personal experience with the product. The link provided above is NOT an affiliate link and is for easy navigation.