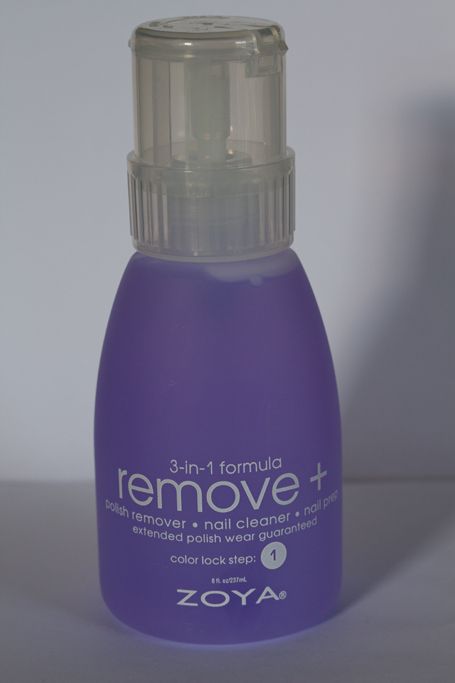 Zoya Remove Plus Nail Polish Remover
This is by far the best Nail Polish Remover I have ever used. This is the most expensive one too!
Other than the cost factor, I didn't see any CONS in this product.
Zoya Remove Plus is a gentle, yet highly effective 3-in-1 nail polish remover, nail prep and nail conditioner.
This wonder 3-in-1 formula cleans and prep nails while moisturizing, nourishing and fortifying the nail plate for guaranteed extended polish wear. Nails are left without a trace of nail lacquer, without streaking or staining, hydrated and ready for a base coat

.
How to Use it
: (
as per website
)
Thoroughly saturate a cotton ball or pad with Zoya Remove , firmly press pad to nail for a few seconds and wipe until existing polish is completely removed and nail bed is clean. Remove surface oils from clean nails and prepare nails for new color by wiping each nail with Zoya Remove
What I like about the product
Fragrance/Smell:
This smells good. Yes, for a nail polish remover it smells really pleasing. Something like light Lavender based powder. Unlike the traditional Acetone based removers, that stink like chemicals and are annoying to the core, this is a pleasant surprise. This feature is a boon to the user as well as to the others present in the room. I used to get bad irritation in my throat with regular removers, so this is a big thing for me.
Moisturizes:
Unlike the traditional acetone based removers, that leave the skin dry and with a weird feeling (I don't have an exact word to describe that weird sensation), this product actually moisturizes the nails and cuticles.
Dispenser/Container:
Super Awesome container and dispenser. It is like the one they use in salon. The flip top cap opens and the lid has to be twisted to open the lock. Pump is down, by pressing with a cotton pad and it gets saturated with the product. Easy!! This is spill proof and leak proof too.
Don't forget to lock the lid back before closing the flip top!
Remover:
This removes every trace of nail polish. Worked super well on notorious glitter nail polishes and I used it to remove my Deborah Lippmann polishes that has big, chunky glitters!
I personally didn't see any difference in the longevity of the nail polish wear as claimed by the product.
They come in multiple sizes and the dispenser can be reused by refilling it with the same product that comes in large size as well.
I paid $10 at Ulta for 8 oz. Bottle with Dispenser. I had a $5 off coupon, so technically I paid $5 plus some tax. Not bad at all for a product that works well and takes good care of my nails and hands.
This product worked wonderfully for me and I am very pleased with it. No way I am going to buy regular bottle of Polish remover for my nails hence forth.
This is HG aka Holygrail material.
Have you tried this before?? Were you impressed with it, like I am??