NARS Blush in LUSTER
This is a
FANTASTIC
color!!!
NARS Luster is a Peachy, Brown, Apricot Goldeny color. These color descriptions from me are pretty dumb! I just describe what I see. As per the website, the color is Sheer Golden Apricot.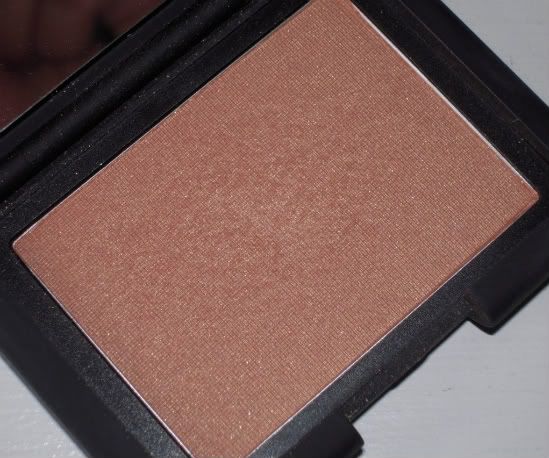 Close -up of NARS Blush in LUSTER (Different Light set up)

It has
subtle shimmer
, which gives a
gorgeous sheen
without being OTT. The pigmentation is nice and the color is sheer and buildable. I personally like to use a Blush brush, like MAC 129, and buff it to give a well blended look. I don't like to use any kind of skunk brush for this color. Its sheer, unlike NARS Desire, which NEEDS to be used sparingly. I find a blush brush helps to deposit good amount of Luster color and helps it to blend like a dream.
Comparison of NARS Luster and MAC Trace Gold
I am NC40/42 and it just incorporates a peachy/apricot color. Its not pink for sure. There is some hint of brown in the blush and its well balanced brown, so it would not give that 'sun-burnt' look.
It can also be used as a highlighter over matte, warm blushes from same color Family.
Swatches of MAC Trace Gold, NARS Luster and MSF Duo (Medium Dark)
It's a perfect blush for summer. It compliments my warm/Olive skintone so well!! At times I can get away without using any bronzer as this gives color and that contoured effect aswell. I don't know how peach or brown it would turn on very pale skin tones, but I see this working for wide range of skin tones and various age groups. It is a lovely color and can be worn to work aswell.
The packaging is usual NARS Black, rubbery casing with a mirror. Like every NARS blush, it lasts for decently long time.
Swatches of MAC Trace Gold, NARS Luster and MSF Duo (Medium Dark)
I just love this color to bits…
Believe me, this Blush is as AWESOME…not PAINFULLY BORING like this review.
I personally feel as a collector, make-up lover and Beauty Blogger, I need to keep buying and trying new products, but as a consumer, I feel I have found some really good colors for myself, that make me look pretty and presentable. I don't need anymore. Every single of my Fav Blushes from Deep Throat, Nuance, Luster, Rome, Desire etc exist in the permanent line from their respective brands. Its worth saving and investing in a color that flatters you most rather than accumulating colors that are just 'hyped' and 'mediocre'.

Warm Soul is another color that looks absolutely promising and that's on my list next…………
Disclaimer: This is not a paid or sponsered Review. Its my personal experience with the product and my honest opinion.