A self proclaimed GOLD SUCKER…I could not believe my blog did not had an exclusive post on Trace Gold!!!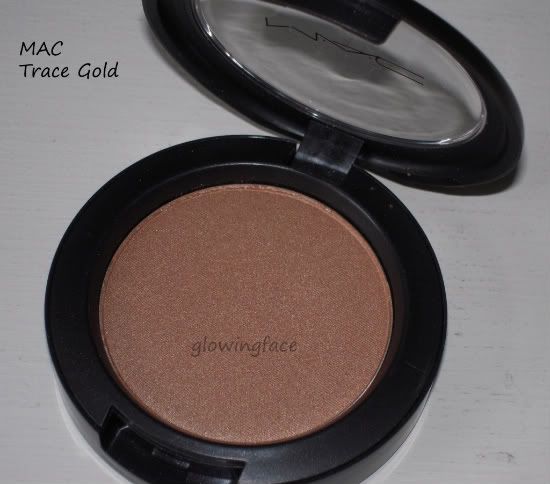 MAC Trace Gold Blush
This is a sheer tone shimmer blush. It has all the qualities that I was expecting in a highlighter with Gold tones. I personally don't like this as a blush on myself. It is pretty sheer on me, and when I try to build the color, the cheeks end up looking bronzy and the shimmer level increases. This kind of 'Bronzy look' looks pretty, but something that I won't wear everyday. It's a summer blush and all year Highlighter for warm toned coral, orange, apricot blushes.
Comparison between NARS Luster, MAC Trace Gold, MSF Duo Medium Dark
This is my second favorite GOLD Highlighter, first being that shimmer side of the MSF duo which was limited edition. They are pretty close, though the shimmer side has less bronzy tones and they have different texture aswell.
Swatches of NARS Luster, MAC Trace Gold, MSF Duo Medium Dark (shimmer side)
This looks pretty close to Otherwordly, which was limited edition, but this one is more wearable as the former one is more Metallic. I like the fact that Trace Gold has more Gold and less Brown/Bronze, which makes it a lovely Golden Highlight for skin tones like mine….but again, its not the best Color as Blush for me…
Disclaimer: I have purchased this Product and these are my personal experience.