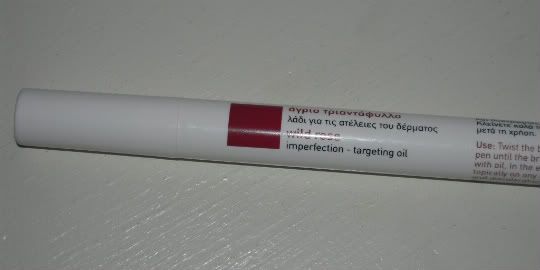 This
Wild Rose Imperfection Targeting Oil Pen
is a part of
Korres Advanced Special Care.
Imperfection targeting oil pen that quickly and effectively heals and lightens deep pigmentation

• Wild Rose oil, a potent, natural source of vitamin C, significantly diminishes fine lines, hyperpigmentation and resurfaces skin, revealing a soft and radiant complexion
• Pure vitamin C inhibits free radical damage and brightens the skin
• Phytic Acid, a natural skin lightener, helps illuminate sun damage and acne scarring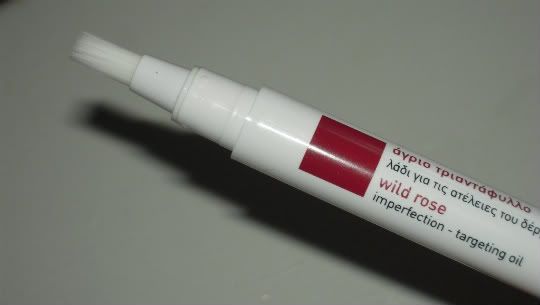 Now, this freakin things smells BAD....seriously BAD!!
After smelling everything nice and pleasant from the Korres Wild Rose line, this was a shocker for my poor Nose. It smelled somewhat like a rancid castor oil...eeewwww!!
This stuff/oil works so well for the Sun-spots, that is my major skin concern that I had to bear the awful annoying smell...
How I used it:

Once at night.
Duration: 5 weeks.

The container is like a pen and the applicator is a brush. This is very much like those Stila lipglosses. You have to twist the applicator from below and the product oozes out. It is a oil, a thick oil that stinks...
I dab it on the sun-spots, hyper-pigmented areas of my face on nose and cheeks and around mouth. Wait for few minutes and then apply the serum on my face avoiding the areas that has the oil. I follow it later by the moisturizer.
All I can say, that this crappy, stinky stuff WORKS SO WELL for my skin, that I would use it again and again.
Like everything else from this line, the pen is expensive too. $25.00/0.06 oz