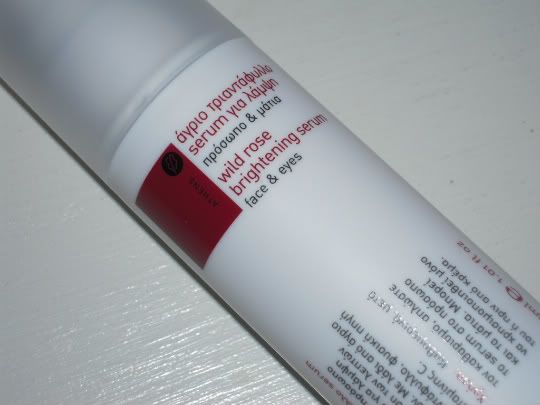 Properties

Wild Rose Firming and brightening serum that lifts and firms the skin while improving overall texture and clarity by increasing cellular turnover

• Wild Rose oil, a potent, natural source of vitamin C, significantly diminishes fine lines, hyperpigmentation and resurfaces skin, revealing a soft and radiant complexion
• Baobab-tree polysaccharides, a highly active natural extract, moisturizes, stimulate cell renewal and turnover and firms fine lines and wrinkles.
• Pure vitamin C, along with other vital antioxidants, inhibits free radical formation and brightens the skin.
• Wheat extract helps to lift and firm the face, enhancing resilience and a more youthful appearance.
• Ginseng extract visibly improves skin tone and actively firms by enhancing elasticity
• Quince extract, with noted wound- healing properties, helps skin rebuild itself
• Provitamin B5 imparts long-lasting moisture to the skin

This is a serum and it has the same rose mixed with 'something' scent, just like the face mask and moisturizer from the Wild Rose line. The consistency is not very watery nor is it thick and goopy. I would say its more like a cloudy, slightly thin lotion.
How I used it:
Twice a day AM and PM one freshly cleaned face, topped by the moisturizer.
Duration: 4 weeks.
I didn't start using this from day one. I was under impression that the serum has to be used alone all by itself. So I thought once I am done with moisturizer, I will go with the serum. This is what you get for not reading the instructions properly. Well, You can use this serum alone by itself or beneath a moisturizer. The serum itself moisturizes the skin well and keeps it hydrated for long hours, so using a moisturizer over it is kinda waste of product. But anyways, this does works and I can say that confidently because when I was using the moisturizer alone, I didn't see much of a difference, but using the serum for just 2 weeks made me seen noticeable difference in sun-spots (little brownish marks on face, that are not freckles..I call them sun spot). The sun-spots were 'lightened' and the face appeared clear. I would not say it instantly lit my face or firmed it like plastic...but the results were gradual and beautiful...
All I have to do is apply 2 to 3 squirts of serum with fingers and wait for like a minute for it to completely dry. This spreads easily due to the consistency and does not makes the skin oily or shiny which is great. The make-up stays put over it. So its like protecting the skin from make-up chemicals!!
The pump is convinient, but you know if it were in a jar or a tube, I would have tried my level best scraping out every last bit of the serum. In a pump like container tons of product is wasted as its stuck to the walls...
Call me stingy or cheap..but guys, the serum is expensive!!!
Freakin $41.00/1.01 fl oz
It was a part of a kit, so it didn't hurt. Now I would run and stock up on the kit, because this regimen is WORKING FOR ME!!!