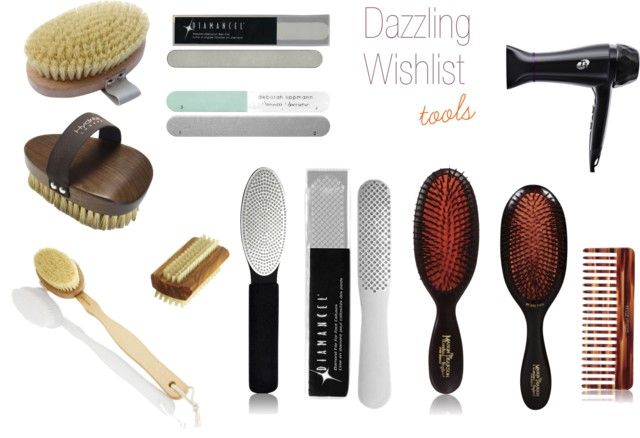 I forgot my hair brush somewhere during my trip to Florida last month. So before buying another one, I just did some research on Google. I typed Good Hair Brush for Fine Hair and I was amazed to see the world of Hair Combs and Hair Brushes. So many types, sizes, bristles. I knew there were many shapes of hair brushes and every single one of them have unique use. But to be honest, I was never into them. Never too picky.
My little research showed that
MASON PEARSON
is the Rolls-Royce of hair brushes. This is exactly how many reviews described the brush. I was so intrigued that it went on my wishlist immediately. I am confused between
'Handy Bristle' Hair Brush for Medium Length Hair
and
'Handy Mixture' Nylon & Boar Bristle Hair Brush
.
Mason Pearson Rake Comb
too looked good and so did this
GHD Carbon Anti-Static Comb
.
I also decided to upgrade other 'skincare' and 'spa' tools in my bathroom. So I added this
ELEMIS Body Brush
for dry brushing on my list. Dry Brushing is really Awesome!! I enjoy it so much. A new brush is just perfect!
HYDREA Professional Walnut Body Brush with Natural Bristles
(Medium Strength Bristles) and
Hydrea Professional Dry Skin Body Brush with Cactus Bristles
(Firm/Extra Firm Bristles) too sounded interesting and this is a UK based brand. I saw these on Amazon, but I would prefer to see them in person before buying. Also, Elemis one comes with handle that can be detached. So I am leaning more towards the Elemis one.
All the 'natural bristle' craze in my head has prompted me to upgrade my nail and hand brush as well. Currently, I use a random synthetic bristled brush from Ulta, but now I want to upgrade to this
KENT NB3 Beech Wood Nail Brush
or this
IRIS HANTVERK Nail Brush
.
This is more like a Hand Brush.
They say
DIAMANCEL
is the best. I said I want!!
DIAMANCEL Diamond Foot Buffer #11
and
Diamancel File White #1 Nail File
for Thin and Brittle nails became a part of my Dazzling Tool Wishlist.
DEBORAH LIPPMANN Smooth Operator Buffer File
is another product that I wish to own. It sounds like any other Nail Buffing Blocks, but I have been really impressed with multiple Deborah Lippmann products that I have been using. So just an upgrade!
T3 Featherweight Luxe 2i Ion Generator Hair Dryer
: I am desperately in search for a hair dryer that would work for fine, frizzy hair without damaging them. I usually let my hair dry naturally, but sometimes it is good to use tools too. Any suggestion for the same other than what I am wishing for?
Few Beauty Cravings have to take a back seat, simply because I really want to upgrade few makeup brushes and tools mentioned above.
Any new things you all wishing for in the coming month? Nordstrom Anniversary sale starts 10th July. Anything from that sale? I love the Nordstrom Anniversary Sale, but I this year I am going to take it easy. I have few new responsibilities and priorities to take care of. One being committing on buying a new home! Hello Mortgage!