I knew I wanted this
CHANEL DENTELLE PRÉCIEUSE ILLUMINATING FACE POWDER
the moment previews started floating in the beauty blogging world on the internet.
I did go over board with clicking pictures, but then who wouldn't?
The
Chanel Dentelle Precieuse Illuminating Powder
is a Nordstrom Anniversary Beauty Exclusive and after drooling over the beautiful photos and swatches, I finally got a chance to visit a Nordstrom Yesterday. (Yep, life has been too busy, but then again who is free these days!). I was very sure, I didn't want to buy a $80 product by just looking at the pictures.In the past, I have already been sucked by Chanel's beautiful designs and 'exclusive' tags!
With stunning, intricate lace design on the powder, the product itself is a masterpiece! The color is a beautiful, complex mix of Beige,Coppery bronze and Peachy Pink. It is very difficult to describe the color and depending on what an individual's eye can see, I have read multiple description of the same powder. Some call it a mix of rose and Champagne while others see it a golden beige. To my eyes, it sure has coppery bronze and beige shades. The powder definitely has warm undertones and is very finely milled.
The SA dusted it on my face with a big Chanel brush and all I could see was wonderful glow and luminosity on my face, especially the cheek bones and high points where she meticulously placed it. I didn't notice any shimmers nor sparkly glitter. It is a very very finely milled powder, that is not too powder or dusty. It is not frosty. It illuminates and brightens the face and gives it a very natural sheen and glow, without accentuating the pores or emphasizing the flaws. Depending on the brush used (a very dense brush), this can appear a bit metallic too.
It lasted for good 6 hours on me and did not make me oily at all. The SA also applied it on my eye lids and I must admit, it looked wonderful! The makeup artist at Sephora too asked me, what I was wearing. (I know, they always compliment, but yeah, whatever!)
I tried taking pictures and comparing it with the very initial products that came to my mind. I tried swatching them and taking pictures as well, but some how I couldn't manage to capture the sheen of the product. I didn't had the heart to ruin that lovely Pattern on the product. The lace pattern will eventually fade of after couple of uses, but using it with brush will make the lace pattern visible for long over to swatching it with fingers.
I will do a comparison post next week.
Now the cost factor and the most asked question to self. Do I need this? Is it a must have?
It is pretty steep as far as price is concerned. But then most of these 'high-end' designer beauty products are. Be is
Chantecaille Rose Petals (Les Petales de Rose) Illuminating Face Powder
or
Clé de Peau Beauté
Luminizing Face Enhancer
.
So if choice is to be made, it has to be made quick! This is
Limited Edition
and
Nordstrom Exclusive.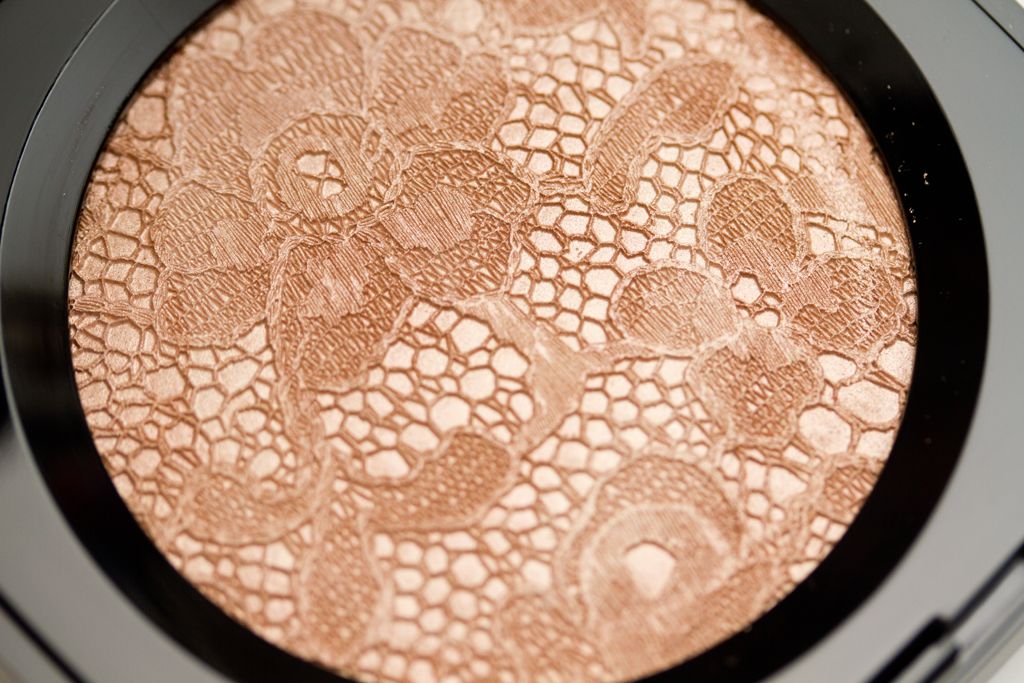 Do I Need this:
I don't think so. If you have found the product that manages to give you the "ethereal glow" and "lit from within glow", it is absolutely fine to skip it. Also, the effect can be achieved with other product as well. I am sure there are other brands that keep coming with illuminating powders and highlighters all the time. I do not follow every single brand. If you are a collector, this is something you will regret if you miss now.
The Beauty Look Book, Temptalia, Color Me Loud, Ommorphia Beauty Bar
have wonderful comparisons and swatches, which I am sure you must have read and seen by now.
Have you purchased this? If not purchase, tried it? What do you think? Any thoughts in general for these powders that create the crazy hype and are limited edition?
The post contains

Affiliate Links