'BEAUTY BUYS' is just another term coined for the infamous 'HAUL'. Its the list of things I buy, try and the ones you will hear me 'yak', 'blab', 'review' about in next few posts!!! Call this a 'Preview'.
.
Both ULTA and Sephora had great sales in April. Ulta had 20% off all items and Sephora had Chic Week that gave 15% off all their products. I had a decent wish list, but I stuck to things I actually wanted. There were some products that were on my list, but I was low on cash. So I let them go.
Goodies I picked from ULTA
Essie Base Coat:
I badly needed a base coat for my nails. I had heard good things about both Orly Bonder and Essie, but chose the later one.
CND Top Coat:
After my not so good experience with Essie's Top Coat, I picked the CND one. I used it on the day I picked and I am really liking this top coat. It is super shiny.
L'Oreal Nail Polishes:
My first time trying L'Oreal Polishes. I picked the obvious Spring Funky Colors. A blue and a Purple.
Tarte BB Primer:
Like I need another primer in my life... seriously!
Urban Decay 24/7 Lip Liners:
I always wanted to try these, but just could never justify paying high price for Lip liners. Mascaras and Lip Liners. I just find drug store ones work pretty good!
Tarte Mini Set of 3 products:
The stores always keep these minis near their cash counters. A great way to try some products before buying the full size. It has a Primer, a Mascara and a BB Cream I believe.
Real Techniques Blush Brush:
These brushes are awesome! I am yet to be disappointed by any one of them.
Goodies I picked from Sephora
Urban Decay 24/7 Eyeliners:
They came out with some amazing new shades. I picked 3 matte ones and I already own 2 of new Matte Shades that I picked in a set during the Holidays 2012. There is nothing comparable to these liners. I just love them!
Hourglass Primer and Serum Set:
My first time trying any product from this brand. I chose the primer and Serum set, because I have heard many many great things about their primer. A mini kit was my choice for obvious reasons.
Buxom Big and Healthy Lipstick:
I had been eyeing this color in Hooligan. It is Mauvey Pink color, very my kinds.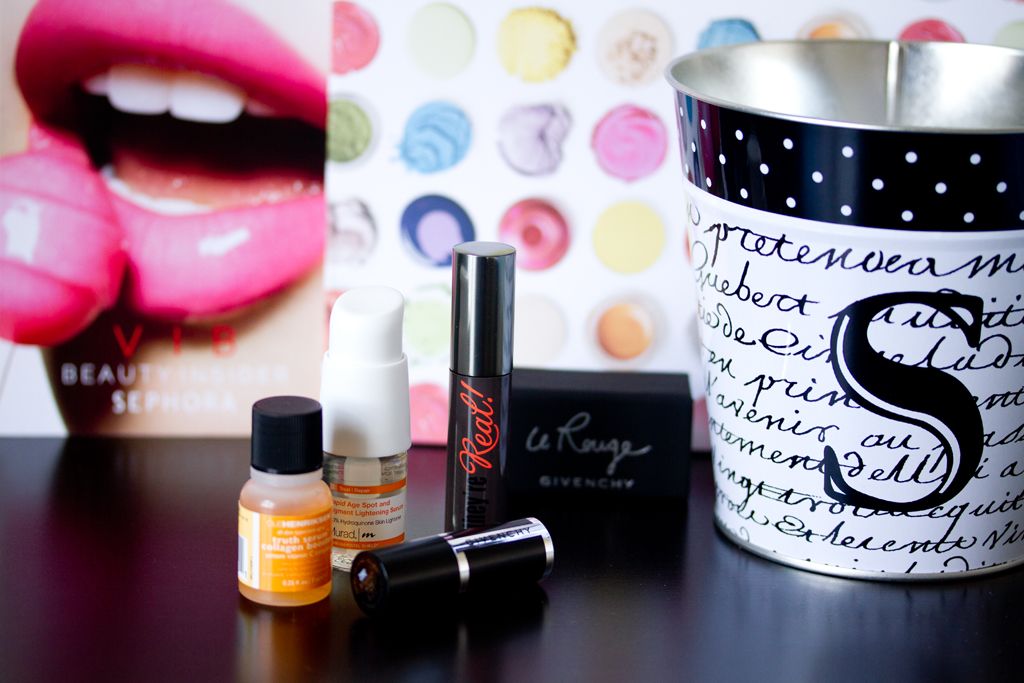 Sephora has lovely freebies. The 100 point perks got me a Free
Givenchy Lipstick
, a
Benefit 'They are Real' Mascara
, an
Ole Henriksen Serum
and a
Murad Rapid Age Spot and Pigment Lightening serum
(I love serums!!)
Super excited to try all these goodies and freebies. I am more excited to try freebies. They are just so awesome and generous in size!
As always I will review these products and share swatches as and when I use them.