A dynamic eyeliner pencil in a rainbow of shades.

Glide on color that stays put for the duration of your non-stop, on-the-go day! These cushiony, creamy eye pencils deliver powerful, vibrant color that slides on smooth and stays soft and creamy for blending (about 30 seconds), then dries to a long-lasting finish that won't budge. Line eyes with a hint of color or go for the full artistic, multi-hued effect. Truly inspired, these pencils go all day and all night.
Created with 50 percent moisturizing ingredients suspended in a sophisticated waterproof formula, this brilliant collection of eye essentials offers long-lasting color and a dreamy, creamy feel when applied
Do these even need introduction??
I have been waiting my whole life for THIS. (over exaggerated, but true!!)
This Urban Decay Brown Eyeliner pencil has been out in market for quite some time now. I did get a chance to pick this one recently and I must say, it is Fantastic!!
Super creamy, rich and dark in color and absolutely smudge proof and long lasting! It glides on beautiful and takes about 10-15 seconds or less to set. Once set, it does not budge!!
The best part, IT IS SHIMMER FREE!! Yes, Bourbon (another shade of liner from Urban Decay) is a beauiful color, but has loads of gold shimmer, which troubles my eyes. This one is Shimmer and sparkle free.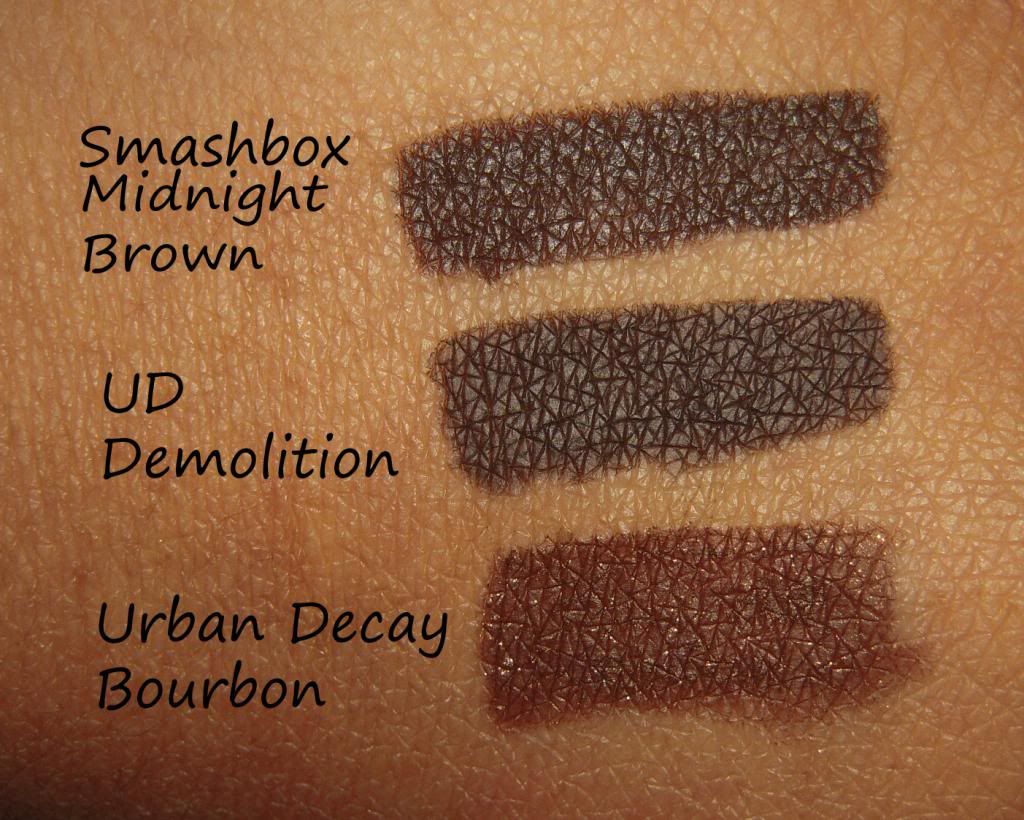 Brown Liner in Smashbox Midnight Brown, Urban Decay Demolition, Urban Decay Bourbon
I have tried multiple Brown liners in the past. These are good, especially when Black liner appears bit harsh for the looks. Most of the Brown liners were either less pigmented, were not rich in color, didn't last long or just smudged. I remember using MAC Stubborn Brown liner and reviewed in the past. It was a disaster for me. (
review and swatches - here
)
This one has all the perfect qualities and by far my favorite of all times! I would say in terms of consistency and longevity
MILANI LIQUIF'EYE LINER would come close second. I have not tried the brown color, but the black one I tried was awesome! (

review -here

)