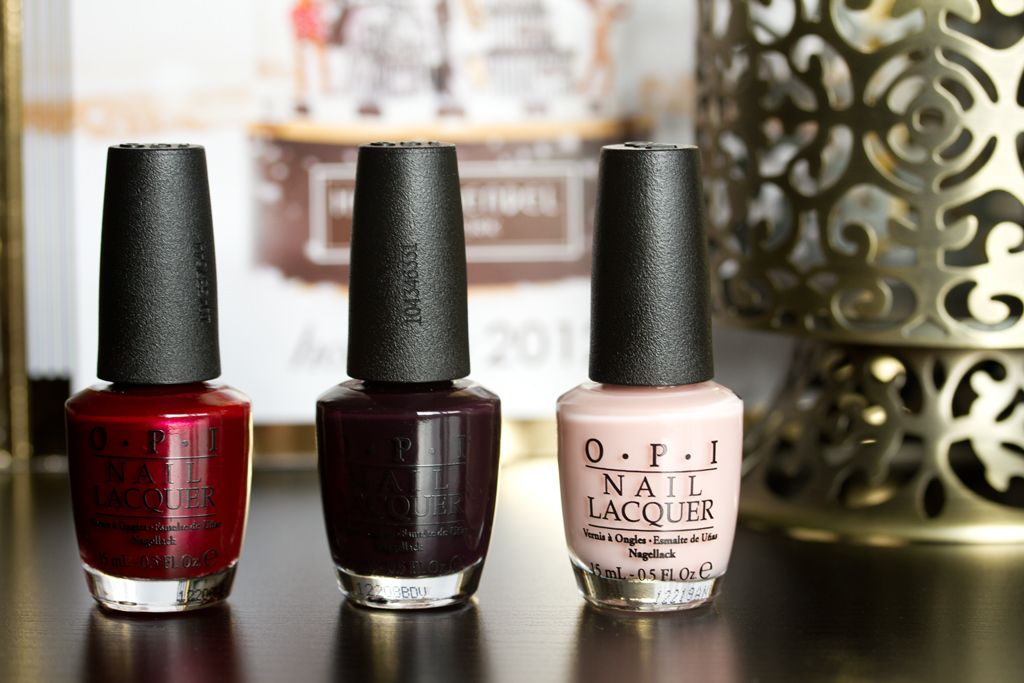 OPI Nail Polishes in I'M Not Really A Waitress, Lincoln Park After Dark, BubbleBath
Very recently I picked a few Nail Polishes from ULTA. My two very favorite staples had dried out and I wanted to try a few more shades in red this year. Lincoln Park After Dark is an old favorite and I'm Really Not A Waitress is very popular but totally new to me.
Deborah Lippmann Nail Polishes in Ruby Red Slippers, Lets Go Crazy
I am not very much into Glitters, but occassionally love to paint my nails with some sparkly stuff. Always wanted to try Deborah lippmann polishes. Heard a lot of good things about them. Picked two colors from ULTA and I must say I am totally in LOVE with the whole concept of chunky glitters.
This was totally an impulse buy. I saw these tiny mini cute bottles for $12.50 at Ulta and thought it was a nice way to try four new shades from the OPI Skyfall Collection.
OPI Skyfall 007 Collection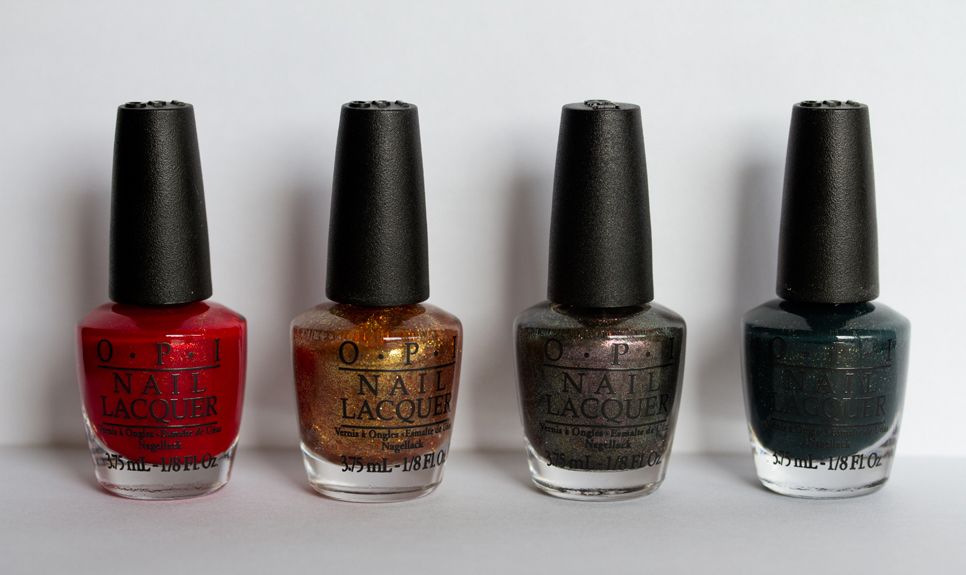 OPI Skyfall 007 Nail Polish in the colors The Spy Who Loved Me, GoldenEye,
The World Is Not Enough, Live and Let Die
The World Is Not Enough looked stunning in bottle, but unfortunately did not show up that beautifully on my nails. It just didn't flatter my skintone.
Live and Let Die is this beautiful deep
greenish, bluish shade with microfine gold shimmers. It is Beautiful, but after 3 coats the shimmers just got lost.
The other two colors were usual Red and Gold.
Overall good colors in a set, but I would not buy any of the colors individually.
Deborah Lippmann Nail Polish: Ruby Red Slippers
Very beautiful rich red color with micro and macro glitter of same color in various sizes and shapes. Absolutely beautiful on nails and I cannot get over the beauty of that bottle!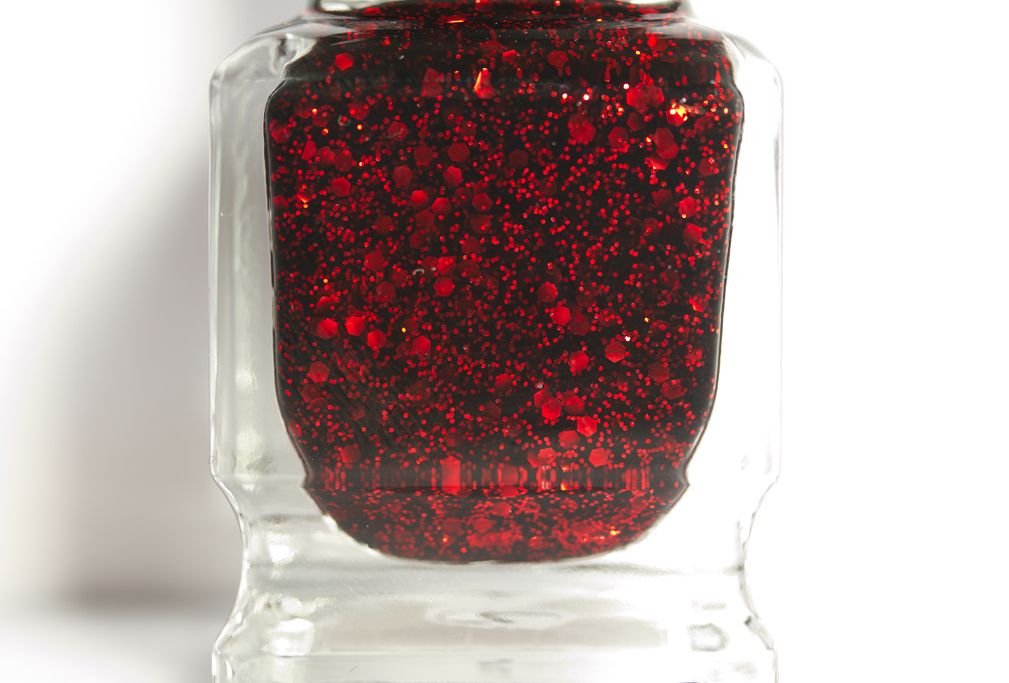 Applying glitter nail polish is bit of a trick. If the formula is not good, the glitters just don't lay flat. They are unevenly distributed on nails, they goop up and over all make a hot mess!!
These nail polishes though were awesome in consistency. The glitters stuck well and they dried well too.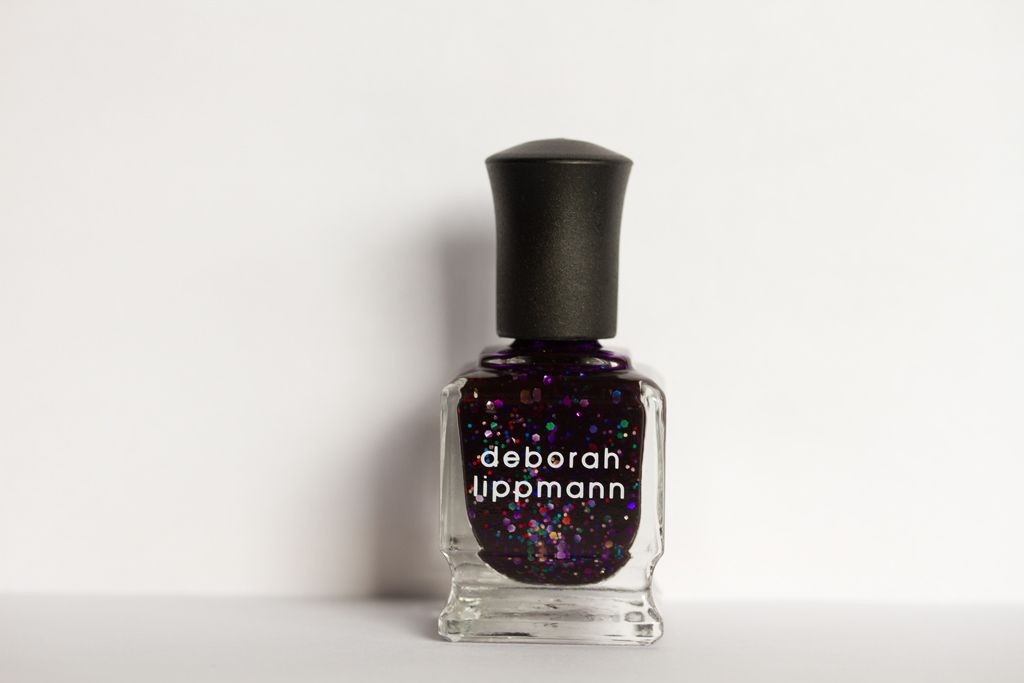 Deborah Lippmann Nail Polish : Let's Go Crazy!
This one is my absolute Favorite! It is such a stunning color!!
This deep Purple color is loaded with rainbow colored multi shaped, multi sized glitters. I just love it so much, that i went crazy clicking pictures. Hence the over load!!
Personally I like to layer these colors over some other nail polish of similar color family. I find the glitters look much prettier when layered over something, rather than 3 coats of same glitter nail polish.
OPI Nail Polish: I'm Really Not A Waitress
I always wanted a good red. I don't know if this is the best red, but it definately is a good one. Flatters my skintone and with multiple layering options of Gold nail polish and glitters available, this would form a perfect base and would make a great Holiday color.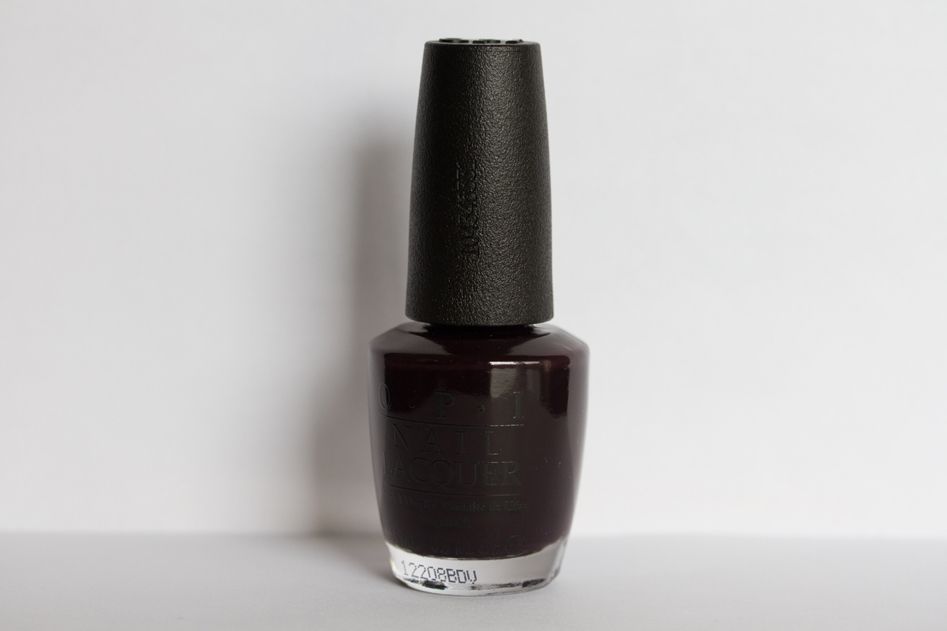 OPI Lincoln Park After Dark
An old favorite and a classic color for Fall/Winter that needs no introduction. I already had a bottle, but for some reason I am unable to open it. It is Stuck!
I thought I would go for a change and opt for another color Lincoln Park after Midnight. But my Ulta didn't had that color on rack, so I just ended up picking this one.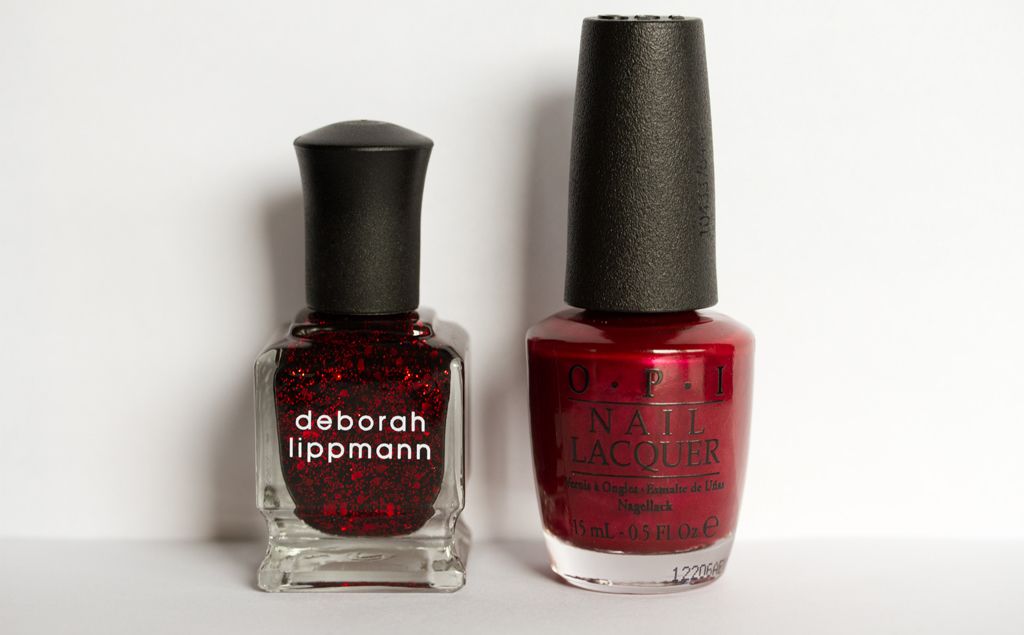 Deborah Lippmann Ruby Red Slippers and OPI I'm Really Not A Waitress
Deborah lippmann Let's Go Crazy and OPI Lincoln Park After Dark
These are a few colors I picked and the pictures above are very true to the color. I tried to click pics of the swatches on my nails, but some how I could not capture the real color on my nails. There is some technique to click nail color swatches on nails, which I have yet to learn.
The pics in bottle above are just very close to the actual colors. So it prompted me to post them.
Also I must admit, I was just too smitten by the Deborah Lippmann colors and glitters. I HAD to post these beauties.
I keep posting nail color swatches on Instagram. It is just more easy and not time consuming. It is not perfect either, but still better. Also with so many amazing nail polish websites, why even bother with my lousy swatches.
Did you try any of these glitter nail polishes? What are your picks? Do share them in the comment section below.