These are like EVERYWHERE!!!POLKA DOTS!! Every single store had something most delicious in Polka dots and I ended up getting that something from each store I visited during the last weekend.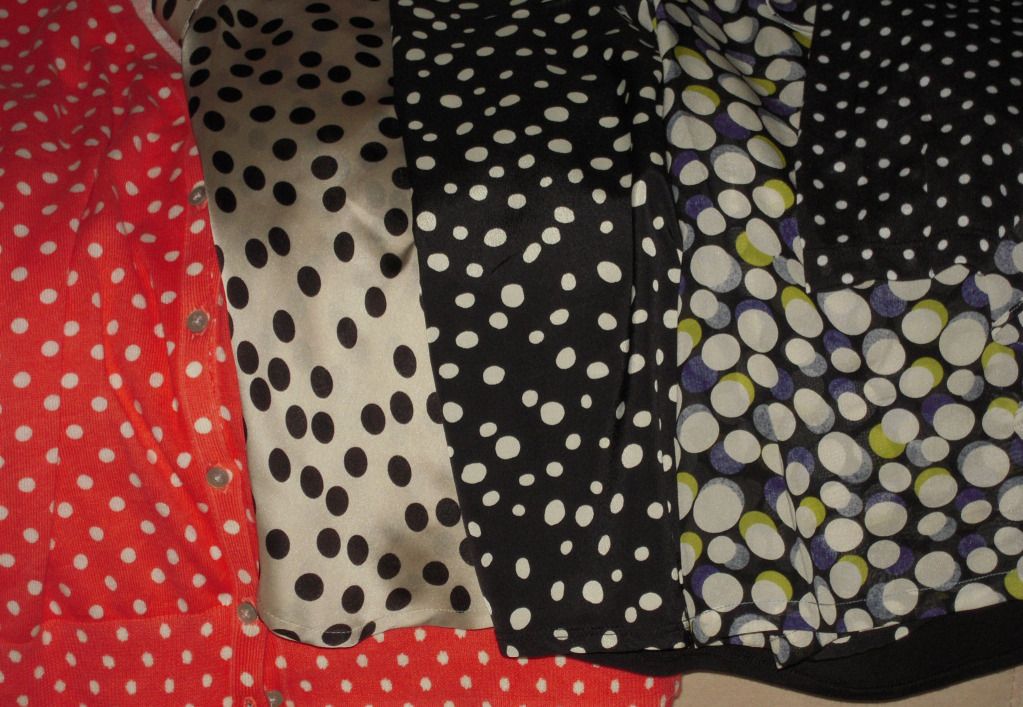 Polka Dots
Cardigans and Sweaters
Colorburst!
Cardigans, Blouse, Scarf, Gloves, Dress, Bags, Shoes etc... you name them and they have it in polka dots. At every price point and multiple composition of fabrics. There is something for everyone.
I picked 2 Cardigans and 2 Layering tops from Old Navy in different Colors. The Cardigans are 100% Cotton and they were around $20 each (approx). The Tank tops or layering pieces were barely $5 and were on Clearance. Most of the clothing I saw in white polka dot prints were very sheer for my liking.
Ann taylor had a lovely Polka dotted scarf in Silk and Cotton Blend. It came home with me as well.
My Best Score was a cute 100% Silk top from Anthropoligie. It was on clearance at $50! Super Soft and super girly and flowy. I just love the feel of silk. Unfortunately, once you start loving silk, it becomes difficult to like polyster. No seriously!!
From Gap I scored a beautiful Grey Top with Blue Big Polka dots. Super comfy and Super cute. Would looks great with any blue skinny jeans or Black Leggings. GAP had lovely Scarves as well and reminded me of Marc by Marc Jacob Scarves.
The Limited had shell tops in a Polyster and Rayon Materials. I picked them as well, but have no pic in print to share. It is on their website.
I also scored a beautiful Satin/Modal fabric top from Nordstrom rack and it is super stunning. It is Oatmeal color in my pics above. Feels like Silk, but it is not. It is from Nic and Zoe.
H n M had a trendy button down shirt. Looks super cute, but the fabric is not amazing. you pay for what you get. It was $ 12.95 only. How could I leave that one.
Nordstrom and Neiman marcus too had some cute silk tops, but they were not in my price range. One that I really liked was from Kate Spade (above right)
There were some amazing stuff at other stores as well, especially Franchesca's Boutique and likes, but some of them didn't fit and I could not justify the price of few pieces, even though they were cute.
What are your Pics from Polka Dots. Any suggestions for Silk Tops? More interested in flowy ones and not professional looking. I would prefer trying these tops on before buyings. Please suggest some brands and link if possible.
Thanks for reading and have a great week ahead.
Disclaimer: I am not a fashion blogger. These are just few things I picked and have shared.