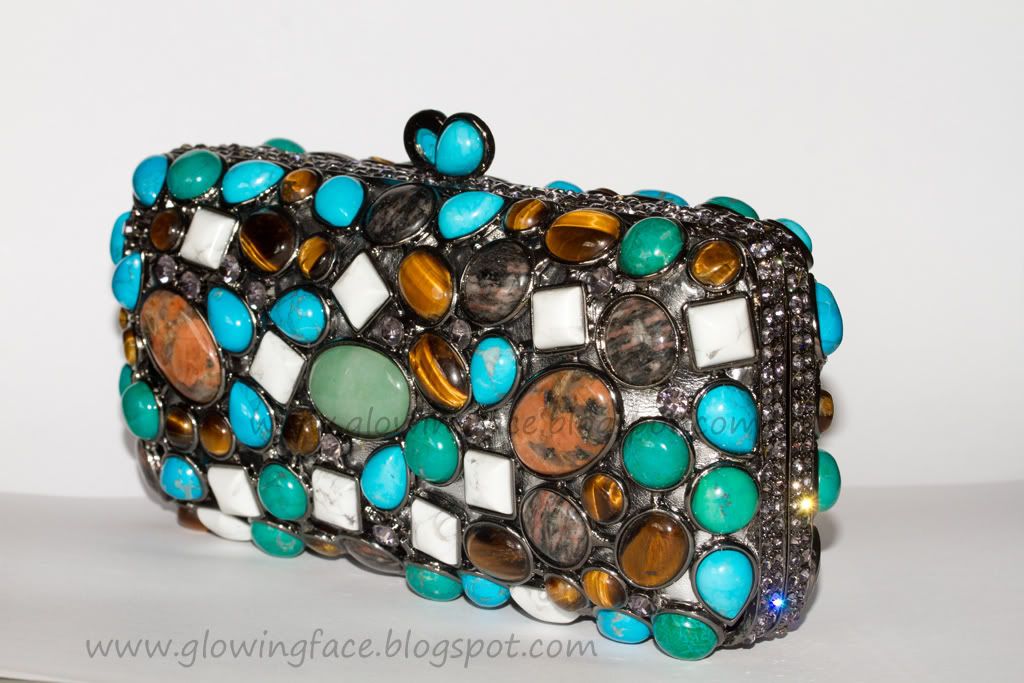 I had been

seriously

wanting this Bianca Turquoise stone clutch from the time I saw it on Wendy's Look Book and since past one month it has been haunting me in my dreams…
J
Finally, this beauty arrived in mail on Friday and I am loving it!!! Let me tell ya girls.. this Stone studded clutch is as heavy as a stone! Seriously!
Usually, when I have to shop for things online, I always look for some reviews on the internet. I saw this clutch only on one blog and I wished the fashion blogger had reviewed the clutch a bit instead of just modeling. I fell in love with it anyways, so I had to get it

. I hope the review helps someone who intends to buy this beauty.
The exterior of the clutch is unique and stunning, but I had some doubts regarding the interior of the bag.
My review and thoughts on this wonderful, conversation starter piece of accessory.
Size: Length – 18.5cm, Height – 9cm, Width – 5.5cm (from website)
The Exterior: Stones and Crystal
Studded with multiple natural gemstones and crystals, the clutch is a heavy weight champion. The stones are of very good quality and the colors are rich and vibrant. The side of the clutch is completely lined by multiple gunmetal colored rhinestones which are Swarovski elements. I love the way it sparkles and catches light. Few rhinestones in my bag are not neatly aligned, but I believe it is handmade and so it is acceptable. It comes with few similar extra rhinestones in case you lose a few.
Little bit of bling, along with the vibrancy of stones!!! Killer combination!!!
The Lock: The lock is actually magnetic. There are four small magnets and it is very easy to open and close. Very secure.
T
he Strap: The clutch comes with a studded, detachable strap. It's metal, in floral shape and has one rhinestone in each flower. It is to be attached to a thin ribbon like material, which I wish were made of metal.
The interior: This is where the issue was. The interior is a satiny material in silver gray color and mine is not very well attached. It is loosely stitched at certain places. The detachable strap that comes with it is actually to be attached to as thin satiny ribbon like material that is stitched with just a small single stitch. I find it too thin to bear the actual weight of the bag. (these doubts were clarified by the customer service)
I agree people don't use clutch straps often, but I am not going to just pose with the clutch. I plan to actually use it and straps do come handy.
The Wanderlust Logo: The logo too in my bag was just stitched with one stitch and as the logo is made of metal, it was drooping.
The Packaging:

It came very well packed with multiple papers and bubble wraps. The clutch comes in a simple dust bag. I would suggest storing the clutch wrapped in bubble wrap first, then in the dust bag.
The Shipping: Shipped within 24 hours and it reached me within 12-13 days.
The communication: I am very impressed with the customer service. The person Jenn is awesome and all my queries were answered. I did mail her regarding the interiors and she took time to clarifying my doubts. According to her, it is done on purpose and the design of the clutch does not allows complete adhering of the lining. She also offered exchange or a compensation in form of 10% discount. I obviously chose the discount part.
My packet came with a free Wanderlust tote which is cute and a small business card signed by Jenn.
The Price:
The website had amazing deals in September and including discounts, the clutch was $140 (I paid a little more than that… but it was an awesome deal!)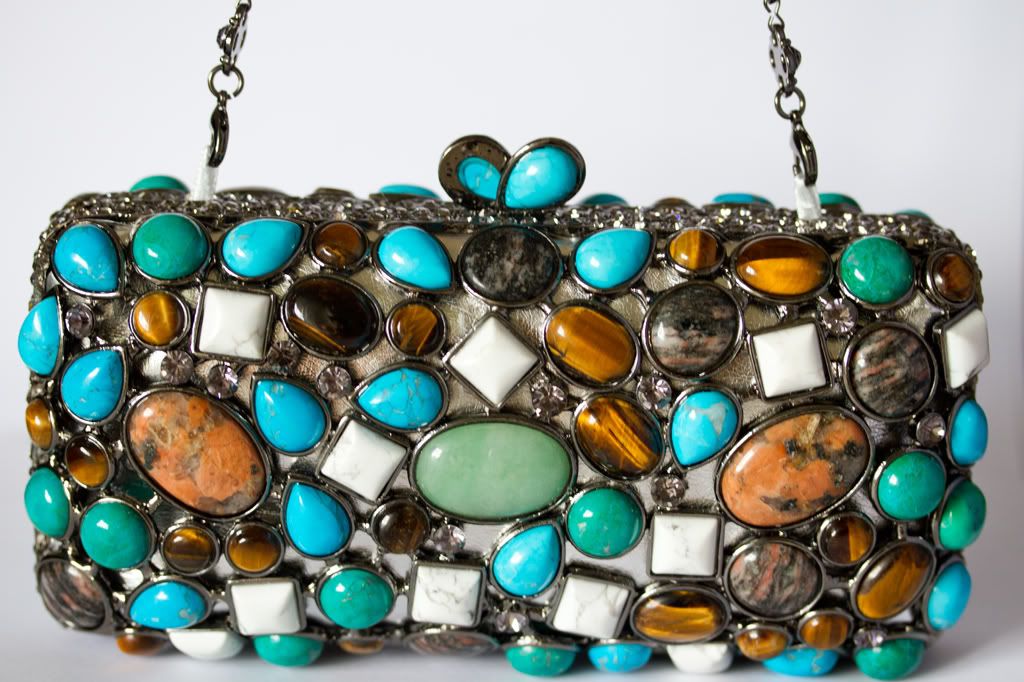 Will I buy other colors or another clutch?
I would love to own another color, in White which is equally Gorgeous, but definitely will wait for deals.

I chose Turquoise color, because it works great in summer with whites and also with LBD anytime of the year.

So yes, my White clutch can wait.
There is room for improvement, especially the hooks for detachable strap. I personally did not go through the hassle of exchange or return.

It is too tedious and expensive for both parties. Jjust a waste! So I accepted the discount compensation.
Do not let go this clutch if you find it on sale or better deal, simply because IT IS UNIQUE and I assure you will get multiple compliments! I did my little research online and have yet to come across such a Unique stone clutch at this price point. I know Prada and Marchesa makes Stone clutches that are INSANELY expensive. The website has increased their prices for the clutch. Maybe the mega discount was their Limited time offer. Keep your eyes peeled for Holiday deals. They might come up with awesome ones and new collections too!
Available at : Wanderlust +Co
Disclaimer: This is an honest review of the clutch I own. I purchased it myself and have paid for it. The link is NOT an affiliate link. It is just

for easy navigation.
P.S:

I realized I enjoy reviewing accessories more than skincare. It is instant gratification, unlike skincare products where I actually have to wait for few weeks to use, test and review. Next to follow are some amazing pieces of Jewelry that I picked recently.