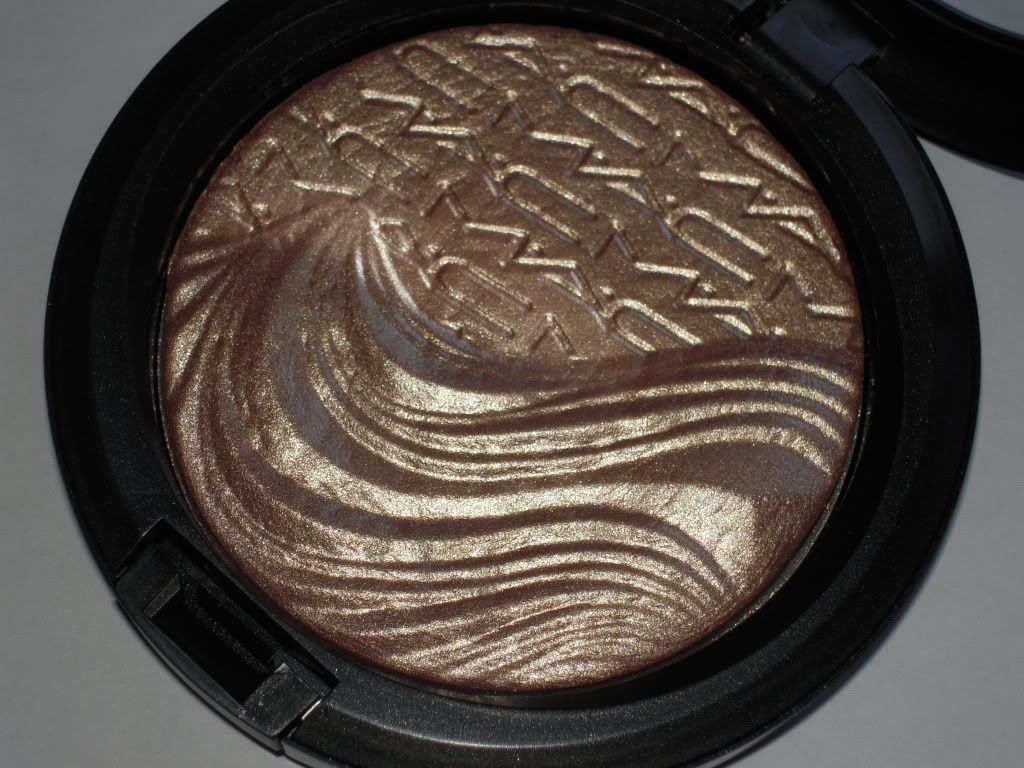 MAC Superb – I did not need this. I did not even knew anything like this coming. I have been not at all following New Releases. I do visit 2-3 Beauty Blogs though. NaturalnChicMakeup (I just love her pics), The Beauty Look Book (Its virtual shopping for me… she has the best stuff to share and I just enjoy seeing the neat blog)and ofcourse Temptalia along with few others.
I only bought this product because many people I follow on twitter were talking about this and how it is a dupe for some sold out products in the past. The Blogger in me got restless and I did my little research. Also I have a little weakness for Highlighters... Turns out this is a Illuminating powder, that has metallic finish and a consistency like liquid ?? and is not powdery, non glittery, not chunky and does not enlarges the pores.
Sounds good and the consistency is NEW (to me). MAC website said SOLD OUT. Nordies had it. With free shipping I said Why not?
As per MAC website:
A liquid-powder highlighter with prismatic reflections that sculpts, highlights and models the face. The cool, creamy near-fluid formula creates a luminous, well-defined finish. Wears 10 hours.
So here it is… a beautiful Highlighter in front of me and in front of you all. I am tempted to touch it, but I feel that the product might have too much "metallic" sheen to it. Is it like Other wordly Blush from MAC? I Love the color of Other wordly (limited edition Blush), but find it way to metallic for my liking. Don't want to ruin a product by just swatching once!
Will be visiting The mall this weekend. First I will check this in person and then decide whether or not this should make entry in my collection. Either ways I am having hard time in down sizing my make up stash.
You can see this swatched on Temptalia and Xinarox
You can see comparisons on Naturalnchicmakeup and Makeupandbeautyblog
If any one of you have purchased this beauty, please let me know if its worth the hype or just any other highlighter. Anything specific you find different than million and one highlighters out there?
p.s: This whole post was to be posted last week. I am late by one week. Did visit the mall and got a chance to check this product. Reallly Beautiful!!! Initially on my hand it looked a little metallic, but then I requested the SA to dust a little on my cheeks and she used 131 brush (stubby, duo fibre). I have no idea why she used that brush, because I use that one for cream blush.
Anyways, it really looked very beautiful... there was a lovely sheen. It did not impart any color, infact it looked very pretty on the blush.
Would love to hold on to this one. But please do give your opinions. Would appreciate. Thank you for reading.