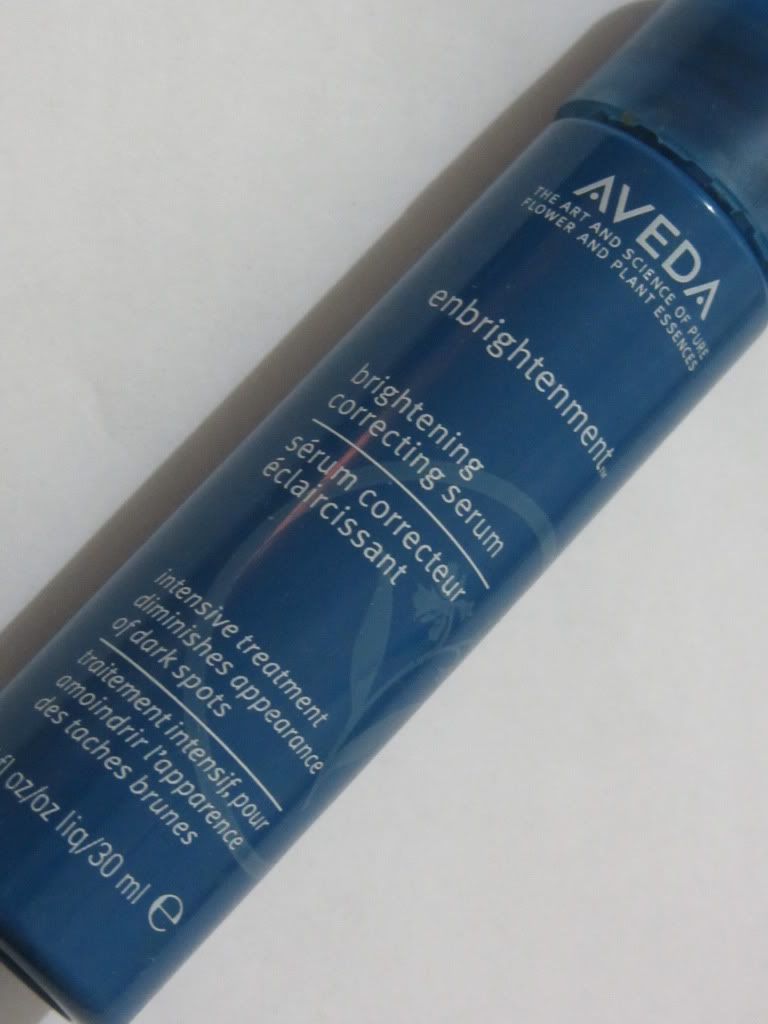 enbrightenment™ brightening correcting serum
This highly targeted treatment contains our most highly concentrated plant-powered brightening blend to diminish the appearance of dark spots and discoloration.

•Helps promote surface cell turnover for greater skin clarity and luminosity.
•100% naturally derived Plant-Powered Brightening Blend including Ascorbyl Glucoside (a vitamin C derivative), mulberry root, and grape extracts to help diminish the appearance of discoloration and dark spots.
•Salicylic Acid and Glucosamine help promote surface cell turnover.
•A soothing aroma made predominantly with organic lavender, sustainably sourced sandalwood, organic rose geranium and organic rosemary essential oils also helps soothe and calm the skin.
•Step 3 in the Enbrightenment skin care system which is clinically proven to improve skin's clarity by 52% and diminish the appearance of dark spots by 34%.*
*Based on clinical testing after 8 weeks of using the 5-step Enbrightenment regimen, plus SPF 15
Usage
(As suggested by the company)
Smooth onto clean, toned skin a.m. and p.m., focusing on discolored, dull areas. May feel tightening of skin. Follow with Brightening Correcting Lotion or Brightening Correcting Creme.
Usage
(As I Used): AM and 8 hours later during Mid day (along with Moisturizer)
Duration:
14 weeks
Texture:
Smooth Liquid, not too runny and slightly slippery (not as slippery as silicone based products)
Color:
Cloudy White
Fragrance:
Weird (I didn't like). Very annoying.
Packaging:
Plastic bottle with Pump.
Feel on Skin:
I use around three- four pumps and it is enough for my face. The texture is smooth and so the product spreads easily. Initially, it feels tacky and sticky but after a minute it sets well. I find it a bit on drying side later as it gives that tight, stretchy feel. Applying a moisturizer over it helps.
Results:
I did notice some difference in over all skintone. It did not show any noticeable change in the individual spots or dark shadows I was hoping for. My skin looked clear n more fresh n bright (if this description makes any sense). Also my pictures turned out pretty nice. Many gave me compliments that my skin looked good.
Verdict
: It's a nice product if you can bear the weird smell. Will brighten the complexion over all, but if you are looking for some spot target treatment for old acne scars or sun burnt spots, this might not be the product.
I must add, I am pretty religious with my regimen. I used the Moisturizer from the same line.
Disclaimer: No one paid me any buck to write this review. This original bottle was purchased by me. Everyone has different Skin type n skin issues. So things that might work for you, may not work for me. Please do patch test before using or ask for samples at store.
Note: I asked AVEDA store about the Weird smell of the products and she said that I should have bought the bottle back and they would have replaced it for me. Usually the shelf life of product is pretty good, but sometimes there can be a weird batch. I checked the smell of the product (new bottle) and it was actually pleasant.