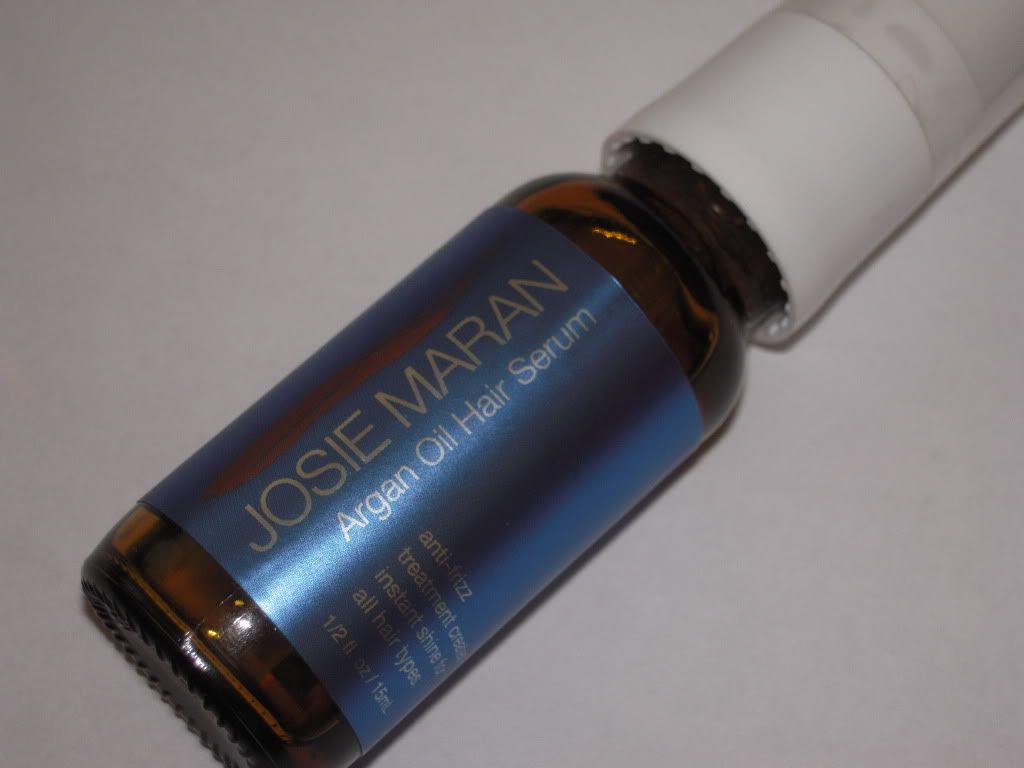 JOSIE MARAN ARGAN OIL HAIR SERUM

I typed this whole blog post and then it got lost!! How?? I don't know...
These type of reviews might be the most boring ones. I mean we all love to hear and read about the latest collections. All of us enjoy those 'HAULS' that has some amazing new products. But...but trust me, when you are out to search for some skincare or hair care or products like that, these boring reviews on random blogs really help!!
Ok, enough with the ramble...On to the review.
This is one of those silicon based hair styling product. I personally call it
H
air styling
product, because for me products that actually help in nourishing the skin/hair from within fall into the category of serum. The ones that help in merely
improving the appearance
of skin/hair is not a serum and falls into the category of styling product.
Its pretty much like the difference between Eye Cream/serum that heals and Eye Brighteners that brightens or improves the appearance temporarily.
(I don't know if any of this interpretation makes sense, but you all get the point...right?)
Information and Claims (as per website)
Argan Oil Hair Serum
An anti-frizz treatment that creates exceptional shine.

What it does:
It's the shine of the times! Argan Oil Hair Serum delivers instant shine and long-lasting rejuvenation. Argan Oil naturally penetrates the hair to help moisturize each layer of the hair strand for long-term hair repair so your hair actually looks and feels healthier, silkier, and extraordinarily shiny. Subtly scented with geranium and bergamot fruit oils, the ultra-light, never-greasy, non-alcoholic formula penetrates the hair shaft to seal split ends and deliver intense moisture to each layer of the hair strand. All hair types will instantly look and feel healthier, silkier, and shinier.

What it is formulated WITHOUT:
- Parabens
- Sulfates
- Synthetic Fragrances
- Synthetic Dyes
- Petro-Chemicals
- Phthalates
- GMOs
- Triclosan

What else you need to know:
Argan Oil is a superior source of antioxidants, vitamin E, and moisture as it nourishes and protects skin and hair from the environment. This organic ingredient prevents dehydration, inflammation, hyperpigmentation, and sebum production. It is your answer to naturally healthy, youthful, radiant, clear skin and hair.

Texture:
This is slightly thick, colorless liquid which is not too watery nor too thick n goopy. Feels super silky to touch and is very light weight (plus point). The product is not sticky at all.

Fragrance:


Mild, pleasant perfume'y' fragrance. It is not offensive or over powering.

Color:
Colorless

My Hair type:


I have thin, silky hair. They are not thin in volume, but every single hair strand is very thin. They are on drier side and are prone to breakage. My hair tangles very easily. The length is slightly below the shoulder and I color them occasionally once in 4-6 months. I rarely use hair styling products and hot tools are used sparingly. I towel dry them after wash.

How I Use it:
I just use a little more than Pea size maybe Peanut size. Spread it on my palms and apply it on the lower half of my hair, avoiding the scalp area or the roots of the hair. Dry or damp, this coats my hair well and makes it look piece'y'.
Results:
Firstly, it spreads well and coats my hair nicely, making it look soft, moisturized and shiny. It does not weighs down my hair, unlike other products that I have tried in the past with similar concept. The key is to avoid applying it on the hair roots. Also the quantity used is to be controlled. Anything more than needed will make the hair greasy. There is a thin line between greasy, oily hair and shiny, moisturized hair.
This does not tames my frizzes much.
Packaging:
Comes in a glass bottle with a pump. Easy to dispense and travel with. I have read people complaining about the product getting clumpy and thick, making dispensing a difficult task. I personally have not experienced any such problem.
Its a good product to have, especially on days when the hair just refuses to listen and is all poofy and weird. This is a little expensive in comparison to many other similar kind of product, but in my personal experience, this is comparatively light weight. Also, as very little amount is needed, this may last for long time, again depending on how frequently it is used.
Any one of have tried this or Moroccan oil or any such kind of 'serum'?? Do share your experience in the comment below and do suggest if you know of something Awesome for hair.