Nothing attracts me like Highlighters, Gold Eye shadows and Neutral Palettes. No wonder I named my Blog Dazzle n Sparkle…
The newest Liquid Highlighter/Illuminator that I picked recently is from Benefit Cosmetics. Girl meets Pearl…the name itself is so GORGEOUS!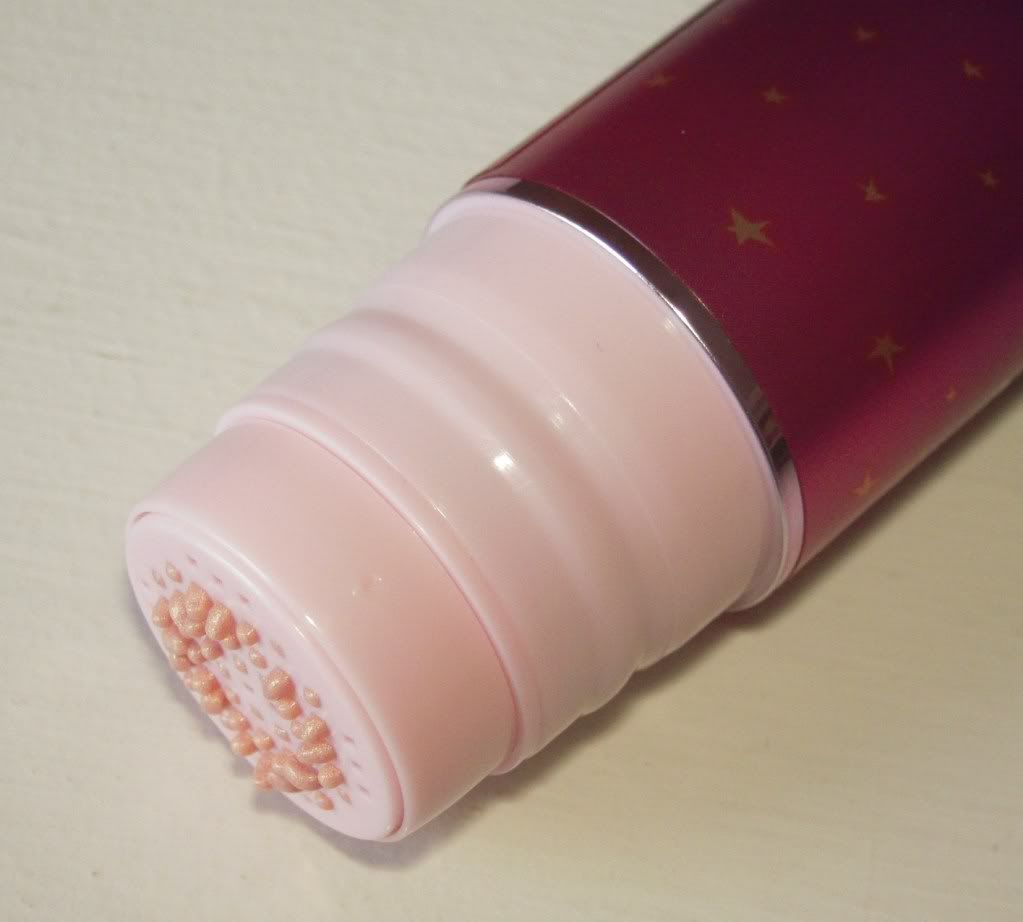 Girl Meets Pearl is a soft, golden pink, liquid-pearl highlighter.
This
sheer, light-reflecting formula glides on smoothly for a breathtakingly luminous
complexion.
Includes skin-soothing raspberry and chamomile.
The Color
: Golden Pink with slight pearly finish, exactly as a described by Benefit guys.
The Texture
: Light weight, non-sticky Liquid. It is not watery thin nor it is thick and goopy.
The Fragrance
: Its smells so good. Not overly fruity or annoying, it smells nice.
Swatches of Benefit Girl Meets Pearl and Chanel Sunkissed

The Application
: I have used this for highlighting my cheek bones and all over the face mixing with foundation. It makes me look dewy all over when mixed with foundation. I personally enjoy using this as cheek bone highlighter, on bridge of nose and cupids bow, all the high points/planes on face.
The Technique
: I have tried using it both with MAC 188 Brush and with fingers as well. I find the brush head of 188 a bit large for liquid Highlighter. I think flat topped, duo fiber brush in #130 would be just perfect. Its next on my 'To Buy' list. Fingers work fine too. I just dab 2 -3 dots, gently spread it out by patting/tapping motion. Rubbing motion will just ruin the pearly effect and instead give a sparkly effect.
The liquid does not sets immediately. It gives enough time to spread and blend.
Sheered Out
The Effect:
The product imparts a luminous, pearly glow, which is not Shimmery or Sparkly. Its not Frosty at all. The pink hue in the highlighter does not imparts any color and it does not alters the color of the blush as well. I used it over powder products too and it does not gives the patchy look. The product does not accentuates any pores or fine lines which is just Fantastic. The end result is very natural.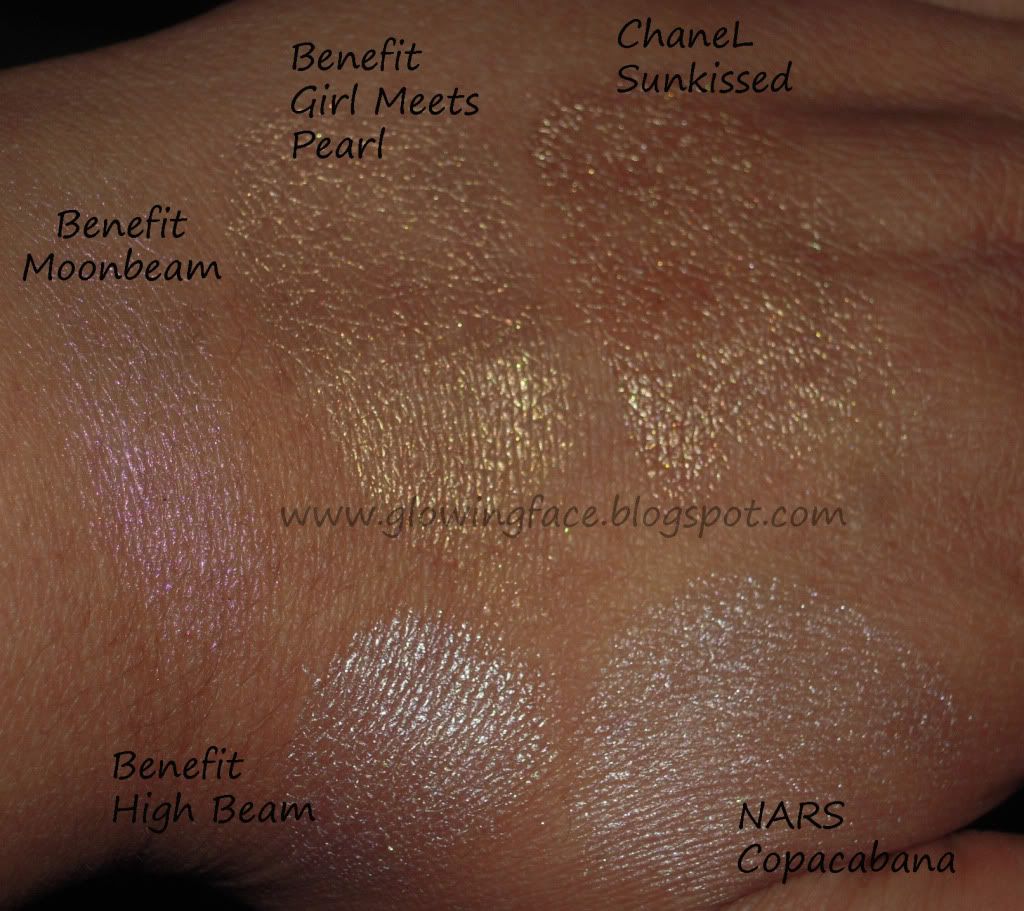 Face Highlighter Comparisons: Benefit Highbeam, Moon Beam, Girl Meets Pearl
Chanel Sunkissed, NARS Copacabana


The Comparisons:
The texture reminds me a lot of my favorite CHANEL Soliel Tan De Chanel in Sunkissed. The color is different though. The Chanel one has more Tan/Golden touch, while this one has Pink hues. On cheeks though the difference is not so noticeable.
Other Liquid Highlighters/Luminizers from Benefit that I have tried are Highbeam and Moonbeam. Moonbeam had distinct pinkish color on cheeks while Highbeam had more of Silvery tones. Highbeam is a bit difficult to work with, especially over powder products. I love Highbeam, but I am not a fan of Moonbeam.
Other Highlighter that I have is NARS Copacabana. It is totally different from Girl meets Pearl in terms of Color. Infact, it's a totally different Product.
The Packaging:
The Packaging as always is typical Benefit! Unique and Fun. It is similar to That Gal Primer, but in a shiny metallic finish. The casing is Plastic. It takes a few twists (a lot actually) to get product up on top. A hygienic packaging, but no way to figure out how much product is left, when its nearing its end.
A very good product by BENEFIT. Its worth giving a try, if you are looking for a light weight, non shimmery Liquid Highlighter.
If you are someone who LOVE highlighters, I am sure you own this. Do let me know how you like it.