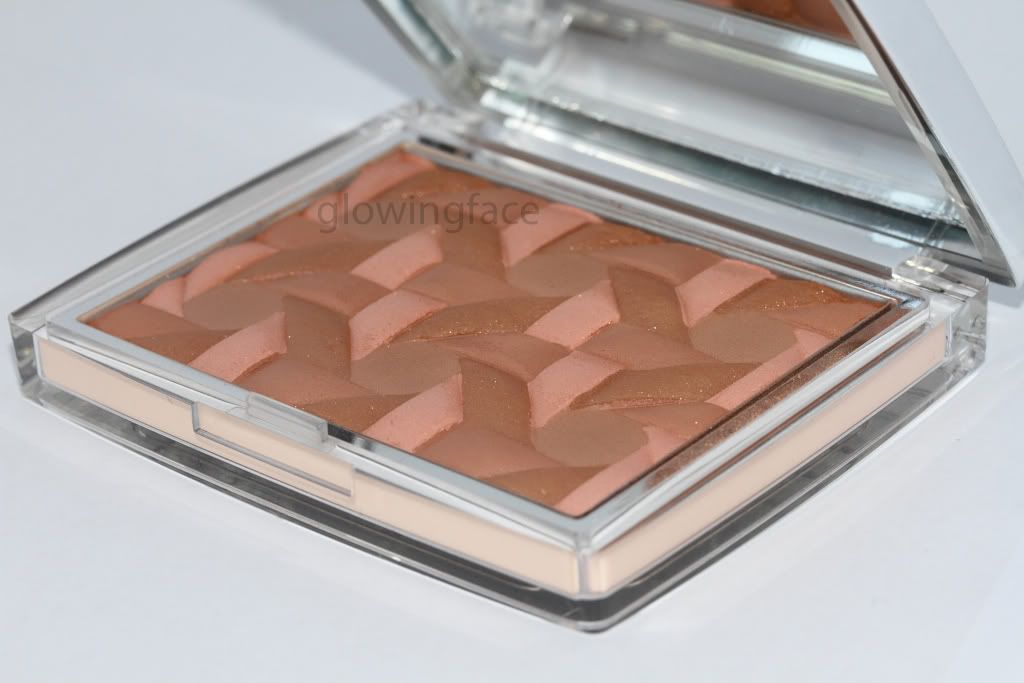 ME Loves DIOR. I have not tried many Very High End Brands, but whatever I have tried, I like Dior the Best. Not that CHANEL is bad, but I could justify Dior Prices and Quality over Chanel's Price and Quality. This is just a personal preference.
I was really looking forward to the Diorskin Nude Glow - Healthy Glow Summer Powders. These are Limited Edition Summer releases by DIOR and they come in two shades. Aurora 001 and Sunset 002. There is another color in number 003 which is an exclusive Asia release.(Information Source: The Beauty Look Book)
I got mine in the Lighter shade (Aurora), which is meant for light to medium skintones. I consider myself in the category of Medium to Dark. The other color, in Sunset looked very Orange on me. The SA at Nordstrom initially suggested Sunset, but then on application, she was sure Aurora is the one for me.
The Packaging
: Chic, Silver compact. It is not in the regular Blue or Brown container. So I choose to believe it is not a Blush nor a Bronzer. It is a Beauty Powder. Comes in a Blue Velvet Pouch, with a slot for Brush. I personally like the fact, that the brush is not in the compact. It has a mirror. The packaging is Functional, Chic and Durable.
The Applicator: The brush is nice and Soft. Not the most functional one, but it would still come handy someday. It is not scratchy. I have not washed it or anything, so I have no clue about the brush shedding hair. Also, I will never wash it. Its just for all that fancy look.
The Color: Aurora has a weaved pattern of Pink, Bronze and Brown. Not as flat as I have written here. The Pink has slight Golden shimmer, the Brown is Medium brown, not a dirty Brown and The bronze is a lighter Bronze with some Gold shimmers again. These shimmers just disappear when applied on the skin. It is not something OTT.
The Texture: "I cannot Believe, its NOT butter"....Such a lovely, smooth, soft and buttery Formula. Its not powdery or Chalky. Its not frosty and is not drying at all.
The Application: The color pay off is fine. On lighter skin tones, it will give the needed flush of color. On my skin tone, I had to layer. 2-3 swipes. It gives the needed color and glow on the cheeks. It makes my face looks pretty and lovely, like I am not wearing any obvious make up, but still has the depth due to the color imparted.
This may be a lousy explaination, but it gives that 'something' to the face and it works.
I have even layered it over Melba and Charm Blushes. Works on top of Blushes too. (Similar color Family). The pink is not so obvious, nor is the brown. The whole blend is what speaks.
The Feel: It looks nice. The shimmers are not noticeable on skin, which is great. The finely milled shimmers provide the Glow...So much for the Glow...:)
The Cost: $46 USD.
The Swatches: My Camera could not pick good swatches. The colors blended with my skintone. You can see amazing swatches and Comparison on The Beauty Look Book and NaturalnChic Make Up. Two great Blogs/Websites for High end Make up reviews and Photos.
Availability: This is available at all major department stores and Dior Website. I tried the testers myself at Sephora and the Nordstrom SA tried it on my cheeks. Both places were sold out of them though. I managed to get mine at Neiman Marcus (she said it was the last one...they always say that). I picked mine almost 3 weeks back. In short, if you want...RUN!