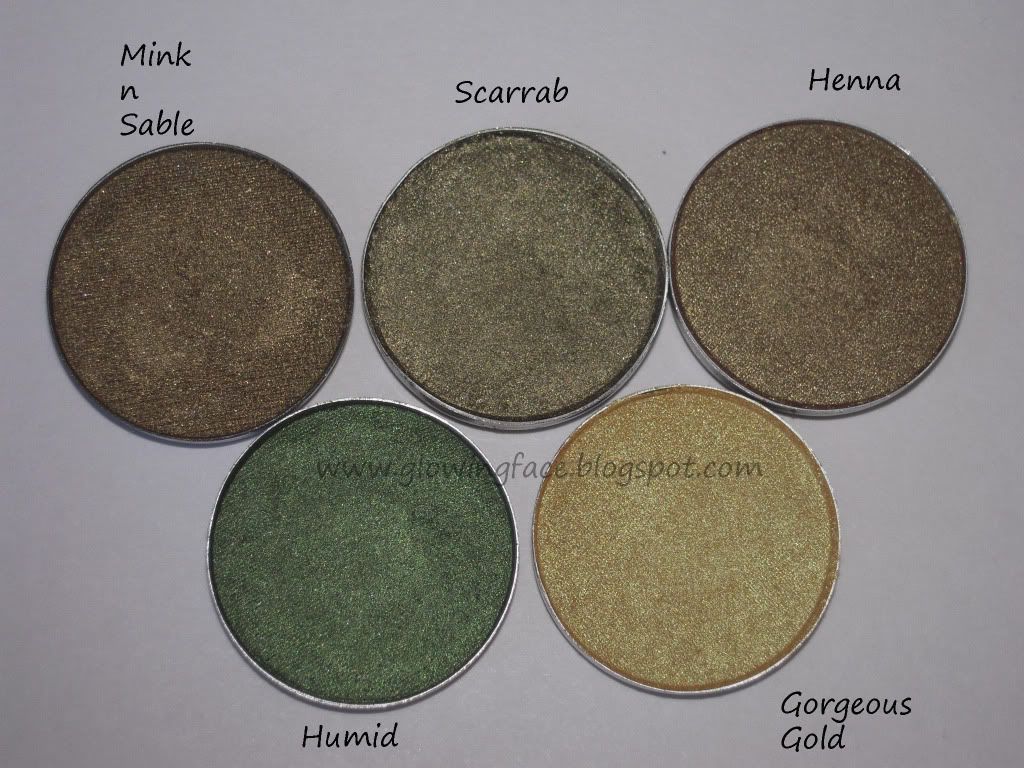 MAC Green Eye shadows
A bunch of Green Eye shadows that I have and love.
Mink and Sable (Limited Edition): This is a STARFLASH finish eye shadow. Super soft and smooth. This has a great color pay off and is pretty easy to work with. I won't be talking much about this, as it was a Limited Edition color. The closest color to this one is Sumptuous Olive, which is a Permanent Color. I find this has more Mossy Green to it than Sumptuous Olive.
A good Green to have.
Scarrab: (Limited Edition):
This again was in a Quad that was Limited Edition. This is a lovely Green color, with a subtle sheen to it. Another color, which has a great buttery texture and is easy to work with. Its a shame that MAC didn't repeat this color ever. The same Quad had another of my favorite 'Rye' in it.
Henna: (Limited Edition)

:

I really hate to include another color, which is Limited Edition. MAC had some of its best Greens for Limited Time. This is a complex blend of Gold and Henna. A very unusual color. I don't follow very many brands for eye shadows, but all I remember is this is different and unique. It is a Veluxe Pearl finish and true to its nature, smooth finish and great pay off. If you ever get this in a swap, do go for it.
Humid:
This is permanent MAC Green. Its a nice, intense green, with good color pay off. It has a good sheen to it, but is not at all sparkly or glittery. No fallouts at all. I like how all the greens I have are easy to work with. The finish is Frost, but the color is not overly frosty.
Urban Decay has this green color in Mildew and if I have to choose between Mildew and Humid, Mildew would win any day. I like the depth and darkness of Mildew more than Humid. Its a color with good pay off and intensity. Works well with my eye colors and skin tone.
Gorgeous Gold

:
This is a color, which technically is a Gold color. Its more like a Duo chrome and has strong hints of Yellow Green. A complex color (Gold/Yellow/Green) and personally not my favorite, because I don't have very many combinations in my head to rock this. It reminds me of straw color liquid in a test tube, I once made in my chemistry class. The finish is Veluxe Pearl and true to its nature, lovely sheen, soft and buttery color.
Sharp: (Limited Edition)

:
This was in my Tempting Quad. The quad was released in 2008 Fall and as far as I remember, that Fall release by the name Cult of Cherry was one of the best releases by MAC. The promo pics had the model wearing this color as her eye make up teamed with Rich, Bold Lips....Beautifully Stunning!!
The color is very similar to Bitter by MAC, which is a permanent color. Sharp has excellent pay off and is easy to work. Rated 'R' was similar color like this one, but with sheen. It was better than Sharp, but I ended up swapping it.
I would strongly recommend owning any or all of the three quads from the Cult of Cherry Collection.
These are all the greens I have. MAC does has many more greens in their permanent collection. They are different from whatever I own. It would be great to see some of the above Limited Edition Greens to be re-released by MAC in future.
p.s: I missed adding 'Wondergrass' and 'One-off' eye shadow to the above list, but they were also Limited Edition, so forget it.
You can see some more Greens in this POST