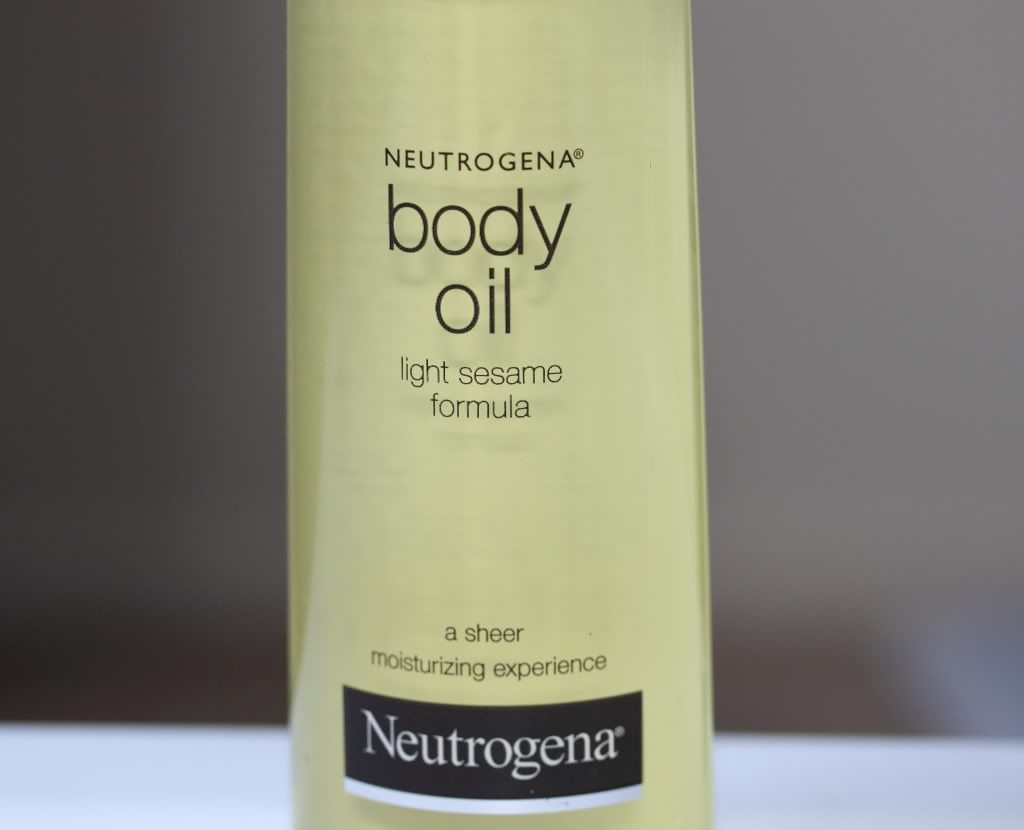 Body Oil is a delicately light sesame formula that instantly vanishes into the
skin, sealing in moisture. Skin feels moisturized, soft, silky and looks
radiant.
Lightweight
Absorbs quickly
Available in Original and Fragrance-free
Original Scent available in 8.5 oz. and 16 oz
This NEUTROGENA Body Oil along with a Body lotion (same Brand) and few other Spa essentials were all packed in a gift basket for my dear friend by me. It looked so nice and Beautiful that I ended up making one similar basket for myself. I didn't put it under the tree, because my husband and son were making fun of me and teasing me for decorating my own gift Baskets....Whatever...But, don't people gift themselves?? I was just trying to make my own basket Pretty!!
Anyways, on to the review.
This oil is one of the lightest body oils I have tried. The one that I have is the Light Sesame Formula. The oil of Sesame seeds are considered to be one of the best oils for maintaining smooth, healthy skin. In ancient medicines, sesame oil is considered to have many medicinal properties. Regular massage with Sesame oils helps in maintaining strong bones and flexible joints. It is also anti-aging and regular usage helps reduce fine lines. If used since early years, delays the appearance of fine lines and wrinkles.
Texture
: Light, Non-Greasy. Obviously, it being an oil does has some oil like qualities, but its not thick and sticky and greasy.
Fragrance
: It smells lovely! There is this hint of Sesame scent along with some faint perfume. Its good.
Color
: Its Pale Yellow liquid.
Application and Usage
: I use it before shower 2-3 times a week. I apply it 15 minutes before actually showering. This makes the skin really soft and after the bath, there is still some good moisture retained in the skin. There is no Stretched, Itchy feeling. On days, when I have some good time in hand, I apply the oil and enjoy the luxury of soaking in tub with warm water. PURE BLISS!
I don't apply it after the shower, though it is recommended to use it on slightly damp skin to lock in the moisture for optimim benefit. I just apply Neutrogena Moisturizing Lotion from the same line of skincare and it too has the light Sesame Formula. They both compliment each other super well.
During Night time, before going to bed I use this on my legs and hands. It does not stains the sheet or my clothes. The oil is absorbed quickly and lasts for long time. The skin is all soft and does not feels parched by the indoor heating system. This will leave a noticeable scent on your sheets though. It may be annoying for you or your partner.
This has helped me a lot since I have started using it. 10 days to be precise. My son has very, very dry skin and this has helped him a lot too. I must admit that the bottle does get messy and you may need to wash your bedsheets more frequently if the scent bothers you.
But with all the protection this oil has been giving to our skin in this harsh, windy and cold weather, I don't mind the extra washing of bed sheets.
Pros:

Light Weight
Quick Absorbing
Non- Greasy
Moisturizing
Spreads easily
Non- Staining

Cons:

Bottle can get messy
Fragrant (People allergic to fragrance can try the fragrant free version)
Hurts the eyes (burning sensation) if it accidently goes in.


The next review will be of the Neutrogena Lotion that I use in combination with this oil.
Do you use Body Oils? Any tips for Keeping the Skin super soft in this harsh weather?