This is a blogpost that was pending for a very long time and I just forgot to post it! Here we see a few Neutral Brown eyeshadows from MAC, that are mostly warm and have some sort of red undertones. They may seem to be totally different when you apply on eyes, but to my naked eye they did appear to fall in one category and I have these nested in one palette.
TWINKS
: This is a permanent shade and it is a Veluxe Pearl Finish. A very Beautiful, wearable shade of brown with some Burgundy/Plum hues to it. This one is decently pigmented and buildable. Needless to say has a soft, smooth texture. Very Blendable too. There is some subtle sheen to it, a characteristic of Veluxe Pearl finish. Over a Black Base this just transforms into a unique color. The Burgundy undertones of Twinks might be difficult to wear by someone who has Dark under eye circles with bluish tones to it. I still find it would work for both warm and cool toned person.
GLAMOUR CHECK
: This is a Starflash finish and it was Limited Edition color, though released twice. Many sites say its similar to Twinks, though I think it has no Plum/Purple undertones at all. It is more of a Warm, Red based Brown. There is more of Brown to it. Thanks to the Starflash finish, the texture is buttery smooth and the color is pigmented aswell. Its not at all frosty or metallic. I personally find it looks more flattering on me than Twinks, because it has no Pluminess to it.
SABLE
: MAC describes this color as Gold-plum with bronze pearl. In simple language call it Pink/Plum Brown. It has a Velvet Finish and I am not a fan of that finish. I does not applied evenly and is not smooth or pigmented. It is not as bad as Lustre formula, but again it does not has the ebst formula. This color has the potential to give you a tired look if not combined carefully with other color. It leans on the cooler side of Spectrum and me not a fan!
ANTIQUED
: The color is Antiqued and not Antique as I have mis-spelled in the Photo below. Its a Veluxe Pearl finish and true to its nature, the color is richly Pigmented and smooth. The subtle gold sheen is flattering and the color is easy to work with. MAC described the color as Ash Brown with Bronze. I don't see Ash anywhere in the color. I would call it Coppery Brown with Red undertones. It is a beautiful color and warm toned people will enjoy pairing it with Golds.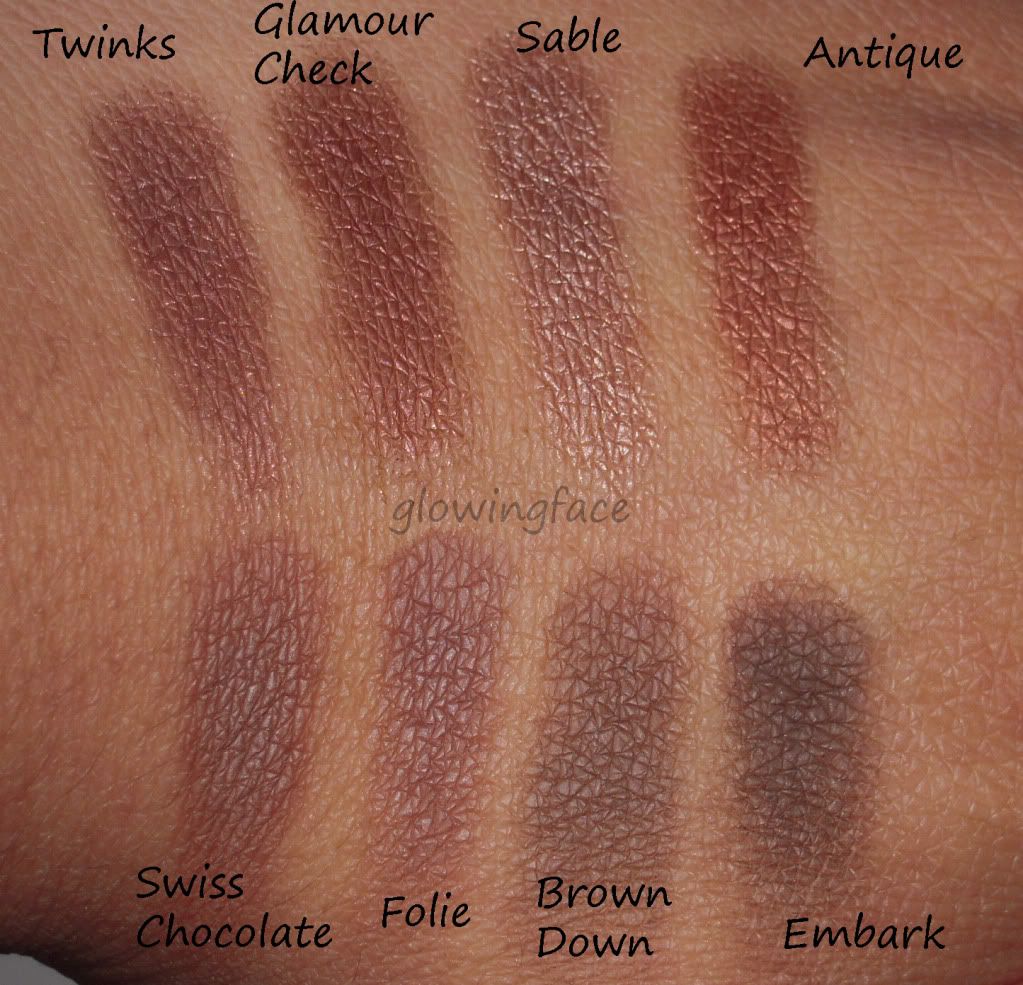 Swatches of MAC Eyeshadows in Twinks, Glamour Check, Sable, Antiqued,
Swiss Chocolate, Folie, Brown Down and Embark

SWISS CHOCOLATE
: I love the sound of this shadow. So tasty! Unfortunately, this Matte Reddish Brown color has a poor pay off and it takes very long to build the actual color. Its a good crease color, but again its difficult to blend. Well, most of the Mattes are certainly not a dream to work with, but this dude lacks both in pigmentation and Blendability. A bunch of other Brands carry similar Brown and a little research will help you to get a better one.
FOLIE
: This is a Satin Finish and the description MAC site gives is pretty accurate. It is a Reddish - Plum Brown. Its non Shimmery, semi-pigmented color. Does not applies very well on the lid, but a stiff, dense brush and patting motion would help deposit the color more evenly as opposed to regular, fluffy shadow brush. It is pretty similar to another Satin Color I have called Haux, which is more Pink Brown and poorly pigmented.
The color can give you tired effect, if the lids and the eye area is pigmented. A base would help the color to pop and adhere well.
BROWN DOWN
: The MAC description says its a Teddy bear brown. What does this means anyways?? Teddy Bear are of so many colors...lol! It is a Veluxe Finish. MAC has only 3 colors in this Finish. Its soft, but not super Pigmented. This does takes some time to blend, but its not a hopeless case like MAC Mattes. It has no sheen or shimmer. Not a Unique color and being on warm side, some cool skintones might not enjoy using this.
EMBARK
: The color is Nice, the texture is Crap! I mean, if you are going to pay $14.50 for a pot of eye shadow, it better be something good, right? Just saying that it's a Matte and hence the crapy texture is no excuse! This is described as Intense Reddish Brown and it sure is intense. The problem is, I have a hard time getting any of that intensity depositted on my lids. Again, a very dense and stiff brush would help deposit the color. I personally use it to darken the crease or as a liner. It takes time and patience to work with MAC Mattes. The color is pretty warm too.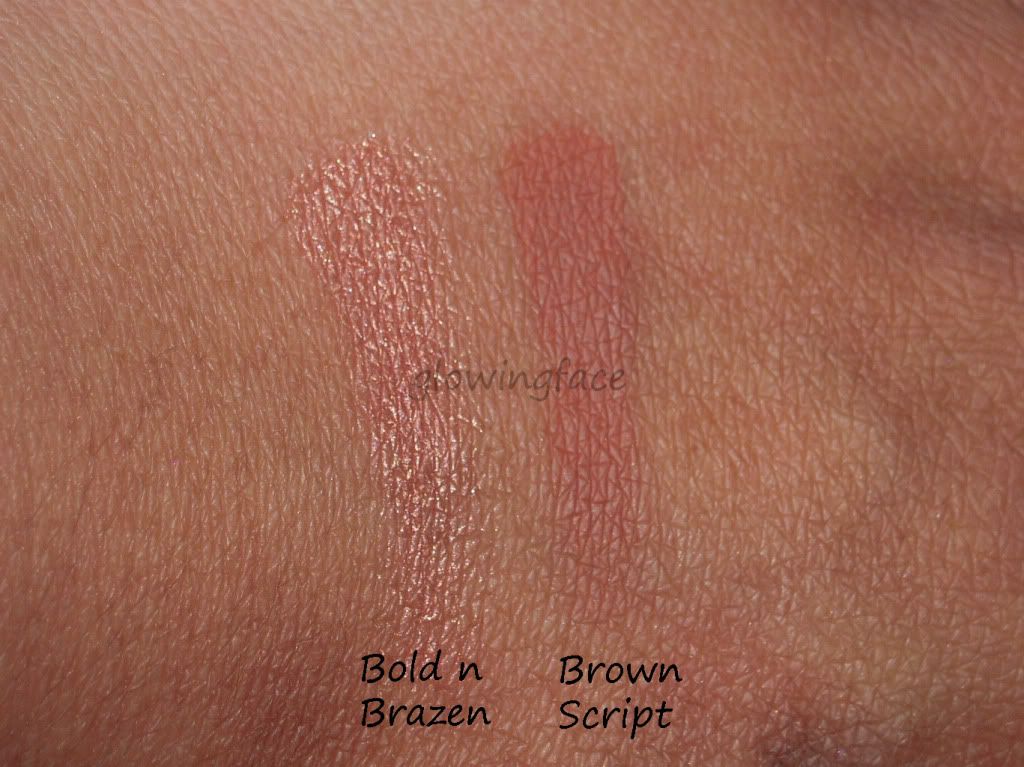 MAC Eyeshadow swatches: Bold n Brazen and Brown Script


BOLD N BRAZEN
: This was a Limited Edition color, released during the Starflash collection and has the same Starflash finish. It actually is not supposed to be in this Brown category. It is more of a peachy/coppery color. In pot though, it looked like coppery Brown to me. Hence it is in the Brown palette. I like the finish. It is smooth, soft with mild sheen (no glitters) and is not too Frosty. The color is Peachy/Coppery Brown with hints of Gold. Its a lovely color when paired with Glamour Check from the same series.
BROWN SCRIPT
: This is Matte 2 Formula and I don't understand why MAC does not makes more color in this formula. It has all the features of a Matte shadow (no glitter, no sheen, no shimmer) without actually the pain of a matte shadow (Blending issues, Patchy application).
The color is described as Warm Chestnut Brown. It has Obvious hints of Orange and is very unique compared to other stuff I have. It may look like a crap color, but I like to use it in crease with other browns and the results are lovely. It is a good Fall color and if you find MAC Rule eyeshadow to be too Orange, try this and it should work.
These area bunch of MAC Brown shadows that I have. MAC has many more. I will post a Part 2 with the remaining MAC Browns in my collection. I would suggest trying Urban Decay Shadows in Matte texture. They have a better pay off and are easy to work with. I have tried only Two myself and they are pretty impressive.
Hope you found this Old Post a bit interesting and useful...