CHANEL TURBULENT BLUSH
Unique powder blusher imparts a flattering radiance to cheeks. Remarkably silky
texture for easy application and subtle shading. Accentuate cheekbones for a
youthful look. Softer tones around the eyes soften expression and rejuvenate.

Nope! Never ever purchased a CHANEL Blush. This Blush is a part of my swap with a friend. I am not really updated with all the CHANEL Limited Edition stuff. I know they come out with collections, but I am not the best person to know all about their US and Asia releases, let alone the differences between them.
So my Friend who gave me this said its LE,but I could still see them on Neiman Marcus website.
On to my Ramble about CHANEL JOUES CONTRASTE POWDER BLUSH. Yep, make-up lovers call it Chanel JC Blush. Cool!
The first thing that came to my mind when I opened the Blush was this is HOT PINK like my NARS Desire. But these two are Wayyy Different.
The packaging: Classic CHANEL Black container, comes with a good size mirror and a tiny Blush Brush. The casing is all Plastic, with some sheen. Its Light weight.
The Color: The Chanel JC Turbulent is very cool, blue based Pink color. A pretty color and even though its cool, it surprisingly worked very well on my yellow based, warm skin tone and looked very Natural. Not at all garish or Clown kinds.
The texture: It is very Powdery. Its soft and smooth, finely milled with no glittery or Sparkly Particles. It is not Flat, Matte either. There is a sheen, but the sheen is provided by some finely milled Silvery thing. On cheeks, none of this Silvery particle or powder is imparted. Just lovely, healthy cheeks, with flush of color. It also has a mild Scent. The Scent is a Pleasant one.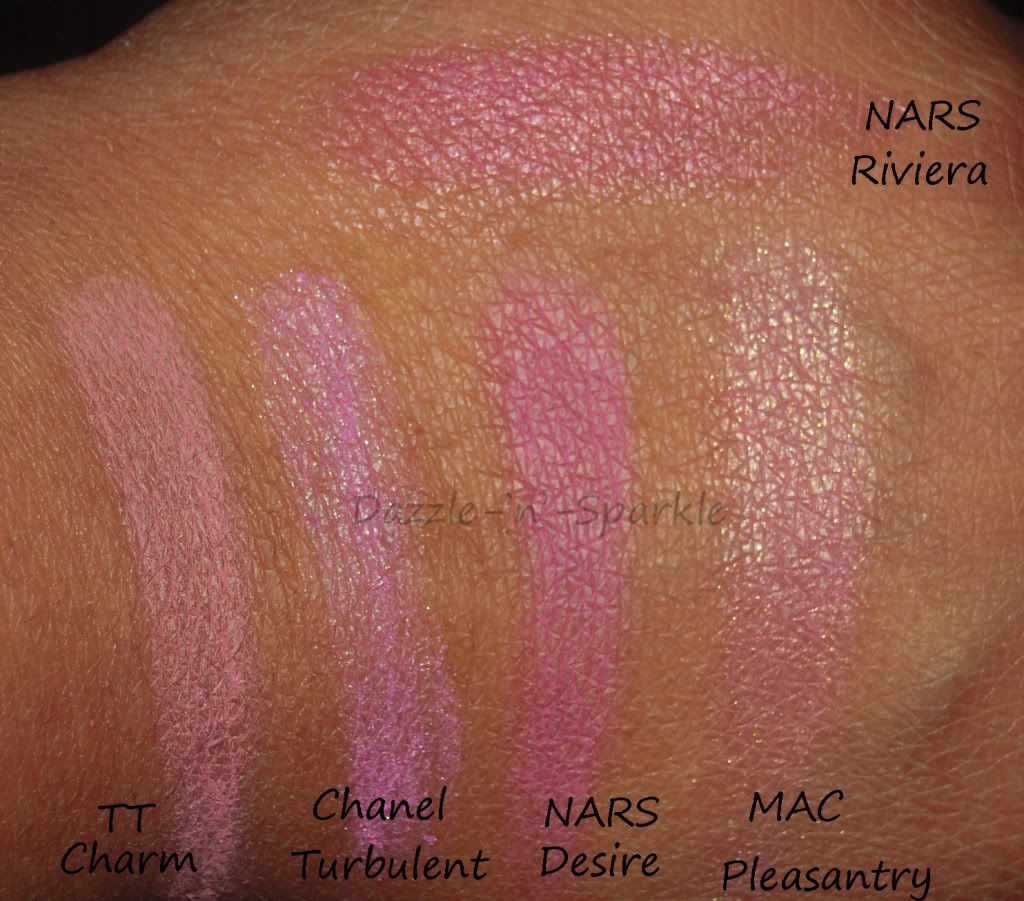 The Feel: Its smooth and soft. On application, this melts into the skin. Even though its powdery, it just does not sits on the cheeks. Blends in very beautifully and is very natural looking.
I am really enjoying the blush. My very first experience with CHANEL JC Blush is very satisfying one. At $45 I still think its steep. Blushes are required in very small quantity and if you have around 2-3 blushes of different shades, it will take real long time for any blush to hit the pan. I would not say that its a must have Blush, but definately worth trying. I would love to own another one too, but at $45, it better be a Perfect, Flattering Shade!
Any Color suggestions for a CHANEL JC Blush?