A bunch of Products I picked from Sephora Store as I had some Store Credits and a Gift Card. It really sucked to pay full price, especially when Sephora was having a FF sale online. Anyways, at least I am happy, I didn't miss out completely!!!
Goodies I picked
1.
PHILOSOPHY
Purity made Simple Cleanser
. I had so many good things about this product and really wanted to see what the hype was all about.
2.
BENEFIT POWDERFLAGE
: This packaging and the hype sucked me in. I always set my concealer with a powder and even though I am happy with my current Laura Mercier one, I just needed to try this (Beauty Blogger's Problem)
3.
URBAN DECAY 24/7 Eyeliner Pencils in STASH and MILDEW
. Stash is my all time favorite and Mildew looked really pretty.
4.
NARS Eyeshadow duo in BRUMES
: I definately will use this as a liner, more than as an eyeshadow. Love the way it looks in the pan. Yet to check on lids though.
5.
DIOR Miss Dior Cherie
: This cute, mini fragrance bottle was a Deluxe sample and this was the one that started all of the above purchases. I love to collect cute mini fragrance bottles and as this was one of the deluxe samples, I thought of spending all my store credits and GC. I still have 15 bucks left though...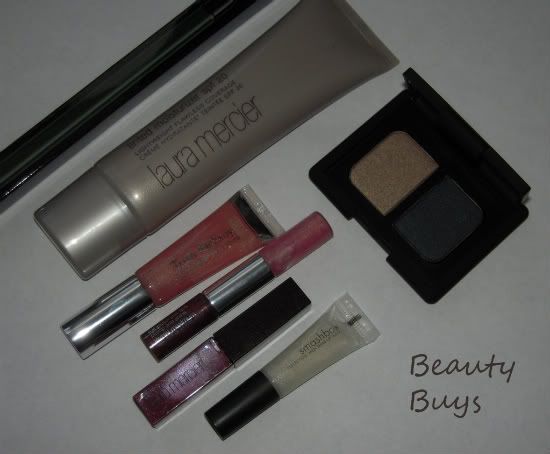 The above Purchases are from Nordstroms, Victoria Secret and Neiman Marcus. Nordstrom was having this Beauty Event and they were giving 4 Lipgloss minis for free. I went in to pick that and ended up using some of my Beauty Notes (A reward Programme of Nordstrom) for buying Laura Mercier Tinted Moisturizer, that I use often and was running low.
The free Lip glosses are from
Laura Mercier, Trish McEvoy, Clinique and Smashbox
. These are tiny samples, but good enough to try and experience the product. I have never used a LM or Trish McEvoy Lipgloss, so this is a good way to try.
I picked this eyeliner from
Victoria Secret
, a deep, dark Green color. It has Fantastic Pigmentation and I love Green Eyeliners. I don't know how good or bad it is on the waterline and the staying power, but the color is GORGEOUS!!! We will see if this is a YAY or NAY for me.
NAR Rajasthan Eyeshadow Duo
: This is something I just couldn't resist. When I saw the swatches on various Beauty Blogs, I knew its pretty and it would be a great addition for the collection, but I passed. Later while going through Specktra NARS Forum, I saw these Huge swatches and I thought I cannot leave the country without this Beauty. HTH...Needless to say, a sold out product everywhere, the Neiman Marcus staff (from other make-up counters, not NARS) helped me to locate one in California (she called 5 stores!!). A week later I had this Beauty at home. It is AMAZING and I have no dupes for it.
I am excited to try all these goodies and report back to you all.
Share in your Latest Beauty Buy in the comments below

.