NARS SIN AND MAC GENTLE
I picked MAC Gentle Mineralized blush , just because it looked so pretty in pan and also my MAC was out of Warm Soul blush. When I came home, it instantly reminded me of a similar shade, SIN by NARS. Both these colors fall into the Plum Category and are lovely colors for Fall and Winter.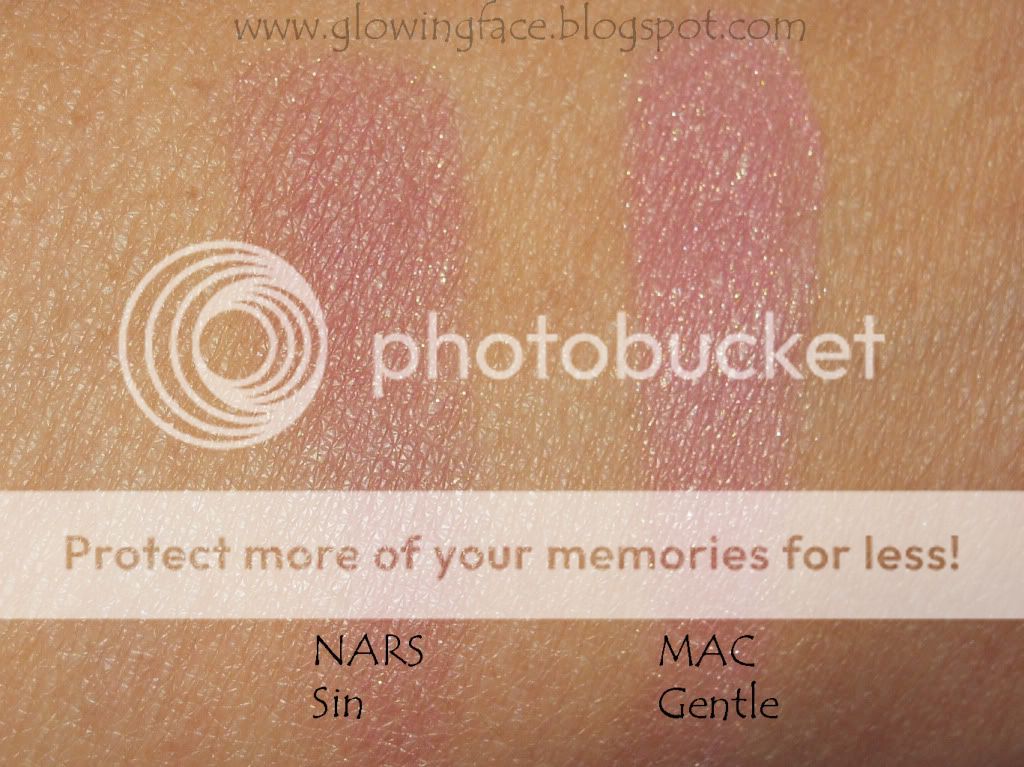 NARS SIN AND MAC GENTLE (Swatches)
NARS Sin
is pretty much a dirty-mauve color, with some Gold Sparkles. It looks very sexy in pan. The color has much needed warmth in it and it is not as pigmented as other NARS Blushes. It still has amazing pigmentation of its own. The color blends in beautifully and after blushing the Gold shimmeres just give a glow and do not look Obvious OTT sparkles. I like to pair it with a very neutral eye make-up. Colors like Satin Taupe on eye, with some Pinky nude lips and Sin Blush on cheeks really give a lovely sexy look. It would work very nicely on many skin tones and depending on the application, the intensity can be controlled.
MAC Gentle
Mineralize blush is a plumy Pink color. It does not has the muddy mauviness of NARS Sin and that's what makes it more wearable for Day time in winters.
Mineralize blushes from MAC, that were released during the Sonic Chic Collection (part of which is permanent) is probably the best Mineralize blush released to date. MAC gave us tons of Mineralize blushes later, but most of them were very chunky and glittery.
Gentle is very smooth and it blends so nicely. It has no visible shimmer or sparkle, but it gives this amazing glow on cheeks which is natural and makes the face look healthy and happy.
Many girls I know don't enjoy Plum cheek colors. But none of the above colors are flat Plum or Purple. The blend with mauve or Pink dusted with some Gold shimmers makes these colors complex, but wearable.
If you are in search of a good Fall Winter color, do give these two pretty colors a look. Try them on. Go to the store with bare cheeks. You might fall in Love…