I had been wanting jewelry from this brand since past 2 years or so. Apparently, JA is a brand of Jewelry, that is very well known and famous, especially for their Charm Bracelets and Religious Christian Jewelry.
I had never seen any of their pieces in person, simply because they have all their outlets/retail stores in Texas, Georgia, Colorado, Tennesse area. They have close to 60 stores, but none of them in New York or California or Chicago, which are some of the major cities in the world (little strange, right?)
I liked the mantra of the brand "Keep it Simple"
The company philosophy is "Each piece of jewelry should pass the tests of Simplicity, Integrity, Meaning and Universality". These four "founding values"
Finally I did picked a few stuff online. I avoided the charm bracelet, because I was not sure of the quality, weight, finish, size etc.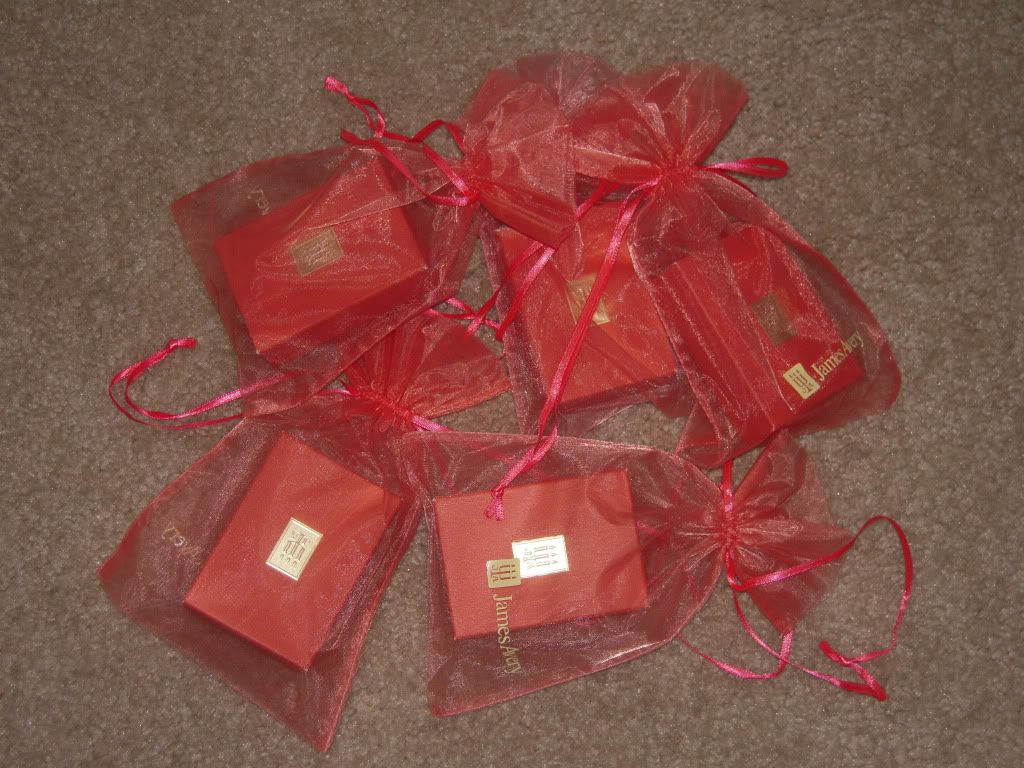 They came packed beautifully in these kind of coral mesh bag and coral boxes.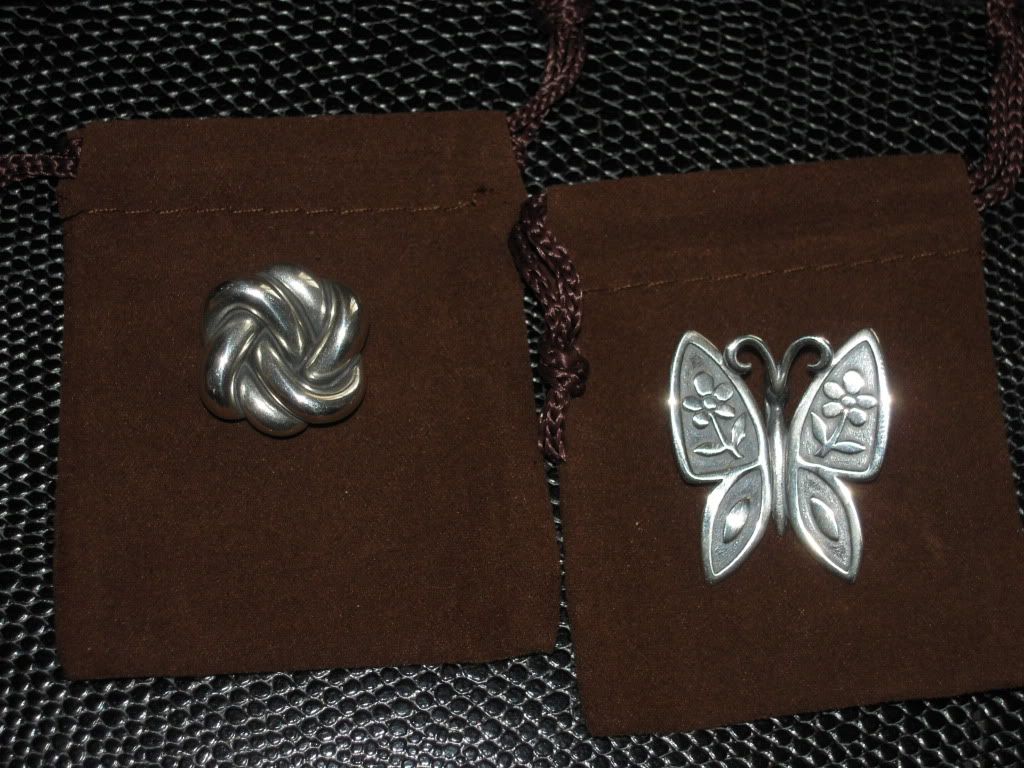 Pendants:
Lover's Knot Pendant
: This is a very heavy piece and Beautifully crafted. It is supposed to be worn on a thick cord. I tried it on a thick silver chain. it's a fantastic piece, but there is an issue. It flips over. The hole at the back is huge. Very huge. A really thick Cord would work, but then I don't want a thick rope like thing. Yet have to figure out how to work with it though.
Mariposa Pendant
: This is another, well made sturdy piece of sterling silver jewelry. It has tons of oxidation and shading. No shiny stuff. I personally feel very shiny silver goes pretty much in contrast with my dark, olive skin tone. Shaded silver looks much better. This is more like a casual piece of jewelry. Simple Jeans and t-shirt.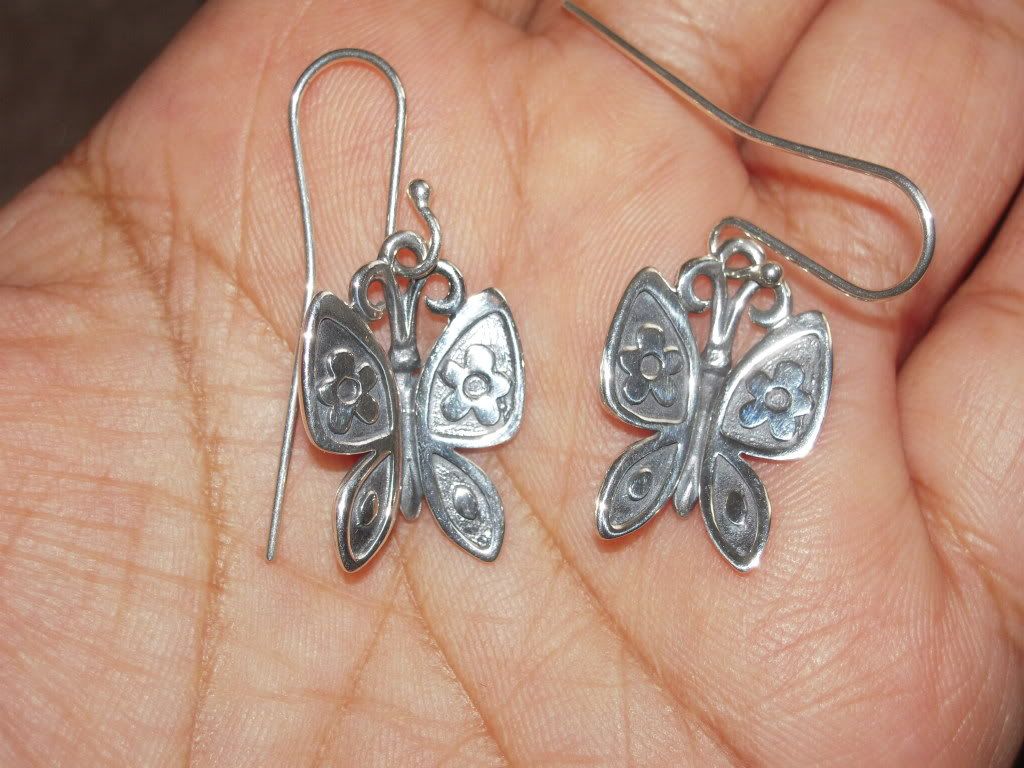 Earrings:
Mariposa Earrings
: I picked this one to go with my Mariposa Pendant. The earring is pretty and Beautiful, but whats with that hook?? Its endlessly long and looks just like a dagger!!! I have never seen a hook this long! Does any body really needs such long hooks for earrings. I will get my jeweler cut it for me.
Lover's Knot Earpost
: I love this post. Its big, its decently heavy and stays in place. Usually heavy and big posts work for me, because my earlobes are big and the piercing is exactly in the middle. The back lever is strong and the rubber guard or whatever it is called is nice and will provide support, if you have small ear lobes.
Heart Knot Earpost
: This is comparatively lighter than the original Knot post and stays in place. Its more like an everyday wear. Not very high shine.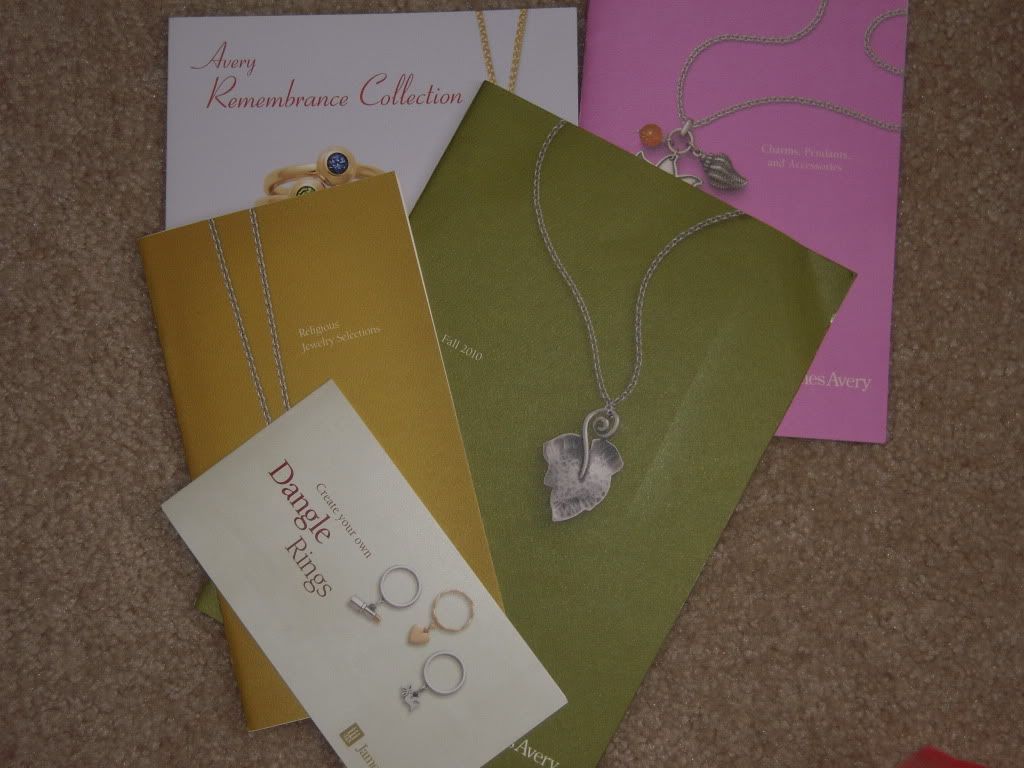 Over all the pieces are good and well made, WITH SOME ISSUES as mentioned above. They are strong and sturdy and you get some real Sterling Silver. They are not insanely priced like the Tiffanys. I chose all the pieces that had some level of Oxidation or shading. My husband thought that most of them looked like steel. I would say, all the pieces I showed above are more casual everyday wear, not party wear. Its obviously not like Swarovski, no bling or shine.
Am I happy with my purchase?
Well, if I had got the chance to try them at store, I would probably have not picked some of the pieces. Seeing a piece in Catalogue and seeing them in person against skin tone is very different. I have no complains with the quality, but I would not be buying any more pieces online. I would love to try them in person before I buy.
Disclaimer: I am not affiliated with this Brand. Non of the item mentioned above is free. I paid for them. The whole purpose of this post is to share my thoughts on this brand and the pieces I own. When I was hunting for the information for this brand, all I could find on the net was lovely pictures and Emotional stories of people who own them. Very little description of the product by owner was found. I hope this information will help some.
http://www.jamesavery.com/