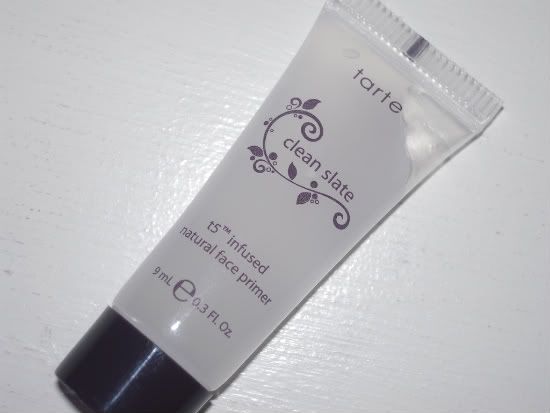 TARTE CLEAN SLATE FACE PRIMER
A lightweight, emollient face primer that helps makeup stay in place
longer while preventing creasing in fine lines and wrinkles. Unlike other
primers, Clean Slate™ contains natural fruit- and plant-derived extracts to
treat, protect, sooth, and hydrate the skin.

Formulated WITHOUT:
Parabens
Sulfates
Synthetic Fragrances
Synthetic Dyes
Petro-Chemicals
Phthalates
This primer contains Skinvigorating™ ingredients such as avocado oil, which is rich in vitamins A, B1, B2, D, and E, and safflower seed oil, a vegetable-derived oil with moisturizing capabilities. Echinacea root extract has anti-bacterial properties that have been known to decrease inflammation, and rosemary leaf extract is known to increase blood circulation. Hibiscus flower extract contains antioxidant properties that help to restore skin's elasticity.
This was a little Deluxe Sample that I had got sometime back from Sephora. It is pretty similar to those Silicone based primers. It has the same slippery, silky feel on skin after application. The product is Light weight and is absorbed nicely by the skin. It does not dries to a powder finish, but does leaves the skin slightly matified.
The foundation applies well and stays put, without looking patchy or greasy by end of the day. I tried it under Foundation just twice in very hot and Humid climate, but used a lot with my tinted Moisturizer. It does not leaves skin greasy at all.
The product is a Translucent, white gel with absolutely no fragrance.
I like this better than my Smashbox Primer, the one with Dermaxyl Complex. That one used to get bit oily by end of the end. I would not compare it to Benefit Bad Gal, because its a Brightening Primer. Cargo Blu-Ray one is cream to powder finish and Urban Decay Pore Perfecting one targets the pores.
The best thing is this primer contains many natural ingredients and has no SPF like NARS one, because the SPF, even though protective, just leaves the skin too sticky and the stickiness doubles up if you are using moisturizers or foundation that has SPF aswell.
Happy with the sample...Definately on list for full size purchase!
Have you tried Tarte Clean Slate Primer? What is your Favorite Primer for face?