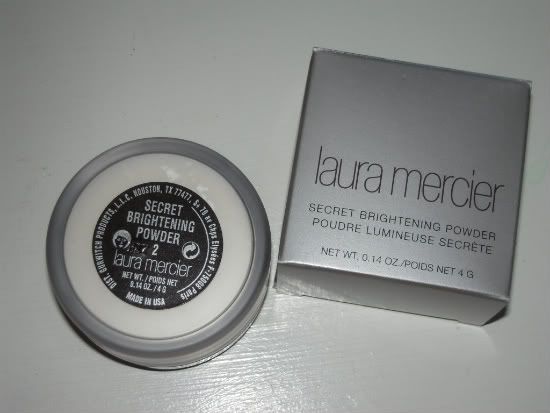 Secret Brightening Powder
Laura Mercier created Secret Brightening Powder to set Secret Brightener, Secret
Concealer, and Secret Camouflage. Formulated for all skin types, the powder
contains micronized pigments that will not settle in fine lines or accentuate
shadows and instantly delivers a soft, weightless finish.
Very few Products that carry the "Brightening" tag work for me. As I have mentioned in some of my past reviews, that most of the Brightening products are actually Whitening Products. They just make the area White!!!! It has been my experience with many products, though its not a Thumb Rule.
This Powder by Laura Mercier is a slight Beige/Creamish colored Loose Powder, which is to be used over Corrector and Concealer for Under eye areas, so as to prevent creasing and melting of Concealers.
The powder is very finely milled. It is very light weight and does a great job in getting rid of the oiliness. It is very light and does not settles in the fine lines, even if I over do it.
The best part is, it DOES NOT dries the undereye area, which unfortunately Makeup Forever HD powder did. Also, it looks very natural and does not makes the under eye area white like Brody Jenner. The powder is invisible, but it manages to give that brightening effect. It works well with Dark Circles. It is not sparkly nor has any distracting shimmery stuff.
I have the shade 2, meant for medium to Dark complexion and I use MAC 224 brush to apply this, but any Fluffy Brush will work. The only annoying part is the container. I just hate the way it is made. It has a sifter, which has million big holes. I don't know why we need so many of them. Its so difficut to travel with!!! There is so much powder wasted, just by accumulating in the lids!
I have used the tape method, where you secure some holes with a clear tape, leaving only few open holes available for use. It is kind of working, but I would still prefer a different kind of packaging.
The product works. I don't know how exactly it works, but it works. Trust me!!! I just love it!
At $22, I find it to be slightly over priced.
I want to Try Benefit's Powderflage. Have heard good things about that one.
Do you use Powders for setting the Concealer? Do you think this is an extra, unnecesary step? Does this Works for you?