E.L.F Shimmering Whip
E.L.F does makes make-up affordable. My target does not carries E.L.F Products, but this was just an extra in one of my swaps.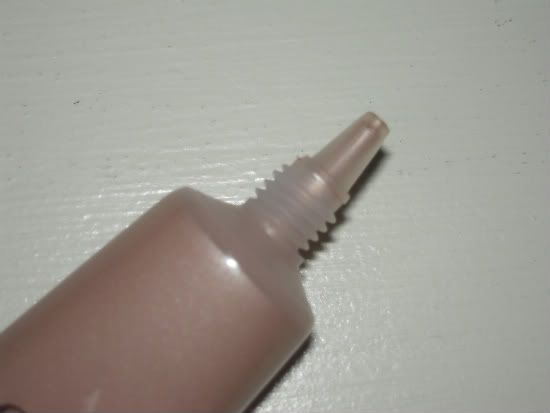 Just like the name suggests, its a Shimmery product, a Highlighter, Illuminator kind of product.
E.L.F Shimmering Whip in Lilac Petal
This comes in Variety of shades, which is something that not many Brands have. Usually I have seen liquid Highlighter either in cool, silvery finish or Warm Gold Finish, but never in Multiple shades.
The Texture
: Its pretty thick, not goopy. Its light weight, but slightly sticky, which is good. Good because the thickness and stickiness makes the product stick well to the skin and last for a decently long time.
It dries in fast, Superfast. It hardly gives anytime to spread and blend the product. Infact, the product is difficult to blend due to its Sticky'ness' and quick drying. It just 'sits' on the skin and looks very unnatural. Once dried, its even difficult to move or correct the mistakes. It looks like a frosty mess when unblended. This was the major Drawback.
The Scent
: It has a fruity, citrusy scent. Its ok, not too Overwhelming.
The Color
: I have the one that goes by the name Lilac Petal.
It is a Champagne, Pinkish color which has Silvery finish and is too frosty. I think it will work better for Lighter or Cooler Skintones. This stuff is not Sparkly at all.
It retails for $1.25, which is very affordable and I think a makeup artist will find good use for this product. It is great for spot Highlighting. It sticks well. I personally didn't find the product working for me at all. I wish it gave me some more time to blend and not dry so quickly. For the price, it is a good one though.
Did you try E.L.F Shimmering Whip? Which Colors are worth Trying?