Sheer, weightless liquid instantly brightens skin and evens out skin tone.
Light-reflecting pigments provide radiance and luminosity. Botanical extracts
soften, smooth and moisturize. Oil free. Fragrance free.

This is a product that I was eyeing since long time! If it were a drugstore product, I would have bought it long back to try. Even brands that are sold at Sephora are worth taking risk, because their Return Policy is Amazing, but this being a $48 Department store product, I needed to read some reviews and see some swatches, before spending. I didn't see many reviews, but looking at the color, I knew it would WORK for my skin tone.
This is a sheer Illuminating fluid / Luminizer or just Liquid Highligher. This is what I wanted Benefit Moonbeam and NARS Orgasm Illuminator to be.
The color is called Sunkissed and just like its name it gives a sun kissed Glow! The color of the liquid is Bronzey Gold. It has very fine shimmers which are so well infused in the liquid that on application it gives a
luminous glow
, without OTT chunky glitter or sparkles. The end result is
not metallic
, which is a plus.
The consistency of the liquid is neither too thick nor too thin and watery. It is 'must' to shake the product really well, so that everything gets mixed. It blends in nicely. It has no smell. I use this as Highlighter on my cheek bones. I just use my fingers to dab the product wherever needed. It does not dries instantly, which gives enough time to blend and spread. This sticks well and the color being warm gives a lovely glow when light hits it. I like the fact that it didn't disappear like NARS Orgasm Illuminator. Like with every illuminators, over blending should be avoided.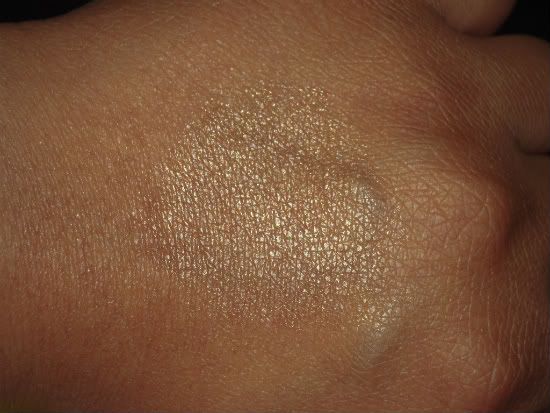 Depending on the skin tone, this will have different effect on everyone. Lighter skin tone will find this giving them a more Bronzey look and Darker beauties may just get a warm glow. Its
not frosty
and if Benefit Highbeam was leaving a silvery, whitish cast this would definitely not do that. it's the base color, the bronzey part which gives it the warmth.
Liquid Luminizers are multi-purpose products and can be used all over the face by mixing with Moisturizer or Foundation. They can be use on body aswell. A good idea, but Chanel Sunkissed is too expensive to use all over. I used it by mixing with my foundation only once to try. The effect was good, though I cannot comment on how it looks in Flash Photography.
It comes in a heavy glass bottle, with a small opening. No brush applicator or pump. It dispenses small amount of product, so wastage is avoided. My concern is if the product thickens over a period of time (which usually liquid highlighters do) it may be difficult to get the product out. Its always advisable to close in the bottle tight.
Its pretty pricey. $48 for 30 ml of liquid. A little goes a long way, if you use it on face a Highlighter.
I am on hunt for a similar, but slightly cheaper product.
Do you all have any idea for a comparable product like this one?