PIGMENT PASSION is a series that will feature MAC Pigments, their texture,the
ways I use them and all the fun stuff. One pigment will be posted every Week
and I will try to share whatever pigment colors I own.

Fuchsia pigment is a permanent MAC Pigment and true to its name its a Bright, Vibrant, Fuchsia (Dark Pink as my Husband calls it. Colors like Fuchsia, Pewter do not exist in his Dictionary)
I have a generous amount of sample, which is still going strong ever since I got it as, a little goes a long way. Its highly Pigmented and has blue/Violet undertones. The finish is frosty and there is not much fallout. The pigment itself is not chunky or difficult to work with, though its not the most finely milled pigment in my collection.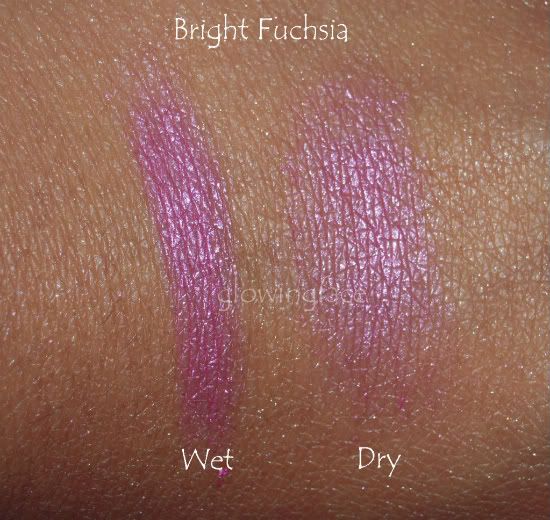 Swatch of MAC Fuchsia Pigment

Now this color is something that is totally not me. I lean more towards neutrals and boring colors. Rainbow eye is something that I am not comfortable with, but using Bright colors in small amounts create a very beautiful look.

1. In combination with Goldmine eyeshadow or an Orange eyeshadow like Firespot, NARS Mediteranee.

2. With a Blue Based Purple like Makeup Forever 92 or Violet pigment. It makes a lovely Fall look.

3. As outer Lid color along with Naked Pigment on Lid and Sketch in crease. (I got this look from a blog, like those eye of the day, but I don't remember whose blog)

Now these looks are something that I obvioulsy won't wear everyday, but Occassionally? Yes, I can deal with it.
4. I tried using it as Blush, but it was too frosty and weird. Didn't look good on me.
5. It looks good on lips when mixed with clear lipgloss, though I have used it only a couple of times. I don't know if its safe for lips though. This technique is something that Make-up artists would enjoy as it gives them choise to mix and match.
6. I have even tried using it as a Nail Polish, by mixing with a clear polish. The result on my hand was not flattering enough to go through the messy affair again.

I tried all these things, just because Pigments are Multi-purpose products. As a Consumer, I would prefer to buy a Hot Pink Lipstick, Hot Pink Nail Polish rather than all the mix and match stuff. The best thing about pigment is you can create endless eye color options by mixing and matching, if you are creative enough, which I am not.

A Beautiful Pigment to own, if you love colors. Its pretty close to Hepcat eyeshadow by MAC, when applied Dry.