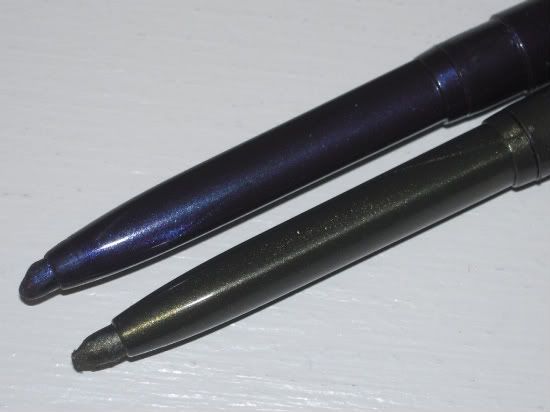 Stila Smudge Stick Waterproof Eye Liner - Moray and Purple Tang
A color-rich, vibrant, easy-to-use liner with staying power.
This highly pigmented, waterproof eye liner glides on to deliver intense, vibrant color with staying power. Soft, smooth, and easy on the eyes, Stila Smudge Stick Waterproof Eye Liner creates a high metallic, sultry, inky intensity that lasts.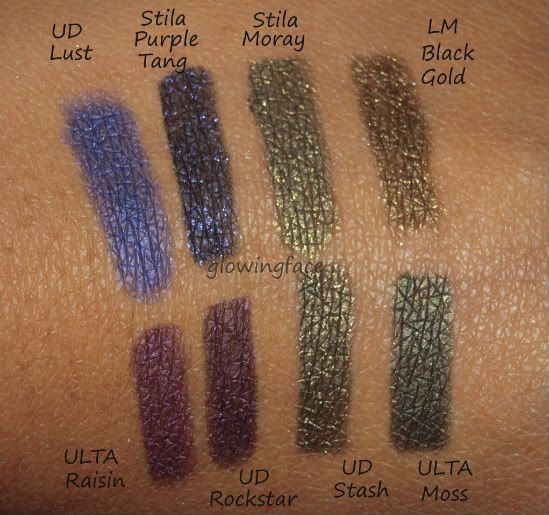 Comparison swatches of Stila Smudge Stick Waterproof Eye Liner
in Moray Purple Tang with other similar liners

The product is so so soft and creamy. Its so creamy, that I am sure I will finish half the product just smooshing it!
I have these in two colors.
Moray (Golden Olive Sheen)
and
Purple Tang (Dark Purple Sheen).

The colors are beautiful, richly pigmented, Vibrant and pretty long lasting. The sheen is lovely and there are no chunky glitters.
This one does not smudges, once its dry which just takes 40 to 45 seconds. I think this time is enough, if you want to smudge it slightly for that smokey look. It does fades by end of the day, but then most of the liners do.
It has the softness of Stila kajal (almost), but does not smears all over like the Kajals.
Packaging
:
Its WORST!! The pencil takes a lot of twists to come up. It is not designed to retract back (the make-up lady at store told me). So when I twisted my pencil a little more, there was no way I could retract it back and wasted some of it, by smooshing in the cap.
Is 'Smooshing' a word??? 'Smashing' is, I know...but Smooshing..????
My Problem:
I always water my lower lashline and this makes my eye water. It has this burning and itchy sensation. This is something that bothers me. But its my personal problem with the product. I am sure, it would not be an issue for everyone.
Its a good product for sure, if it does not hurts your eye.