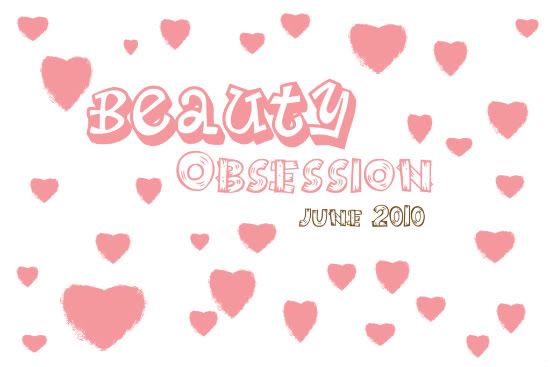 BEAUTY OBSESSIONS is just a fancier name for monthly favorites
kind of posts. I directly lifted this name from a You Tube Guru DRBrooklyn.
Every month it will feature a list of make-up, clothes, jewelry, fragrance etc
which I used more than the other stuff I have. Things with which I was a
little tooo obsessed the whole month!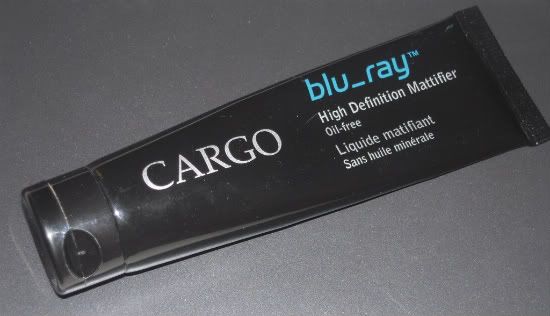 Face Products
:
Along with the regular MSF Natural and Studio Fix powder, one thing I religiously used is CARGO Blu-ray Mattifier. Its my primer for summer, I can say. This one gives a decent, matte base WITHOUT DRYING.
(Reveiw)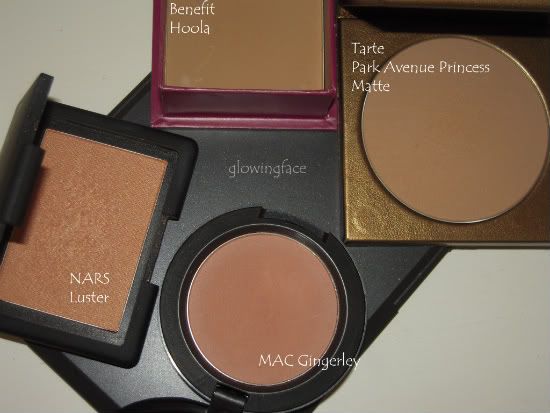 Bronzers
: I use Bronzers to even out the patchy Tan I get in summer and also to contour my jaw line and neck to give it a slimming effect. The colors in
TARTE Park Avenue Princess
and Hoola do good job for me.
Blush
:
NARS Luster
and
MAC Gingerly
. They just go so well with the skin coloring I have now. These compliment the colors I have been using on eye. Just Perfect!!
These have become staple. Highlighters can do wonders! Summer is sad without Highlighters for sure.
DIOR Amber Diamond
is God sent. One of the best Highlighters I have for face. I did get lucky by finding the LE Copper Diamond. Below is a Comparison of colors. Its Limited Edition, but I know its still available in Singapore and Asian Countries. Please let me know if you want to see swatches.
One Hot Minute
: I have a whole post dedicated to this one. Infact, many of the items mentioned have their own posts. A good Product that works for me.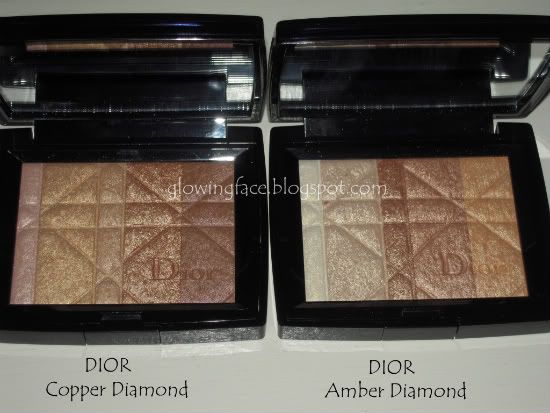 Comparison of DIOR COPPER DIAMOND and AMBER DIAMOND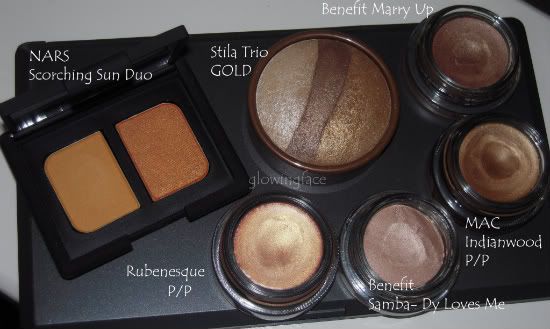 Eye Products
Nothing much can be expected from me. The color family is going to be same every month.
Anyways, my favorite BENEFIT Cream shadows were on my eyes almost everyday. I don't like Paint Pots as much as I like the creaseless cream shadows, but I still love my 3 favorites. Rubensque, Indianwood and Cashflow.
Stila Gold Glow Trio
: I keep lemming badly over every Bronze, Gold colors and last month when I won a LORAC Palette, I remembered about this old Trio, which I got during the Holidays last year in a Kit. ITS FREAKIN GORGEOUS!! I can't even believe I had this gem and it was 'just kept'. The colors are lovely and I have swatches somewhere in this journal.
NARS Scorching Sun duo
: Don't ask me why I have this. I found this too 'Packed in Box' when I found Stila Trio. God alone knows what I was thinking when I picked this color last year. Its not a OTT Orange, it's a very wearable one, but unfortunately I am not very creative in using this duo. I did try it over Rubensque Paint Pot, but it didn't give the results I wanted.
So why is this in Beauty Obsessions post? Good question! I just wanted to ask you what to do with this. I literally struggled mentally with this product for whole month. Its $32 question….
Mascara/Liners: Many stuff were repeated from last month and some essentials were same. So I didn't mention. But I did wear Mascaras and Liners.
Lip Products
Apart from the slim shines in
Bare
and
Ultra Elegant
, which are in worst shape inside tube due to melting, I enjoyed some Lipglosses.
I used my Lip pencils to fill in my lips and then top it over with a gloss. The Lip pencils provided needed color and gloss the sexy shine n shimmer. The end result was beautiful and it stayed all day long. Colors like
Queen Bee, Buzz, Love Nectar
all work well in summers. Few of these are LE, but similar colors can be easily found in many brands. Everyone from NYX to Chanel makes lovely summery colors. Pick the one that suits your pocket.
Glosses can be a problem if you leave your hair loose on a windy day.
The LiP liners and Lipglosses on its own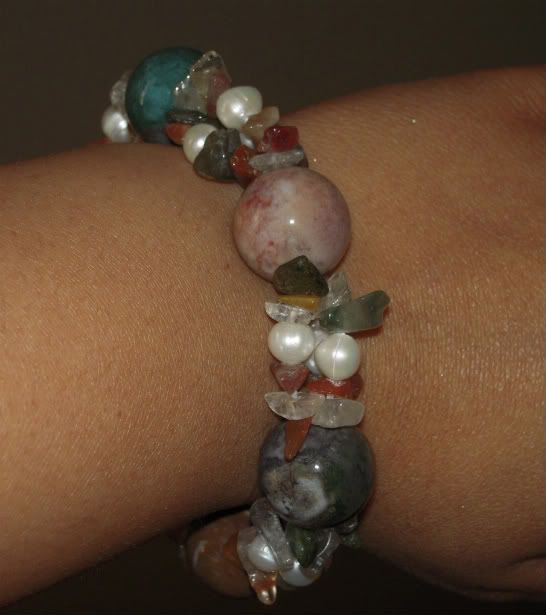 Summer is a good time to wear Braclets and the best ones are the ones that resemble natural stones, rocks etc. They have this summery feel to it.
One earing that really stood out and I got compliments on are the ones below. Its this huge Chandelier kinds and it has some color without being OTT shiny. I love love this one.