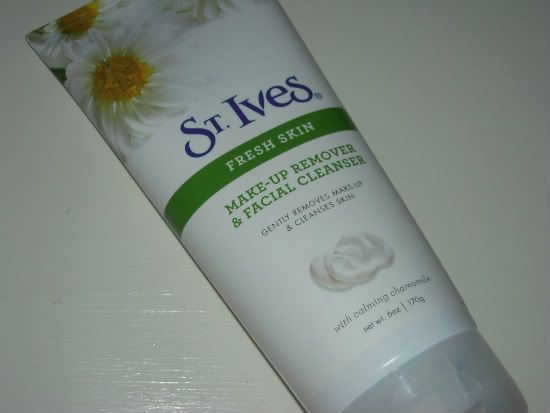 St. Ives Make Up Remover and Facial Cleanser
Whenever I go over board with my fun Shopping (makeup and accessories), I had to cut down on some purchases to balance out everything. Easy things to save on are, Bath and Body Products. March and April saw me splurging on Chanel and other stuff, so when I ran out of my Clinique Facial Cleanser, I randomly picked the cheapest one available at ULTA.
Product Description
This cleanser effortlessly removes even the heaviest make-up while cleaning the skin.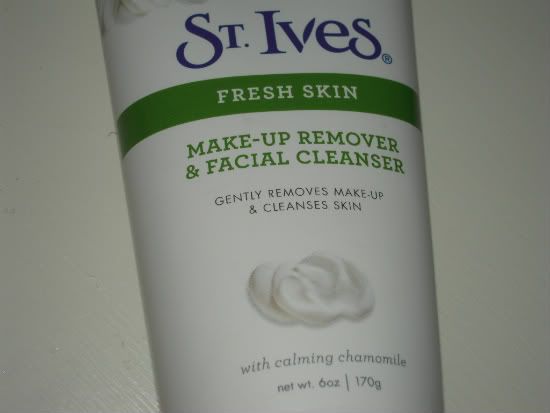 Cleanser with Chamomile

St. Ives is a brand that I have used before. Infact, as a teen I remember scrubing my face with Apricot scrub. During those days, that was all I could afford. Now that I am pretty much settled in life, I have become more 'over - concious' of how 'big, rough and abrasive' Apricot shell is...huh! Call me Snobby B****!

On serious note, I always liked this brand and the one reason for not spending on LUSH products is, its difficult to see $$$s go down the drain, just for fancy color and exotic smelL. I personally feel LUSH or similar kind of products should be reserved for an Occassional Luxurious Bath. Personal thoughts...no rules!!

Ok, back to the cleanser. This one claims to remove make-up. It does removes make-up, but not the eye make-up. Infact, I have yet to find a cleanser, that would completely remove eye make-up on its own. We put so much things on eye, to make sure that the eyeshadows and liner last all day, that expecting a poor cleanser to remove all of that is a pretty ambitious expectation.
Chamomile was first used for its cleansing and Antiseptic Powers. Chamomile
Flowers contain soothing Oils, that help calm irritated skin.


The texture is smooth and soft. Its a cream formula, not to runny nor to thick and goopy. It does not foams at all. I just rub it all over my face like a lotion and after a 2 minutes mini massage, rinse it off with water. The end result is soft and fresh. This does not tugs or irritates the skin. No dry feeling at all. I like the smell too. Its very soothing and refreshing.

Good things worth noticing

Dermatologist Tested
Does not contain Animal Ingredients
Formulated without Parabens and Phthalates
No Sodium Lauryl Sulphate (SLS, the foaming agent)

I bought this at ULTA for $3.75, but I used some discount Coupons, so I don't know the current retail price. So many qualities at a decently affordable price....Not Bad...

p.s: Sorry, for the ramblings in between....