PIGMENT PASSION is a series that will feature MAC Pigments, their texture,
the ways I use them and all the fun stuff. One pigment will be posted every Friday
and I will try to share whatever pigment colors I own.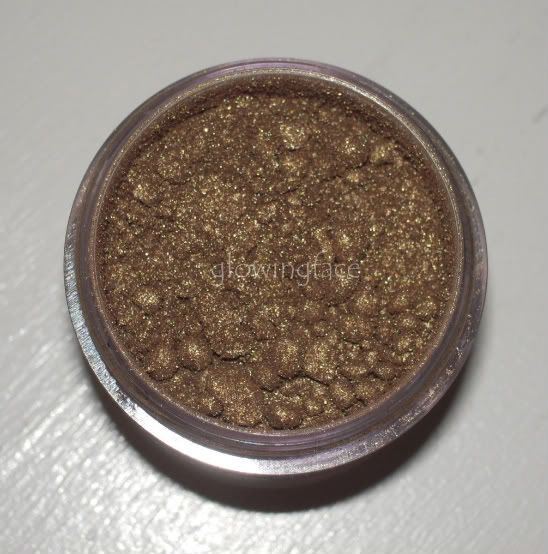 MAC Pigment -- Cocomotion
This was a Limited Edition Pigment released and re-promoted in last few years. I went on a crazy hunt spree for this pigment after the hype amongst Beauty Community began to build up. Got mine at CCO and they still have it.
Swatches of MAC Pigment in Cocomotion
This is a beautiful Antique Gold color, with some kind of Bronze in it. Its a very rich, vibrant looking pigment. There are lovely Gold sparkles in it. The Pigmentation is Awesome!
This Pigment has a nice smooth texture, but I personally get some fall outs. Its not very easy to blend like Overrich Pigments, but still better than many others out there. If I over blend, some of the Gold sparkles separate from the color itself.
I am not so good with pigments, so may be my unskilled hands give me fall outs. Its a lovely color though.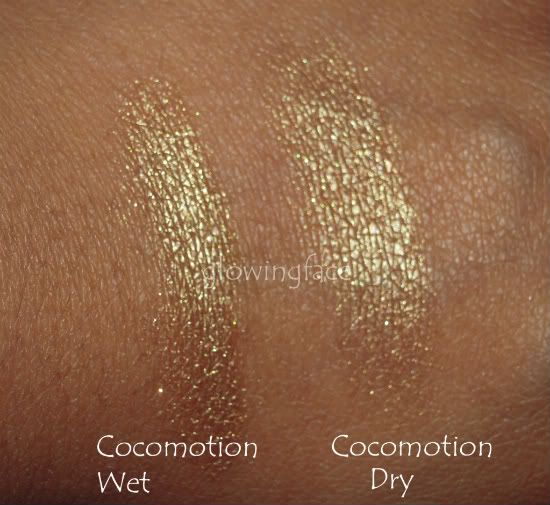 MAC Cocomotion Pigment swatch
Ways I use Cocomotion Pigment

1. All by itself, over the lid and slightly sweeping it to the outer crease.

2. As a lid color over black base.

3. As nail color, by mixing with clear nail polish. It looks pretty!

This is a color, which deserves at least a single try. I am sure, many many people will like it. The warmth in it makes it a lovely color for all skintones. Even Lighter skintoned may love this as wash of color.
P.S: Its a Limited Edition pigment, but tons of site on the internet sell Pigment samples. You can get hold of it easily. Sorry for the in-accurate swatches. I am NC42, so getting Bronzey, Gold, Browns to swatch on myself is bit difficult.