I got a chance to see many new MAC collections on Saturday. The mall was so very crowded...just like the Holiday season...especially because of all the snow storm we faced the whole week and Sunday being the Valentine's day. There were so many collections, that my MAC had to spread the new displays in almost every counter.
I got the things as in picture below. The eyeshadow and Lipstick were B2M courtesy and the rest two were my purchases.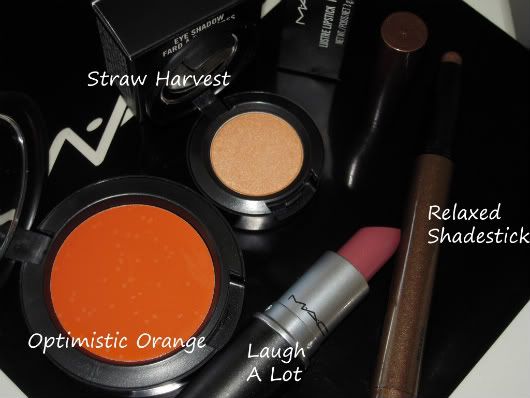 NEW MAC GOODIES
The spring forecast is a lovely and huge collection and the single eyeshadows were very very pretty, especially the shades in Very Violet and La La. In the past I had purchased deep, bold colors, but didn't use them much, so I just had to pass.
MAC Eyeshadow in Straw Harvest
I did B2M for this shade in Straw Harvest. Its a beautiful peachy-gold color in Veluxe pearl finish, but it is so so so close to the color Evening Aura which was limited edition and released last year with the Neo-Sci-Fi collection. There is just a hint of more orange in Evening Aura, but thats just negligible. I am regreting getting this one, as I have similar color and I cannot even return it as its B2M...I will hold it for blog sale...(I am thinking of having one)
MAC Eyeshadows in Evening Aura, Rule and Straw Harvest
The lipsticks were pretty too. The lipstick in Bubble gum was very lovely, but I didn't like the finish. Victorian and Fresh Salmon were eye catching, but such kind of corally colors don;t work well on my skin tone.
I B2M for this lipstick in Laugh A Lot, which is just a plummy pink, lustre lipstick. Its not unique, but I know I would wear it often. So its ok.
Even though it is a lustre finish, it is not super sheer. It does imparts some nice plummy pink color on the lips.
The lipglasses were nice too, but I didn't feel like I needed any of those "badly"
Oh, the Viva Glam lipsticks. They reminded me of Pink Fish and Popster TLC in tube. the colors were gorgeous. I would pick the Cyndi one, as the Gaga one was too pink for my liking.
Next product is this blush from MAC Lilyland collection or whatever it was called. My first impression with these blushes were not so great. I found them to be sticky at stores, though I had mentioned that they may be so because they were kept open in display.
All thanks to Xinarox, when I saw this blush on her, I knew I needed this one in my life. No matter how sticky or thick it was. I knew this would hit my CCO as it is not sold out and was not on display at my counter, which is kinda indication that it will hit CCO (my logic).
I couldn't wait. I just picked it.
I was wrong with my first impression. The blush is pretty smooth and creamy. Its easy to blend and waaay better than the MAC Cream blushes. This formula should be made permanent and this color is a keeper...Its scary in Pan, but when blended its AMAZING!!!
Swatches of MAC shadestick in Relaxed
Ok, this shadestick in Relaxed was just an impulse buy. The Makeup artist was using it on somebody as a base and I just wanted it. I had picked 2 NYX jumbo Pencils the same evening and I knew relaxed was similar too French Fries, but I just wanted it. Such a waste....
Its a beautiful color, soft and creamy...but not needed as its dupable.
Ok, the quads. They were sooo nice. I wanted the one which had browns and amber colors, but I controlled myself, but I will buy when it hits the CCO.
The blushes were nice, but I am happy with all the NARS and Illamasqua and Benefit I have...so thats pretty cool.
So this was me and MAC for the current month...Tons of other things to share and ramble...see ya in the next post....