We had a surprise visitor on Friday evening, a cousin of mine who was visiting Phili for the first time. She wanted to "shop" which on the first place took me to the mall and into the stores. That was good because even though I didn't planned on buying any of these goodies, the 'deals' were tempting enough to pass...
I love this brand and have tried many of their products. (HR people of Benefit...you can send me new goodies to try...lol!!)
Over to the goodies....
BENEFIT GIFT SETS 'LEGALLY BRONZE' n 'BENEFIT TO GO'
I was super surprised to see these packs available, because the moment I got mail notification from Sephora regarding these products, I saw the site and they were sold out, which was a bummer as I wanted to try both Hoola Bronzer and Highbeam. I already have Moonbeam which is nice, but I think Highbeam is more suitable as it imparts just the glow and not any color.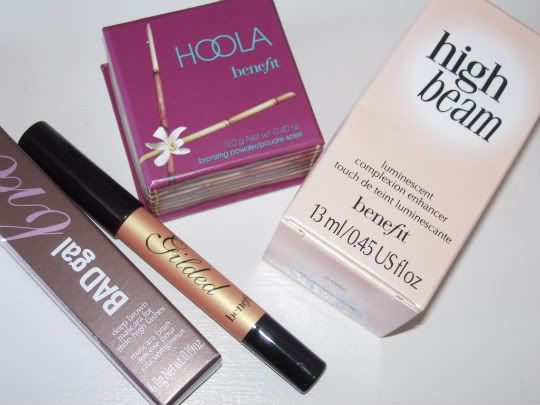 Products in the Legally Bronze kit
This set contains:-
0.4 oz Hoola
0.45 oz High Beam
0.08 oz Gilded
0.19 oz BADgal Brown
Yet to try any of these product. I will review them one by one. The kit was for $35, which is a steal as the bronzer alone costs $28 and the Moonbeam is $24. The kit also contains a Badgal Mascara in Brown and a pencil in gold color called Glided, which is to be worn as brow highlighter or something. I have to figure out exactly what to do with it.
All are full size products....Isn't that awesome???
The next set was this $10 set minis "Benefit To Go Beauty Bestsellers". They have 4 mini products that are totally new things for me to try. They are not new in the line, just new to me.
This set contains:-
0.08 oz Posietint: A poppy-pink tinted lip & cheek stain
0.06 oz Some Kind-A Gorgeous: The foundation faker
0.25 oz That Gal: A brightening face primer
0.09 oz High Beam: A luminescent complexion enhancer
Mini Products for $10
I will review every product in detail gradually when I start using these. I just wanted to post this because if you are interested you can still call your local Sephora and ask them if they have any in stock. These are super deals and great way to try good quality product at a decent price tag.
Happy Hunting!!!!