BEAUTY OBSESSIONS is just a fancier name for monthly favorites
kind of posts. I directly lifted this name from a You Tube Guru DRBrooklyn.
Every month it will feature a list of make-up, clothes, jewelry, fragrance etc
which I used more than the other stuff I have. Things with which I was a
little tooo obsessed the whole month!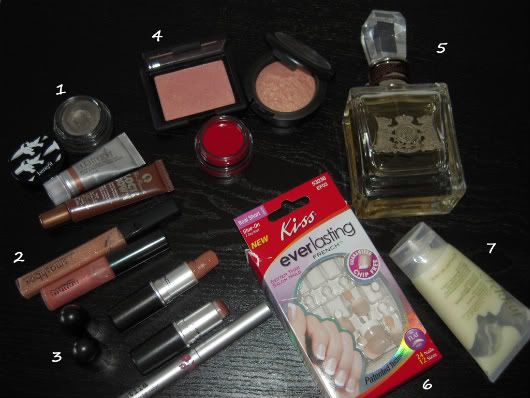 The Colors
1.
Cream Eyeshadows:
Colors in
Skinny Jeans, Dramarama and Rose Gold. These are cream eyeshadows that I used a lot, simply because they were easy to apply and stay put. With just a liner and few coats of Mascara, the end result was Gorgeous!!!
2.
Lipglosses
: Illume by Smashbox, Love Nectar by MAC. Both of these colors are very sheer and I really wanted to finish them off. Apart from a few special occassion, I wore these 'nude' lipglosses a lot, but I don't see them even Half done!
3.
Lipsticks
: Buoy-o-Buoy (pinky nude lustre), 4N (beigey nude lustre) by MAC. These are lovely colors, but the finish being lustres don;t have a great pay off. 4N does has a decent pay-off. Exquisite by Stila. These are long wear lipsticks, that stay put, are moisturising and have this lovely sheen. I love love this product.
Swatches
These lipsticks are almost nearing their death. One is broken. I purposely wore them a lot this month, so that I could arrange for some empties for B2M!
4.
Blushes
: Deep Throat, Nuance and Just a Pinch gel Blush. Deep Throat is my all time favorite. No fuss blush. Just a dab and it stays whole day. Also you don't have to be super careful with blending here, because the color is not super crazy or dark. Nuance works great as a highlighter cum blush and Just a pinch gel blush is just like its name....perfect flush of winter color with fingers!!!
5. Fragrance: Juicy Couture Fragrance. It smells good and I don't have many, which means I need to concentrate on building my Fragrance collection.

6. Stick on Nails: I soo very much enjoyed these nails. I couldn't stop admiring my perfect, French manicured nails/hands.
7.
Hair Glossing cream
: Fredric Fekkai hair Glossing creme. Just a dime size or even less, for those perfectly shiny, glossy hair!!
This being my very first 'Favorites' 'Obsession' Kind of post, I just thought I would mention everybody...lol!!
For Tools, Hair Brush, Hair Comb were used every single day...and I used this same one....LMAO!!
Lash Curler by Shu-Uemura
(I always have to double check this spelling!) This curler is hands down THE BEST curler ever made...I don't see myself replacing this with any other stuff anytime soon.
Brushes
: MAC 129 is the perfect blush brush. It picks perfect amount of color and is neither too big nor too small for my cheeks. Very nice brush to have.
MAC 205, one of its kind, mascara clump remover and eye lash separator brush. Nifty little tool to have.
MAC 242, a synthetic brush to apply paint pots and cream based products on eye. If I am not using my fingers, I am using this.
Sonia Kashuk Angled eye-liner brush: Lovely brush for a precise line.
MAC 181 SE brush, a small kabuki brush, that I use to apply my MAC Studio Fix powder.
Apart from that Staples like Urban decay Primer potion, Urban decay 24/7 Pencil in Zero, MAC gel liner and MAC line filler were religiously used the whole month. Also I am using Make-up forever's Aqua eye pencil in black, which is not so nice, but I need to finish it.
Mascaras used were Buxom lash and Cover Girl Lash Blast. Both are amazing and both are almost finished. Its like I am talking about 'project 10 pan' stuff...lol!!
Bored reading this?? Some more products to come....
I promise my next month's obsession won't be so elaborate......
2.
Korres Wild Rose 24 Hour Moisturiser
: A nice moisturiser for face. (review to come soon)
3.
Clinique All about eyes Eye cream
: I am almost done with this one. Only a day's use of product is remaining.
4.
Skin MD Natural
: A moisturizer that was sent by a company for review purpose, which is soon expected to come. As of now, its a good one for hands and body, though I didn't enjoy it much on my face.
5.
Clinique 7-Day scrub
, which I used the whole month and its almost over.
6.
Clinique Face Cleanser Mild
: Its working, but I need a change.
7/8. David Babaii Shampoo and Conditioner: I like the one in green bottle better than this one.
I don't think this is needed, but I really like talking about Jewelry, my second love.
The

watches

are from Fossil (I am saving to buy a better brand, but as of now, this one tells me the time correctly.....)
Ear rings

: Knot ear post, my favorite kinds and my Snow flake ones, which I get a chance to wear only in winters. These are in Sterling silver, not branded ones though.
Rings
: One is in Marcasite. I like Marcasites. Other is just a Sterling silver one.
I did wear some cool scarves, but I forgot to photograph them.
Hope this didn't bore you to death, if at all you made it till the end.