This blush has the full potential to make you look like a clown…as scary as it looks in the pan, on cheeks it ends up giving a very beautiful flush of color.
NARS DESIRE BLUSH
I am more of a Peachy Pink, Peach and Coral Blush person. The only pink I owned was Pinkswoon by MAC. Later using NARS Riviera Multiple and Illamasqua Hussy Blushes I realised my skintone loves these too…I got compliments wearing Pinks!!!
Who does not loves compliments!!! Sooon Pink became my favorite....lol!!!

Whenever I saw NARS pink blushes at store, they all appeared so glaring, super bright. I was like..."who wears such colors??
Anyways, while choosing a Pink Blush by NARS I was confused between Angelika and Desire. Angelika has Shimmers, Desire is matte. So Obviously I felt Desire to be safe. Another option was Mata Hari, which I had heard many people liked, but I didn't wanted any adulteration with my Pink. No Peach in Pink, no plum in Pink...just plain Pink..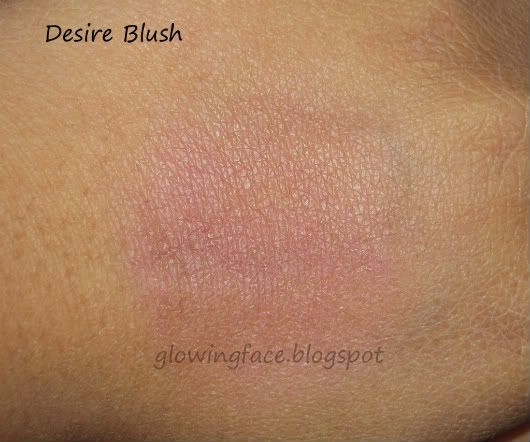 Desire Blush sheered out (isn't this pretty...Imagine this on Cheeks!!)

Desire is bubble gum pink, a pink with blue'ish' undertones. Its very very soft in texture, with no shimmers or sparkles. In the pan itself it's a finely milled powder of pure beauty!!
It does blends beautifully in skin and just a tiny amount is needed. Just a dab of color with any stippling brush like MAC 187 or similar kinds, it gives perfect amount of color which is buildable. The key is using a light hand and right too. It lasts all day without fading. That's real beauty of NARS blushes…
The packaging is like any other NARS product, black rubber casing, sleek and compact with a mirror. A little goes a long way, so one container will last for ages! I would say its worth 'investing'…