This stuff was for just $10 bucks on Sephora website in their deal section. I don't know WHY would they sell only one shade of duo for $10 bucks?? I mean why only medium shade duo...why not Lighter shade and Darker shade duos??
Even though the color was not the perfect match for me, this was a great way to try the TEXTURE of NARS concealer. I always wanted to try NARS foundations, concealers etc, but their whopping price always scared me.
NARS CONCEALER DUO -- CUSTARD/GINGER
A compact containing two shades of NARS concealer.
NARS Duo Concealer camouflages blemishes and dark spots and evens out the
skin's tonal variations. Enriched with Vitamin E, this lightweight, non-drying
formula won't settle into fine lines or creases.

NARS CONCEALER DUO -- CUSTARD/GINGER
The shade in Custard is very light and it didn't work on me at all. The other shade in Ginger did work on my face blemishes and spots. Infact it blended very beautiful on my patches and gave a decent even look. Under my eyes, I found it was a bit lighter. I do have stubborn dark circles.
Swatches of NARS Concealer in Custard/Ginger
The first thing that I noticed about the concealer was its weight. This stuff is soo light!! Its amazingly thin. It blends like a dream. The concealer is not sticky or drying. I have used MAC Studio fix pot concealer and that stuff, though was a better match for my skintone, was so thick and heavy. The final finish with studio fix was very cakey, but with this one the overall finish was pretty blended and flawless.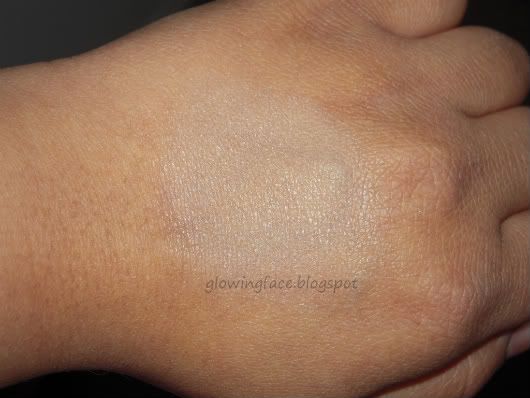 Both colors blended
This concealer didn't made skin dry or rather i should say it didn't make my under eye area dry. The texture being light, it didn't sink in the fine lines of my under eye area. I usually use my fingers to apply concealers, rather than using a brush. I find it works better that way for me.
The product has no scent which is good. I don't think any concealer has smell, but I have this habit of smelling every make-up product.
The product is very very nice when it comes to TEXTURE. Its sad that the color didn't match me as well as I wanted it to be. I think the lighter shade in Praline/Toffee duo which is meant for medium to dark skintone along with Ginger in this duo would work better on my NC 40 skintone. I would just have to wait till next holidays for it to go on sale!!!!
Disclaimer: This product is purchased by me and the review is my personal experience with the product.