I got to see the new collections by MAC yesterday and I am not so impressed!! Now, my disappointment with the collection was not because the collection was bad…but because I was expecting too much…(I think so)
Past January collections by MAC namely N-collection, Blonde, Brunette, Redhead were comparatively much better than this one.
This is good in a way…it didn't hurt my pocket at all.
The other Collection MAC in Lillyland was pretty fresh and colorful. It looked very fresh and very 'Spring'.
When I had heard about the collections last month, I was excited for few things only. The crème blend blushes, a pigment and one or two lip glasses. None of the eye shadows were in my list, because I already have many MAC neutrals, browns etc shadows from their permanent line and I am very happy with them.
MAC- M.A.C IN LILLYLAND
On seeing the
ALL AGES, ALL RACES, ALL SEXES
display every thing looked blah….All the eyeshadows looked chalky. I had 5N lipstick in the past from N collection, other lipsticks were not so cool. The lip glasses were lovely, especially Glamour for All and Naked Space lipglass. I had Naked Space from the past collection and Glamour for All was pretty, but I felt I didn't need any more nude colors. The Pigment in Universal Mix was something I had planned to buy, but when I saw it, the first thing that crossed my mind was…I am paying more for less product. The container is cute, but tiny.
In spite of reading and seeing all the comparisons and figures made with that old and new pigment packaging, I just understood one thing….same price, less product….Cheating! Cheating! The color is lovely though. Its shimmery and smooth, like Vanilla pigment but not smooth enough like the metal pigments. I didn't even bother with the blushes…they all looked boring!
MAC - NEW COLLECTION - ALL AGES, ALL RACES, ALL SEXES
The other Display M.A.C in Lilyland looked fresh and colorful! I swatched the blushes, because I wanted to at least pick one. The colors were pretty, but I didn't find them very creamy. I was expecting something on the lines of Illamasqua cream blush which I adore…but this one was not so creamy. Now, may be because these were display testers, they might have turned a bit dry? I don't know…I need to check again, swatch again and then make up my mind.
The lipgelee were beautiful, but frosty and full of shimmers. I didn't see myself using them much.
The eyeshadow and face powder had a very lovely pattern, but something I won't use much. I passed everything, which seriously sucks!! Warm and Cozy was waaay better than these two collections.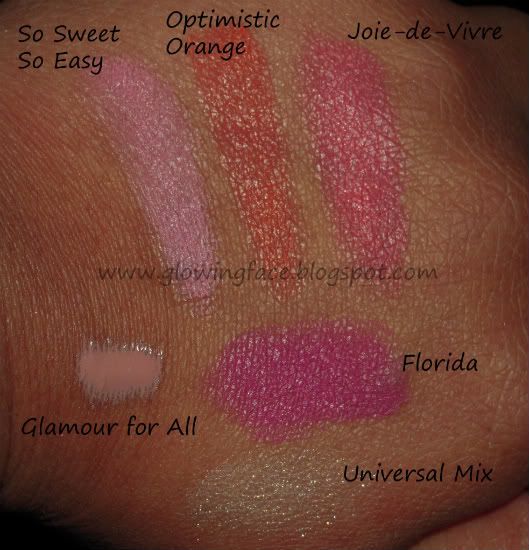 Swatches of MAC Cremeblend blush in So Sweet, So Easy, Optimistic Orange,
Joie-de-Vivre, Florida
Lipglass in Glamour for All, Pigment in Universal Mix

Don't get me wrong friends, I am not bashing the collection. I just didn't think there was anything unique enough to spend my hard earned money.
What did you all buy?? What are your thoughts on this collection…Please share your thoughts in the comment section…..