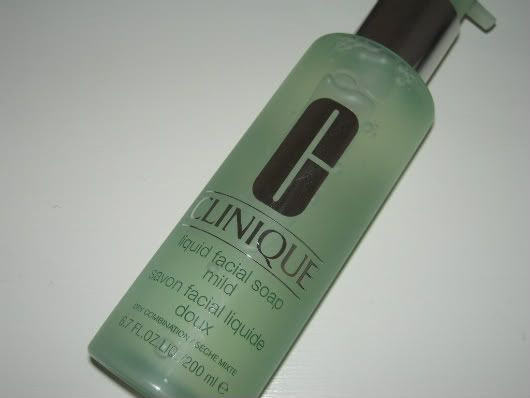 Clinique -- Liquid Facial Soap (Mild)
This is a basic facial cleanser that I have been using consistently from past one year. Clinique has this in three skin typed formulas. Extra mild for very Dry skin, Mild for Normal to Dry skin that I use and the other is Oily for Normal to Oily Skin which my hubby used in the past, but not any more.
The first step in Clinique's 3-Step Skin Care System. All the benefits of
Clinique's dermatologist-developed Facial Soap in a liquid formula. Cleanses
without stripping protective lipids. Preps skin for the exfoliating action of
Clarifying Lotion. Convenient pump dispenses just the right amount.
The pump
This is a clear, gel like liquid, which is neither too thin nor too thick. This one is
non scented
, gentle face wash which does not irritates my skin. It does not has any exfoliating properties. All it does is cleans the face and removes all the make-up residue. It however
does not removes water proof make-up completely
. Usually traces of Mascara is left behind if I try to clean it all by the cleanser alone.
It comes with a
pump
, which has a twist lock and is easy to use and travel friendly. Just a dime size facial cleanser is needed to clean the whole face. It
lathers a bit
but is not over foamy like a bubble bath.
The face is pretty clean after using this and it does not dries out the skin a lot. In winters though I do feel
skin bit stretched
and tight, but a basic moisturizer can take care of it.
It does not provides any 'special treatment' for acne prone skin. This particular formula is marketed for normal to dry skin. For more oily skin, they have another version in oily.

Overall a basic cleanser, which lasts for a long time and Clinique which is a trusted skin care brand usually has many GWP offers. That's always bonus…