This is one of those products that I use each and everyday especially in winters, without worrying about combination and stuff. I mean its Basic necessity.... Anyways, this one is not a new product...nor this is a new brand...I would also love to add its not "Dramatically Different" either...Thats just a name....Then what the heck is this??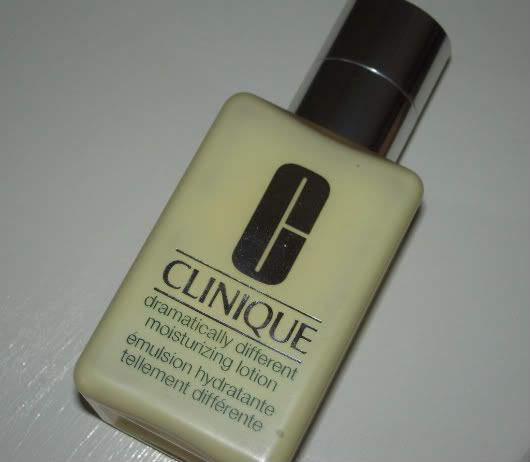 CLINIQUE - DRAMATICALLY DIFFERENT MOISTURIZING LOTION
Its just a plain, basic high end moisturizer with a pump. No SPF in this one. The texture is not thick or goopy at all. It is light weight, spreads easily and does not makes my skin look oily, greasy or shiny. It absorbs quickly and leaves the skin soft, supple and moisturized. This has no fragrance, which is great because it just makes me feel I am really applying something "dermatologically tested".
The product never broke me out nor did it sting or irritate my skin or eyes. I don't expect too much from this product. It does a great job of hydrating the skin, which is what it is originally meant to do.
The Pump
Now, it
does not has SPF
, which is a little drawback, as I need to use something with SPF, when I am going out during the daytime. On second thoughts I am happy that it does not has SPF, because I hate to apply anything with SPF when I am at home. Especially at times when you just wash your face with plain water and get that stretchy feeling…I love this moisturizer to use at that time.
The skin care consultant who worked at the Clinique counter told me that the lotion is formulated to be a basic moisturizer and the ingredients in it are
close to skin's natural oil
and water. The lotion would form a
thin shield
on skin and prevent moisture loss.
This particular product would work on
dry and extra dry skin
. For oily skin, they have another one which is in gel form and my dear hubby uses it often.
This comes with a
pump dispenser
, which is great and
totally hygienic
. The consistency is not to thick nor too thin, so it spreads easily and a little goes a long way. Only one or two squirts are enough to cover the whole face.
I don't think it's a very great or best product. It is a good product. I get near similar effects with other drug store moisturizers too, but this one is the lightest. Its just that me and my skin has got used to it….
This one retails for $24 with pump and the bottle without pump is $22. Is it worth??
I think yes, because a little goes a long way and most of the time Clinique has GWP offers too which is a great way to try new products from their brand.
P.S: I totally love this moisturizer, but I want to try something else now, something light weight. Any suggestions??
Disclaimer: I have purchased this on my own. The review is my personal experience. It may or may not work for you. Please use at your own risk.