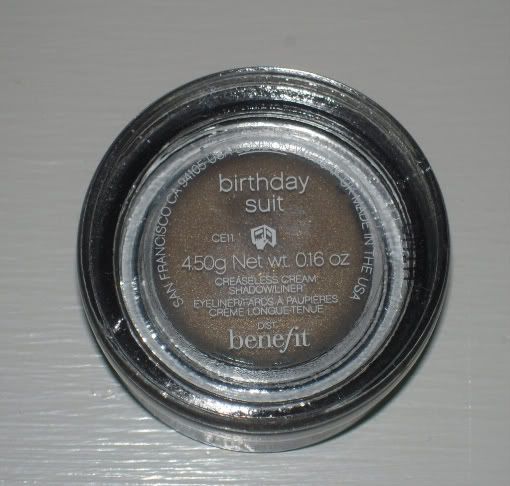 BENEFIT Creaseless Cream Shadow/Liner
I don't have much to say about this product. I had already tried the creaseless cream shadows and had loved them to bits. The colors I own are
Skinny jeans
and
Marry up
. (
swatches here
)
Birthday suit was just one more addition in my collection during the Sephora FF sale.
BENEFIT Creaseless Cream Shadow/Liner in BIRTHDAY SUIT
It is an antique gold shade, ubber soft and has great pigmentation. I love anything that is GOLD…seriously that color just pulls me.
This particular shade I wore all by itself with just simple eyeliner in black…..Love it!!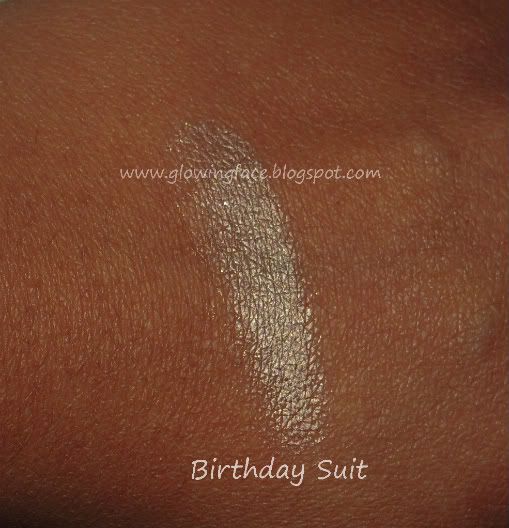 Swatch of BENEFIT Creaseless Cream Shadow/Liner (BIRTHDAY SUIT)
The color didn't turn ashy on me at allnor is it too frosty and shimmery. They have this very classy sheen and don't spread all over my face turning me into a disco ball. The Benefit creaseless cream shadows don't crease on me at all. These stay put for almost 10 hours without fading or losing its intensity.
I have started to like Benefit products and would love to add more of these shadows.