ILLAMASQUA CREAM BLUSH -- RUDE
Highlight your cheekbones, shape your face, and build and blend with fingers or
a brush to create the color intensity you desire. Use over foundation for impact
or under for a captivating glow. However you apply it, be daring.
ILLAMASQUA CREAM BLUSH -- RUDE
I really wish I would have bought it earlier.
The Illamasqua cream blusher is possibly the creamiest cheek product I own. It is soo very moist and smooth. Its just like butter!!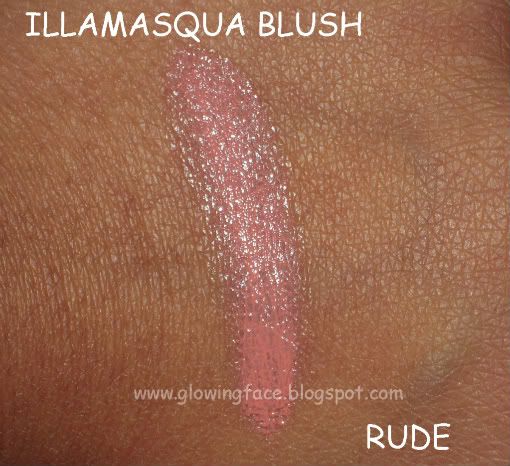 SWATCH OF ILLAMASQUA BLUSH -- RUDE
Its very easy to apply, highly
pigmented,
easily
blendable
and obviously
light weight
. Its light in weight just like NARS multiple, but its waaaay
softer and moist
than the NARS multiple or MAC Just a pinch gel blush. The Illamasqua blush gives a dewy look and it does not dries to a matte finish. This is a great product for people with dry skin. Its not that it won't work on people with oily skin, but I personally feel it would work awesome on people with dry or flakey skin. This is great for winter months. Some people would prefer drier texture of NARS products, but again it's a matter personal preferance.
BLUSH SHEERED OUT
The color I have is in Rude. As the site describes, it's a warm coral color. I really wanted to play safe by buying colors that work on my skin tone. Online shopping for make-up products can be complicated.
Anyways, the color looks scary dark in pan, but gives a warm, soft glow, natural flush when sheered out and blended. It has NO trace of shimmer/glitter whatsoever. A perfect cream blush for work.
Blend it with fingers and you are good to go!! No brush needed.
The packaging is compact and perfect to travel with…Its a wonderful product. I would love to buy another shade…maybe in next Sephora sale...