This lightweight, moisturizing eye serum calms skin and helps break the cycle
that can lead to unsightly eye area concerns, while creating a healthier-looking
eye zone. It features my signature Mega-Mushroom blend - Hypsizygus ulmarius,
Cordyceps and Reishi Mushrooms and herbs - Ginger, Turmeric, Holy Basil, plus
Grapeseed Extract to quell over-reactive skin and reduce the appearance of under
eye puffiness, and Yeast Extract to help relieve dark circles.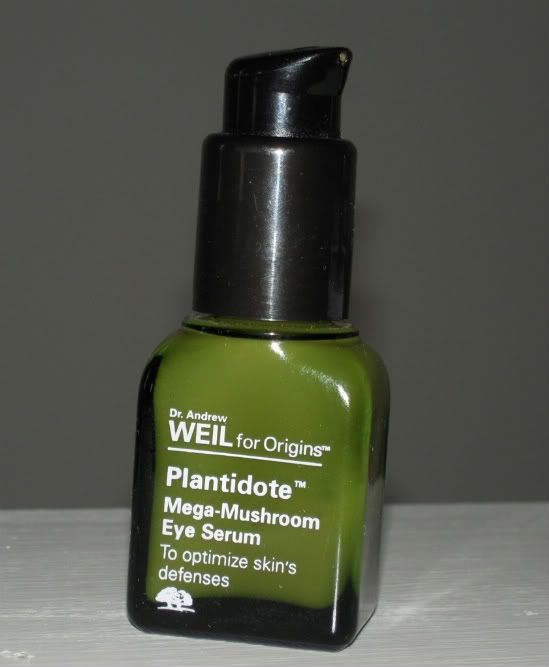 Origins Plantidote Mega Mushroom Eye Serum
This particular eye Serum has been a part of my skincare routine for decently long time. I just never got a chance to review it. If I remember correctly I purchased this in January 2009 and have been using it since then. For the initial months I was not very regular though, but since May, I have used it religiously.
How I use it
Once at Night
Duration: 4 months
This particular serum is semi-liquid, creamish - brown in color. I shake the bottle and apply it with my ring finger under my eyes and around the eye area aswell. The liquid absorbs quickly and is not greasy at all. It does has a funky smell, which honestly does not bothers me at all. Infact, it gives me a feel of applying something natural/herbal stuff.
The product does not moisturizes my under eye area well. My main concern is dryness and dark circles. Wrinkles and Puffiness are not my eye issues at the moment. This is the product that has really worked on my dark circles. It has reduced them considerably and I am happy with the way that has brightened my whole face. I wish it moisturized my under eye area too. Still looking for a product that would do dual task.
Ok, now this is to be applied twice a day. The Origins Sales Associate told me to use it twice, but it stings the eye, if it accidently goes in, which is bound to go in if I am awake. So I restrict the use of this product during the night. I apply and sleep....Simple!
The packaging is convinient. The pump is hygenic and I like that it has a twist lock system. The bottle has to be shaken well before use.
As of now, I am liking this product a lot. Its not the complete eye cream/serum for me, as I am looking for something that would give me adequate moisture under my eye. Any suggestions are Welcome!